Add Reviews To Your Klaviyo Emails With Opinew on Shopify
Table of Contents
Research shows that 306.4 billion emails are sent every day around the world, and this figure is bound to grow over the years as more and more brands use emails in their marketing & sales strategies. That means there are chances your post-purchase and review request emails may never be opened. Creating highly-personalized automation is now becoming the norm, and Shopify merchants are turning to email marketing solutions to improve their store's conversions.
At Opinew, we already provide tools to build review request sequences via email, SMS, and even printed QR Codes! You can also add coupons to increase the chances of getting a review and return purchases, or you can send reminders to leave a review and follow-up emails to customers to add a photo to their review.
However, we completely understand the personalization needs of Shopify merchants and we have been working hard to integrate with the best Shopify apps for email marketing such as Klaviyo or Omnisend.
Now, Opinew users can enjoy great customization options when building their email marketing automation on Klaviyo by having the possibility to display social proof and reviews at different steps of your customer's journey:
Build unique automation by segmenting customers based on their reviews,
Reward happy customers and increase satisfaction by sending out coupons,
Add featured reviews and star ratings to abandoned cart flows.
If you are using both Opinew & Klaviyo, we strongly recommend you to activate this integration as you will be getting the best of both apps while strongly increasing the number of reviews and conversions on your Shopify store.
Add Reviews in Your Email & SMS Marketing Strategies
Track Users Based on Stars Rating

We made it easy for Opinew users to segment and adapt their communication to customers depending on how many stars they left you when writing a review.
With advanced properties to filter your customers based on the number of stars they give, you have everything you need to create personalized messages depending on the situation.
Learn how to configure user tracking based on the amount of stars rating.
Send Email Review Requests via Klaviyo

While Opinew review requests tools are a great solution for many Shopify merchants, you might want to include and create your review request automation directly within Klaviyo, so you can keep all your email automation in one place.
Once your Klaviyo integration is activated, a new option will appear in Review Requests that will allow you to send review request emails via Klaviyo. Go to 'Review Requests' and activate Send emails with Klaviyo.
You will be able to request customers for photo & video reviews, build advanced requests automation with reminders, follow-up emails and much more.
Read our tutorial to set up review requests with Klaviyo or watch our video tutorial below!
Segment Users Based on Opinew Metrics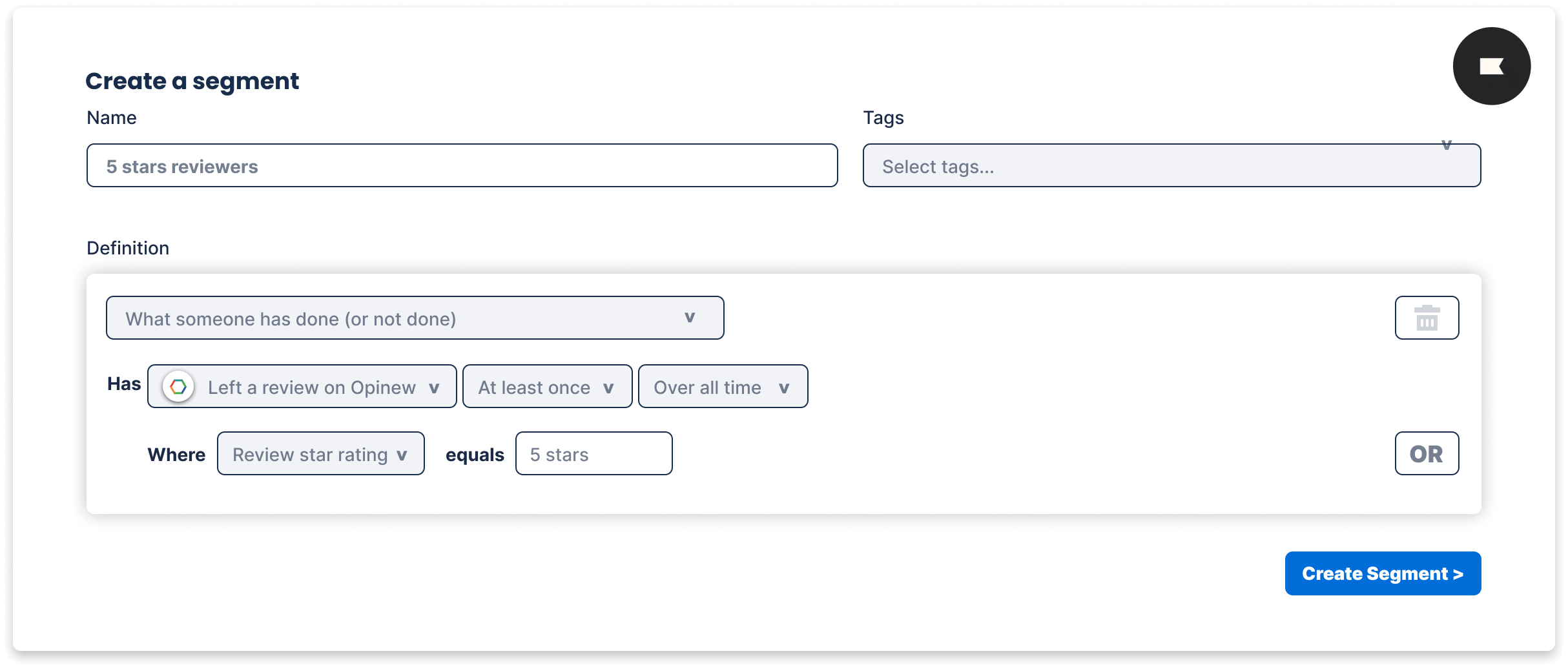 Are you looking to dive deep into your customers and segment your automation based on different properties?
For example, you might want to adapt your offers and communication depending on the number of stars they left on your store and send coupons to unhappy customers in the hope of getting them to try another product of yours.
After you've set up the segments on Klaviyo with Opinew metrics, you will be able to create and send dedicated campaigns to those segments, which will most likely increase open rates on those emails.
Read our tutorial to segment users in Klaviyo or watch our video below.
Add Reviewer Profiles To a List in Klaviyo

If you want to communicate a new special offer or just reach out to customers who left a review using Opinew widgets on your Shopify store, you can easily create reviewer profiles and add them to a custom list. Reward them, reach out to them for case studies or for testing new upcoming products, the possibilities are endless!
Read our tutorial on how to add reviewer profiles to a list in Klaviyo, or watch our video tutorial below.
Sync Past Reviewer Profiles To a List in Klaviyo
If you just started using Klaviyo and have been using Opinew for a while already, you may have had already a few reviews from customers. With this 1-click synchronisation, you can now create a list of all your past reviewers and start communicating with them. Check out how to sync past reviewers to Klaviyo.
Send a Coupon in Klaviyo After Somebody Leaves a Review

If you're looking to reward customers who left a review, our integration with Klaviyo will allow you to insert coupons created in Opinew into your Klaviyo automation and create advanced logic & flows. Sending coupons to happy or unhappy customers is a great way to increase return customers' purchases and increase your customers' satisfaction. According to ReadyCloud's 2018 study on coupons and purchase behaviour, 68% of customers say coupons generate loyalty, and emails containing coupons offer a 48% increase in revenue per email. That's enough reason for you to implement coupons as part of your email marketing strategies and use your existing customers to drive more sales.
We have even extended the capabilities of this feature by adding a new Klaviyo metric: if the review left was a photo review, you can now create a separate flow for them and send specific rewards or messages.
Feel free to browse our help center tutorial to send coupons with Klaviyo and Opinew or watch our tutorial below.
Add Stars Rating and Featured Reviews to Klaviyo Abandoned Cart Emails

A great way to increase purchases on your store and from visitors who added your products to their cart is by sending them abandoned cart emails. You can read Klaviyo's case study on the impact of sending abandonment cart emails if you're still not convinced you should be setting it up for your Shopify store.
You can also have a look at some of Hubspot's best examples from fast-growing companies who successfully implemented their abandoned cart flows strategies for their Shopify store if you don't know where to get started
We all know customers read reviews, and when receiving this kind of email there's a high chance they will click on your product page and read through reviews before (hopefully) finalizing their purchase.
That's why we pushed our integration further and allow Opinew users to automatically add rating stars and a featured review inside abandoned cart emails and create trust right from the start. Once activated, the stars will automatically display below the product title and you can set a featured review easily by going to Reviews > Your product > and picking the review you'd like to display in your emails.
With our most recent update, you can easily customise the stars' colour of the featured review you send on your abandoned cart email.
Follow our help center tutorial to add reviews to your abandoned cart flows.
Test your email flow directly from Opinew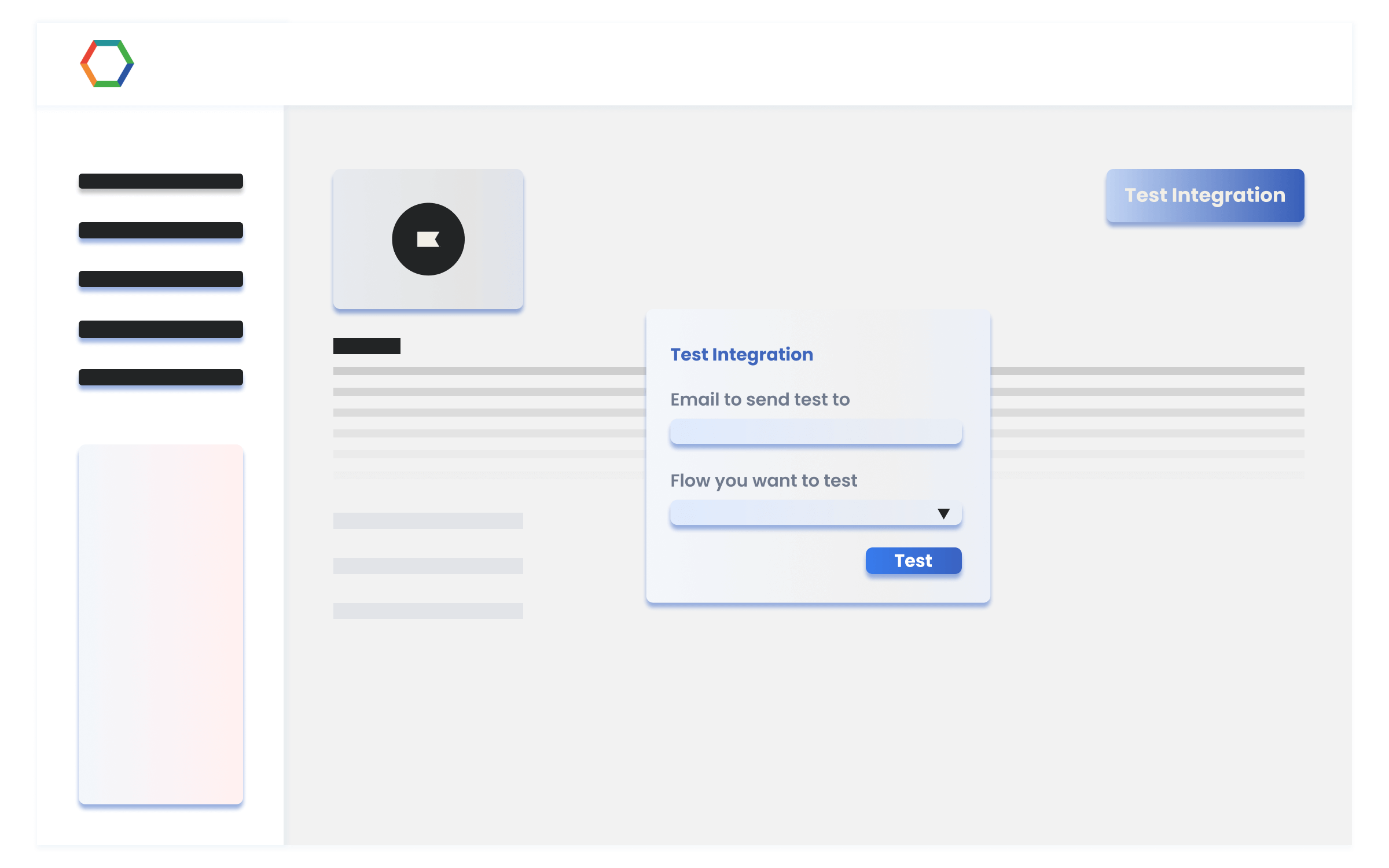 Are you building a review request flow using the integration between Opinew and Klaviyo? This might interest you.
Directly inside Opinew's dashboard, you will now be able to test the flow you built using Klaviyo. Now you can make sure that the reviews are sending through the Klaviyo emails correctly or that the custom campaigns you built using Opinew metrics are working properly.
Send Review Requests Link in Klaviyo emails

Using our review requests link feature, you can now add review request links directly in your Klaviyo emails. How does it work? It's simple, we've pre-populated the review request link using Klaviyo's merged tags so you just need to copy it on Opinew's dashboard and paste it into the email you are building on Klaviyo.
Curious to witness the effectiveness of Opinew reviews integrated with Klaviyo? Combining Klaviyo with Opinew, PAASE were able to increase Dalstrong's conversion rate by 12%.
PAASE are specialists in email marketing automation, helping customers to cost-effectively increase eCommerce revenue from Klaviyo through data-driven strategies.
If you need any help setting up this integration, feel free to contact our support team via live chat directly within the app, or have a look at our video tutorials.
FAQ
How to add reviews to Klaviyo?
Klaviyo does not support in-email product reviews, so you will need to integrate Klaviyo with a Shopify product review app in order to send review request emails to your customers. Most review apps such as Opinew, Loox, or Yotpo are integrated with Klaviyo. However, some of them may not offer in-depth integration features so you may need to double-check before going with a review app!
What is the best review app to add reviews to Klaviyo?
The best review app you can use to add reviews to Klaviyo is Opinew. With Opinew, you will enjoy advanced customization capabilities when using reviews in your Klaviyo automation.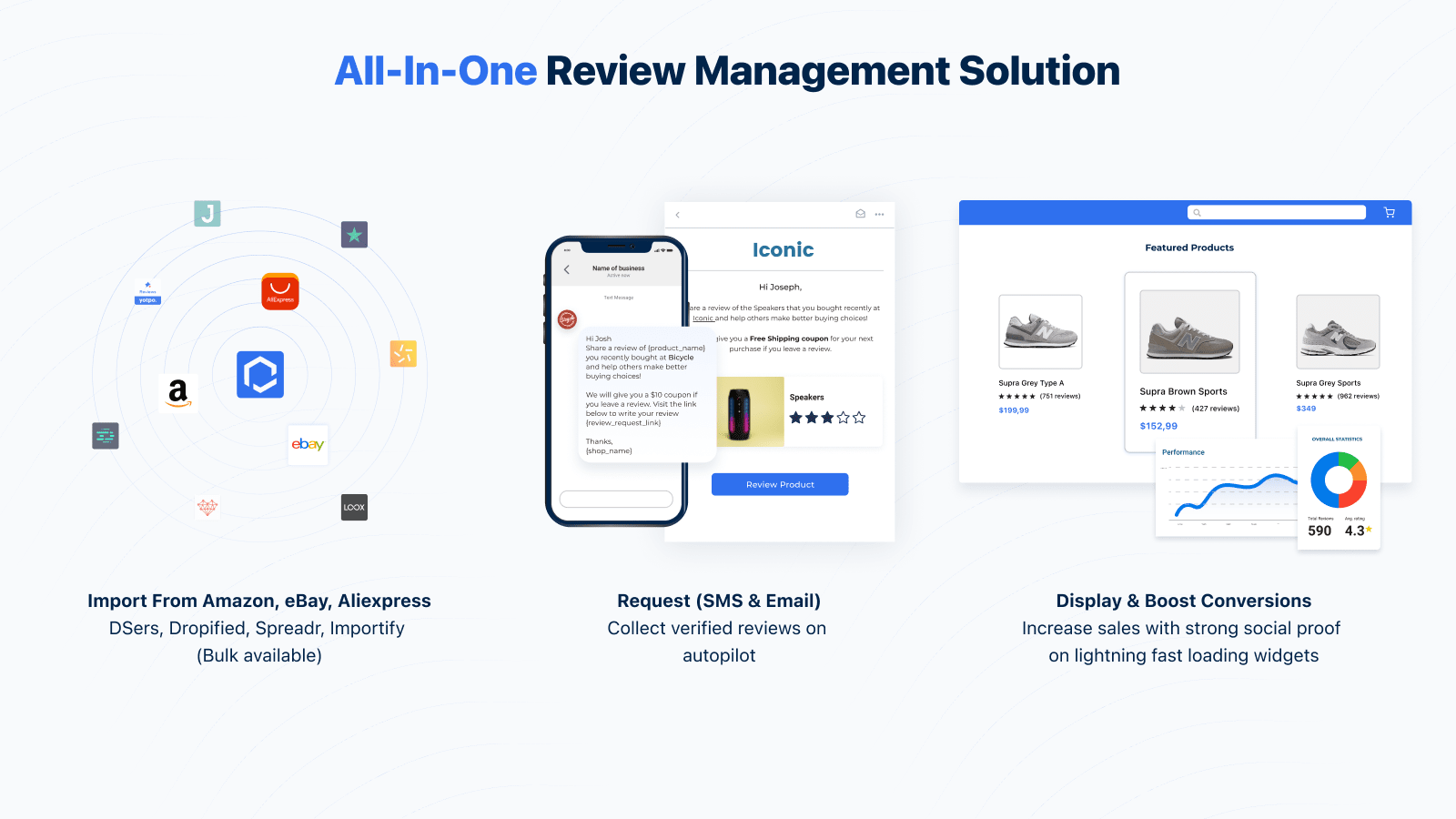 Get started for free
All-in-one review management solution for Shopify stores looking to build trust and increase conversions. 
Install Opinew
Opinew Blog Newsletter
Join the newsletter to receive the latest updates in your inbox.
---