Introducing Opinew's new Shopify Review Widgets
We're delighted to announce the release of Opinew's brand new Shopify review widgets design!
Fully compatible with Shopify OS 2.0 themes, our state-of-the-art review widgets are easy to install in 1-click, and fully customizable to make sure it fits your brand's identity and website's design. The whole Opinew team has always been dedicated to make it as simple as possible for Shopify merchants to build highly-converting online store, and we couldn't be happier to release these brand new review widgets design.
Why do you need reviews
Reviews and social proof are a must for any online stores. Reviews are actually being read by almost 95 % of shoppers who are browsing through your product page and considering to make a purchase, so if you are not displaying any type of social proof on your website you're definitely missing out on a lot of possible conversions.
Imagine spending money on ads, landing page design and content optimization only to loose potential customers because of the lack of credibility of your Shopify store. That's too bad, and definitely a bad practice we don't recommend!
With Opinew, you'll be able to import reviews from any source, request reviews from customers via Email & SMS, and display reviews thanks to 8+ beautiful widgets that have no impact on your pageload speed.
Each of our widgets can be displayed at one specific step of your customers' journey. Whether you want to display a homepage carousel with handpicked featured reviews, or you'd like to create a page dedicated to all your shop's reviews, in a similar way as done on Amazon or eBay's Seller Central, you can do it in a few simple steps with Opinew.
In this article, we will focus on our main product review widget, that allows Shopify merchants to display reviews on their product page.
How to add review widgets to your Shopify store
In order to add Opinew's main product review widget to your store, you will need to follow these 3 simple steps:
On first open, you will be presented with options to install our main review widgets. Choose the "Product Reviews Widget" and we also recommend to add "Product Stars" and "Collection Stars".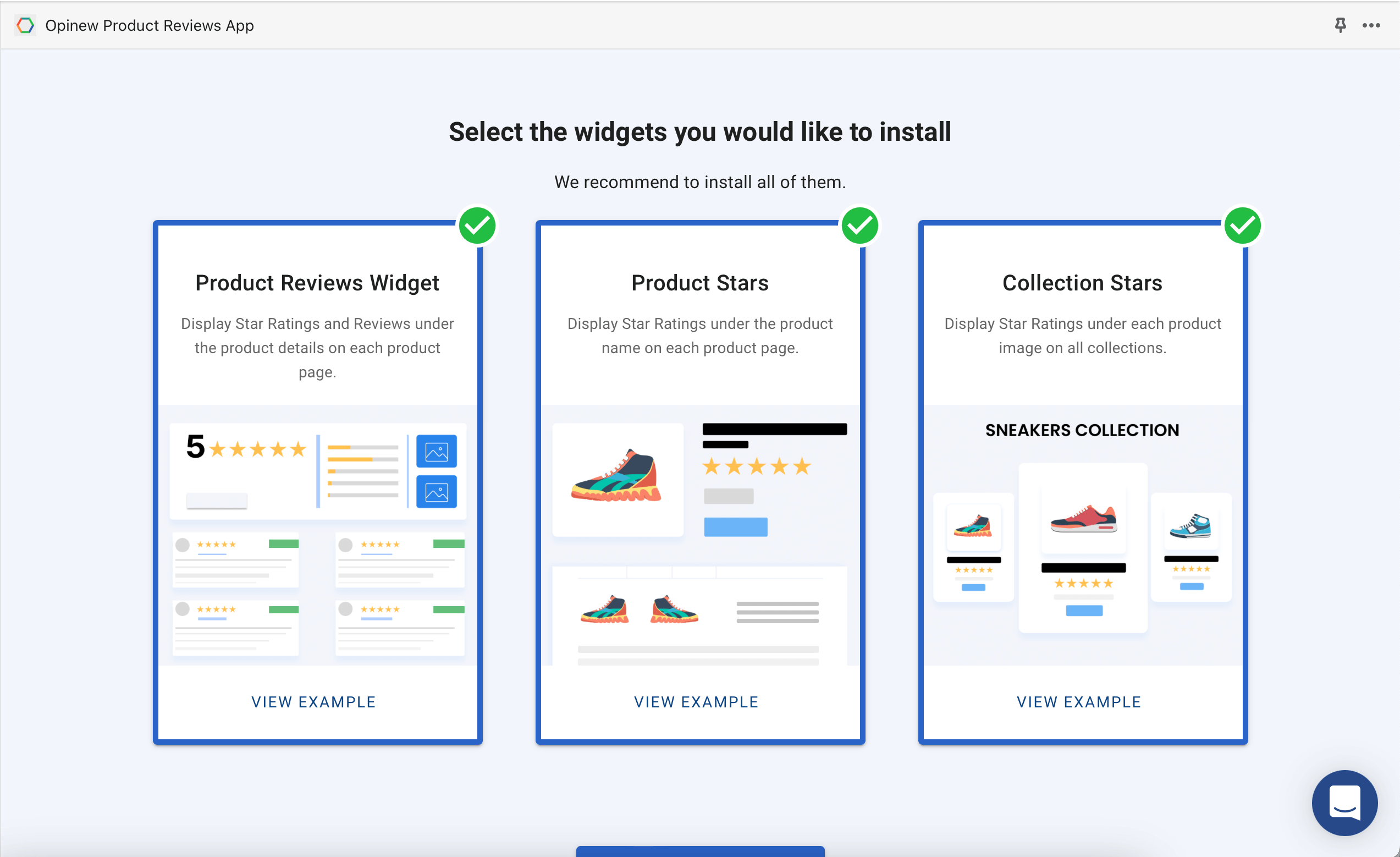 Once selected, you will be asked on which theme you would like to install our widgets. Pick your live theme, or install them on an unpublished theme if you'd like to customize our widgets before displaying them on your live Shopify store.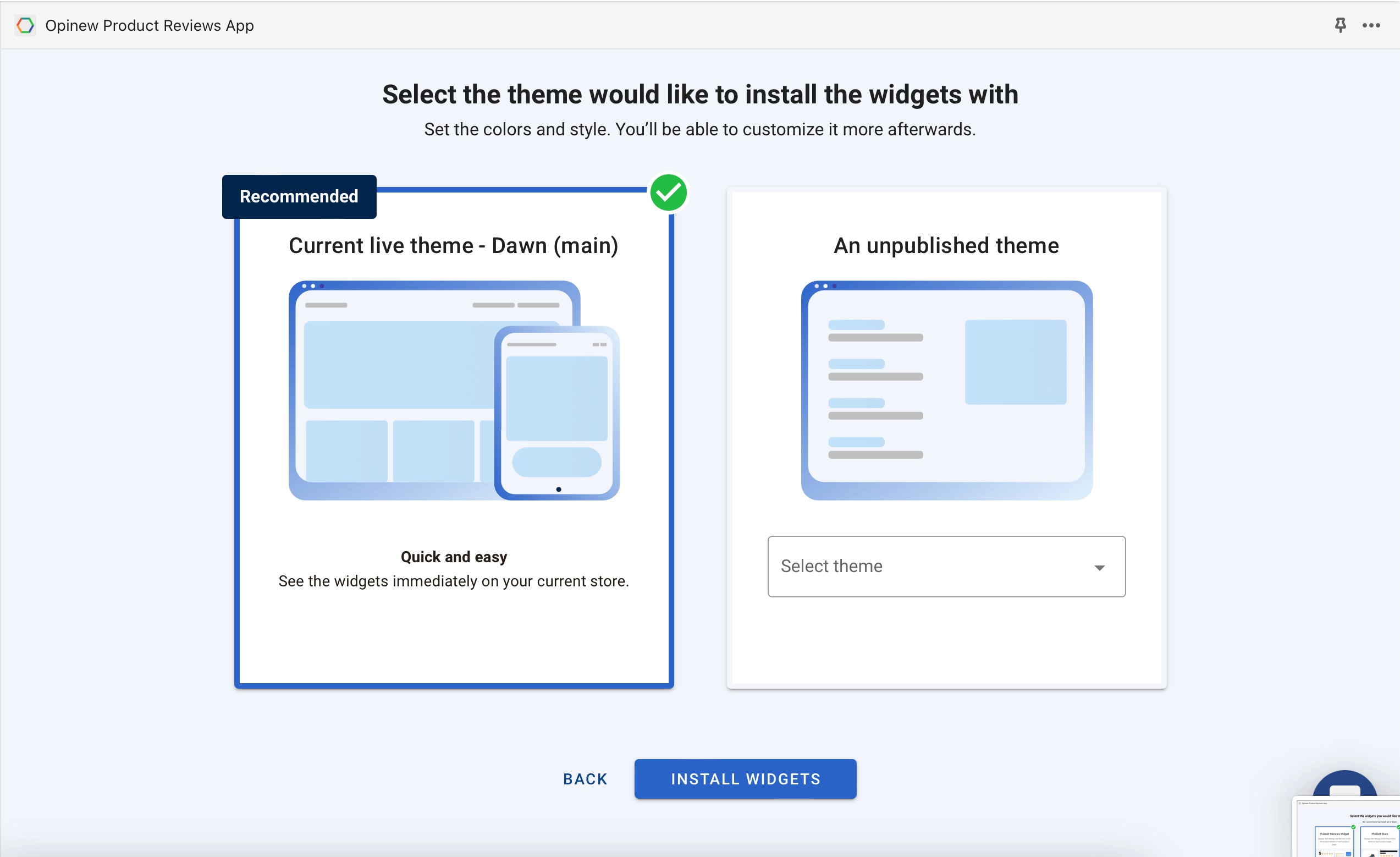 The whole process should take up to a minute at most. If you're encountering any issues during the widgets installation process, please feel free to reach out to our live chat via the button at the bottom right of this page.
Customizing Opinew's Shopify review widget
Our main product review widget comes with 4 predefined themes with different layout options ensuring that the design blends with your store seamlessly. Please refer to our help center article if you'd like an overview of all the settings options and their meaning.
Default layout
After installation, the review widget will automatically inherit from the default layout. Our default layout is great if you're looking to display reviews quickly with a great-looking review widget. This layout usually blends in well with all Shopify stores, and can be easily customized to match your store's colour scheme. Additionally, the star bars displayed on top of the review widget will help your customers browse through the answers they are looking for.
Customization examples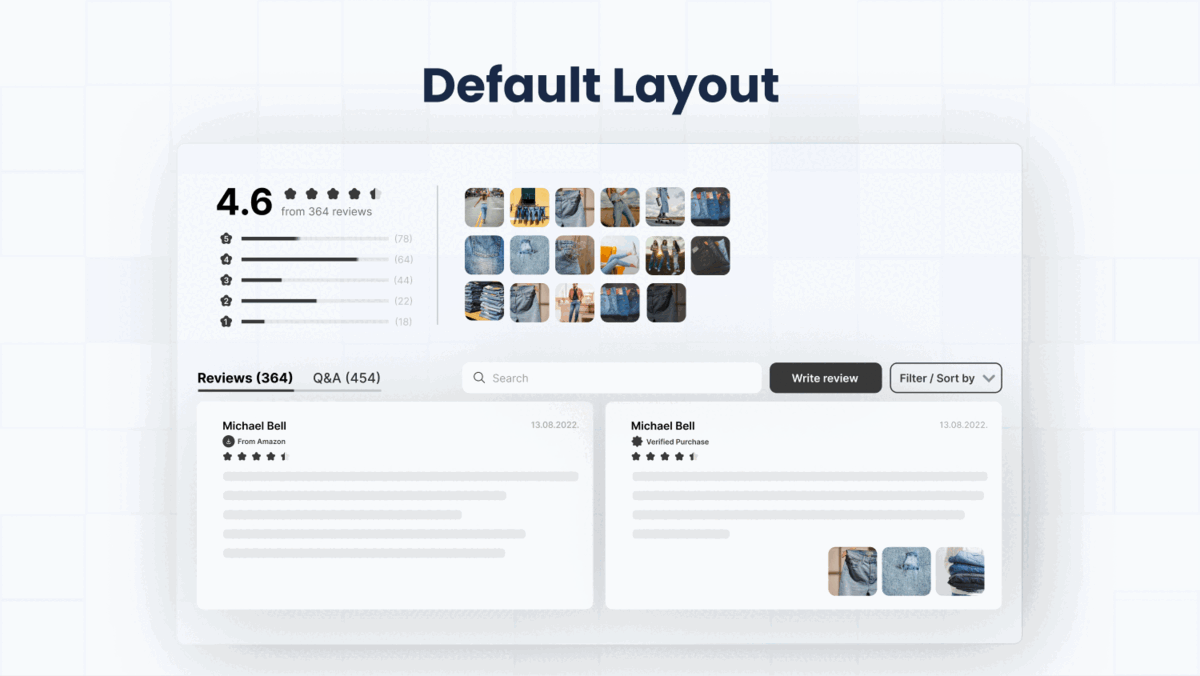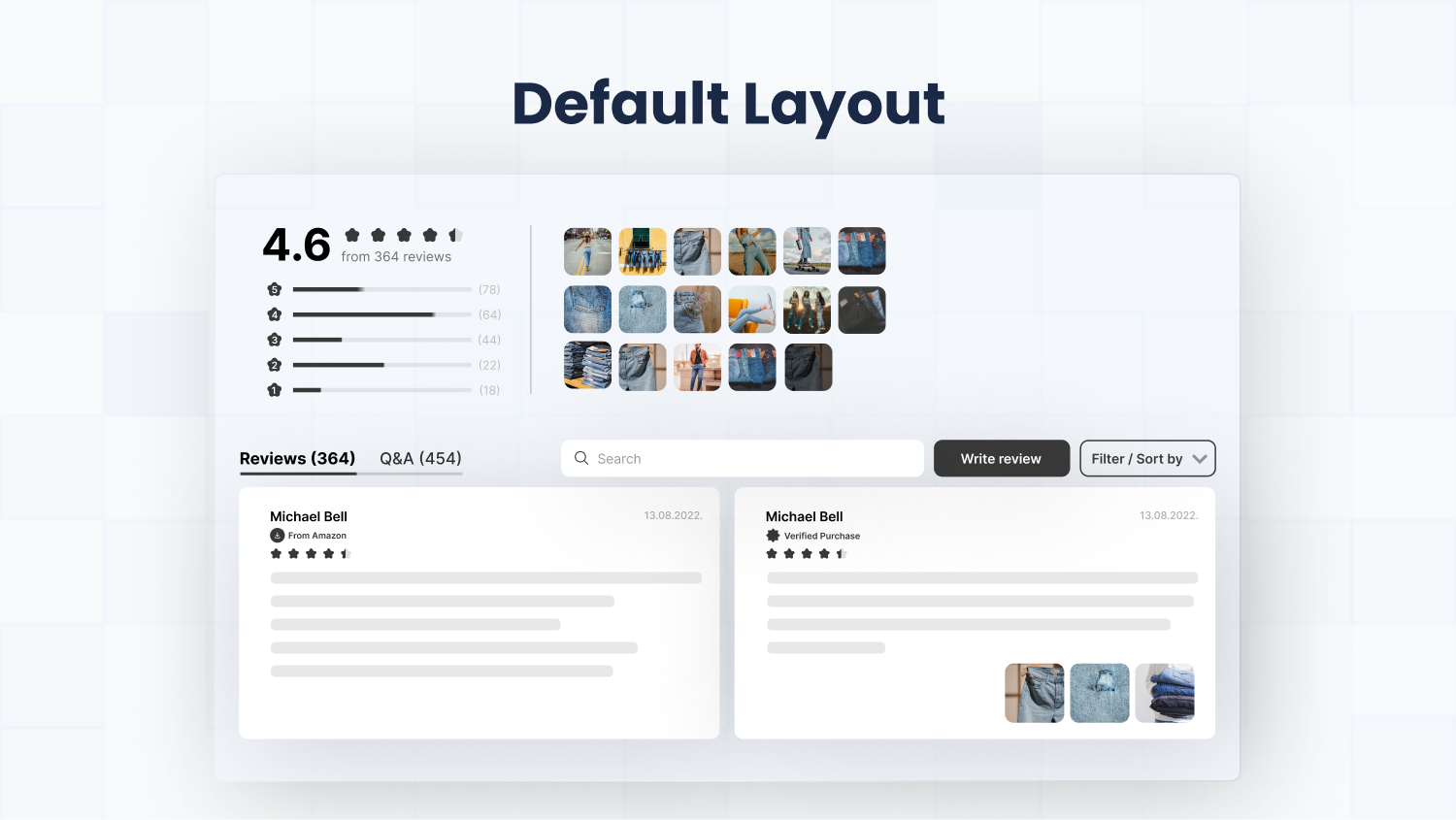 Main Advantages
Stars breakdown or Star bars: By activating it, you will allow your customers to filter the reviews by a given star rating by hovering over the star bar.
Photo gallery on top of review widget
Choose between columns, and a featured image.
Settings available only for this layout
Modern Layout
If you're looking for a more stylish-looking review widget, this modern layout is for you. Divided in two columns, with the review card and image thumbnail on the left and the reviews on the right, the modern layout is a great way to visually showcase your reviews while offering a simple navigation between your reviews.
Customization examples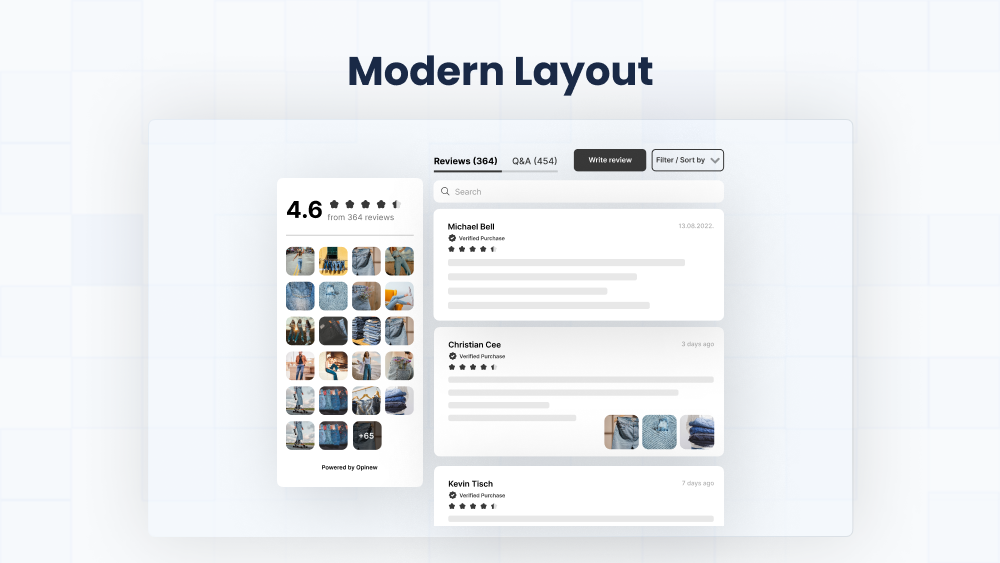 Main Advantage
Recommended choice if you're looking to highlight your review images and videos, by having your image thumbnails in a fixed position when scrolling.
Minimal Layout
More discreet than the default layout by removing the top review widget card and only keeping the overall rating, the minimal layout helps display reviews in a non-intrusive way. While the emphasis is not put on your review widget, it's still a great addition to your product page and allows your customers to browse your reviews before making a purchase.
Customization examples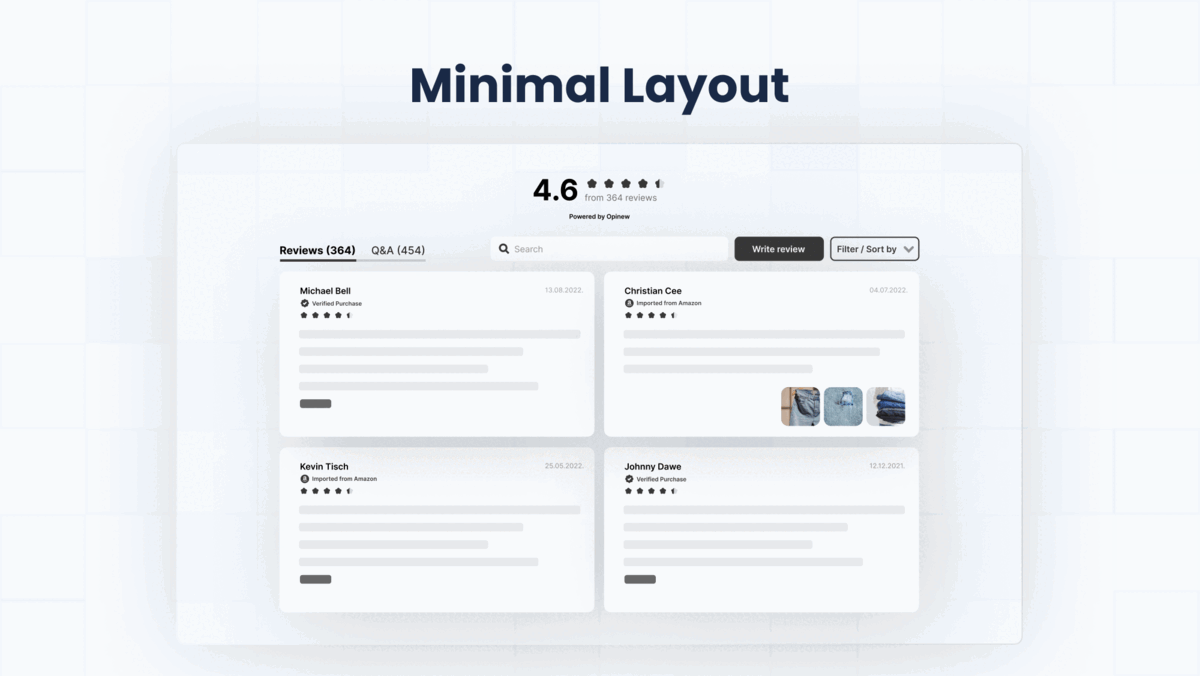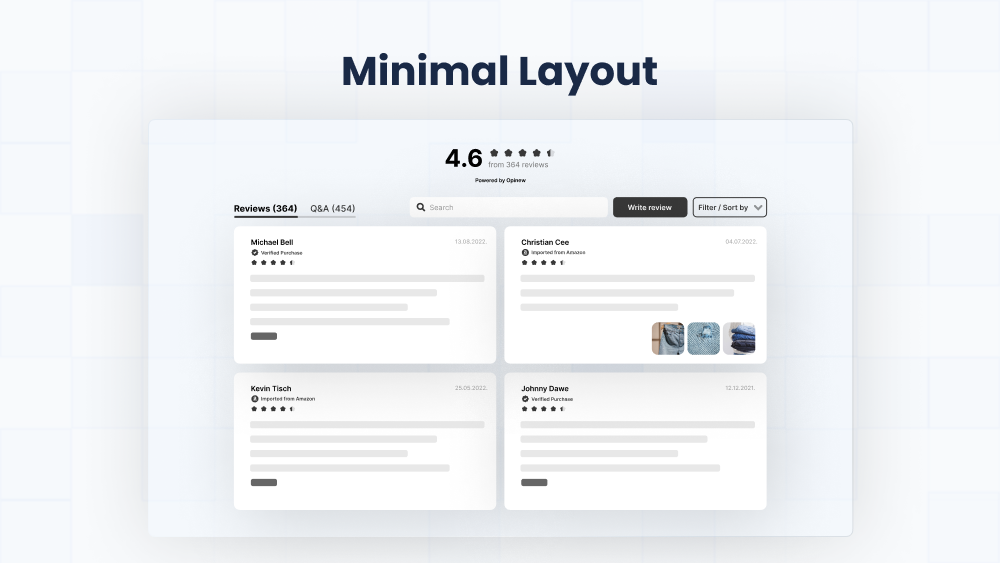 Main Advantages
Like the default layout, the minimal layout offers a featured review image to add on top of all of your reviews.
You can easily customize the number of columns and the amount of reviews per page.
Can be useful if you don't have a lot of review images.
Blends well with any store.
Carousel Layout
The Carousel layout is an excellent choice if you're looking to show off your reviews while taking up minimal space on your product page. Much like the minimal layout, it hides the review card and star breakdown along with the image thumbnail at the top, but still allows reviews to be shown on a single line. Showcasing your best reviews in this layout is a great way to make sure your visitors take note of your highest converting reviews, so they know exactly what to expect from your product.
Customization examples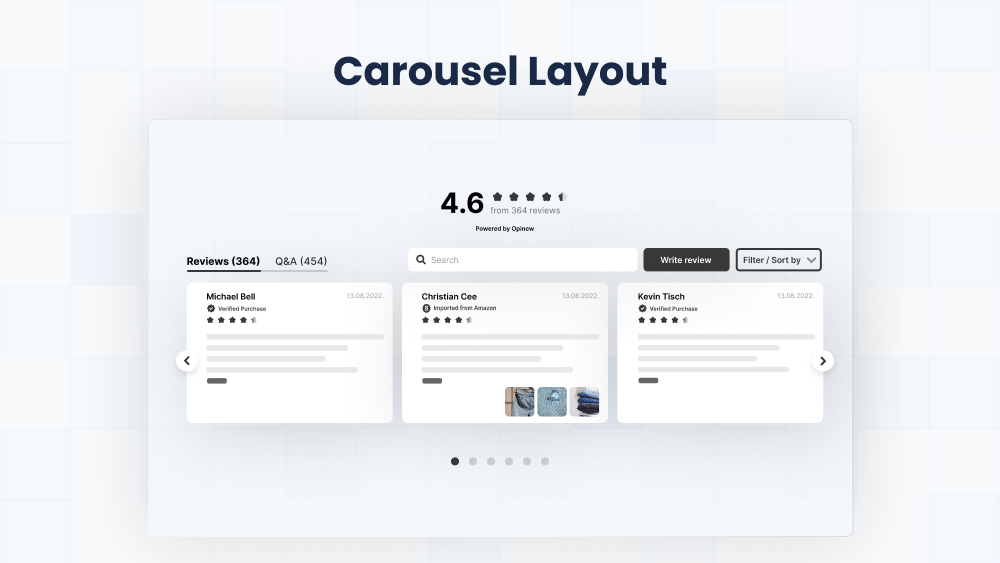 Main Advantages
Increased Visibility: With a carousel review display, each review is given more individual attention as customers are shown only one review at a time. This ensures that customers are able to read each review in its entirety and not risk being overwhelmed with too much information.
Easy To Navigate: A carousel display makes it easy for customers to navigate between reviews, allowing them to quickly find the information they need. This decreases the likelihood of customers becoming frustrated or overwhelmed by the review system and increases their overall satisfaction.
Customizable Settings: With a carousel review display, merchants have the option to customize the color and size of review elements. This allows them to create a review widget that aligns with the design style of their store.
More Engaging: Carousels are an inherently engaging display of information and can be used to attract customers' attention. With a carousel display, customers are more likely to interact with the review widget and gain the information they need.
Mobile Friendly: Carousel review displays are designed to be mobile friendly, ensuring that customers are still able to access reviews even when browsing on a mobile device. This allows customers to access product reviews no matter what device they use, thus increasing their overall satisfaction.
If you're interested in our new customization settings, we've written an extensive help guide on how to customize our new review widgets.
If you'd like to try to our review widgets, feel free to install Opinew and contact our support team via live chat if you need any help customizing them.