15 Best Shopify Apps & Tools to Build your Shopify Store in 2023
Table of Contents
Running an eCommerce Shopify store is very different from a normal website or your personal blog. There's so much to do, including payment policy, email marketing, shipments, SEO optimization, etc. But luckily, not only does Shopify make it easy to sell online, but it also provides what online stores need the most to achieve success.
If you take a look at the Shopify App Store, you can be a bit overwhelmed with more than 2000 apps. It's true that these apps can help to tackle most of your problems, but it's hard to find the best one for your store.
That's why in this article, we will shorten down the list of the 15 best Shopify apps that will keep your store up and growing. Now let's get started.
#1. DSers - Product Importer
Price: Free plan is available.
DSers, an innovative solution for AliExpress dropshipping, elevates your operational capacity by allowing you to manage hundreds of orders in record time. It not only aids in discovering novel products and trustworthy suppliers for increasing sales but also ensures enhanced profitability. DSers facilitates sourcing products at more affordable rates, importing items from a multitude of vendors, establishing connections with reliable suppliers, and automating certain tedious tasks, all for a more efficient business approach!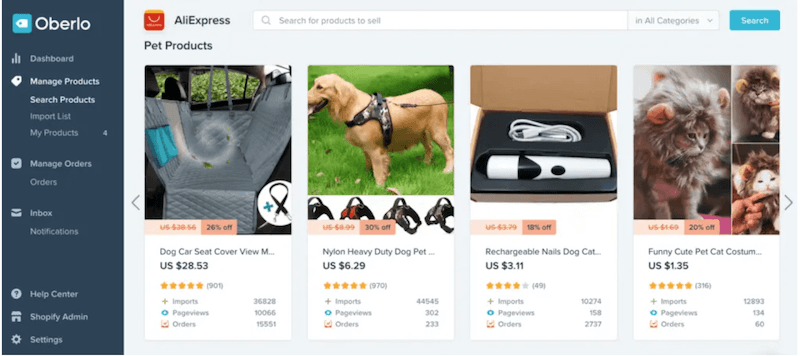 Opinew is fully integrated with DSers. When importing your products, Opinew lets you import reviews in 1-click at the same time. Find out how you can import your product reviews from DSers to Shopify with our Google Chrome Extension.
#2. Avada.io - Email Marketing Automation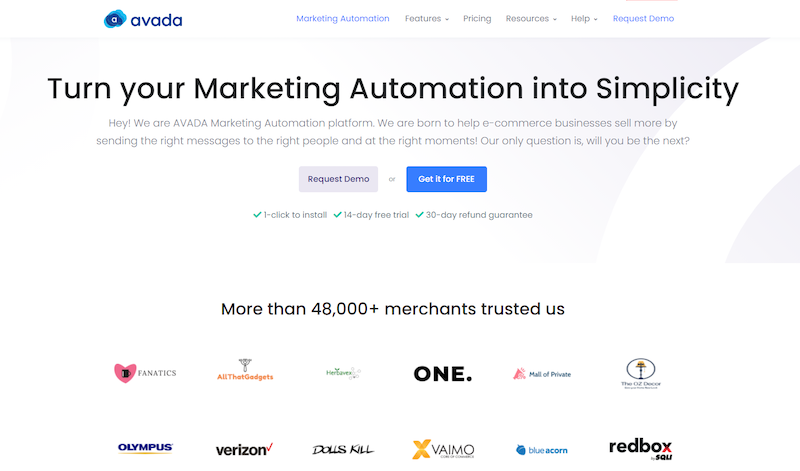 When you're a small business, email marketing is a great way to reach out to your customers. With AVADA, you can automatically send SMS and email marketing to your customers. That way, you can get in contact with them and strengthen customer loyalty, raise brand awareness, and provide a better service. In this new digital world, it's easy to find a bug or have a question about your latest purchase.
AVADA Email Marketing has customer service available at all hours of the day. The company is an invaluable tool for businesses because it's so easy to use, even for those who aren't technically savvy.
Automation features:
Pre-done automation emails series to follow up with your audiences
Create beautiful branded emails that are shoppable
Improve conversions with segmented campaigns
Deliver promo and useful content or updates to visitors
AVADA Email Marketing has packages for both small and large businesses. The free package includes 1,000 contacts and 15,000 emails per month, while the premium package starts at $9/month. For larger businesses, AVADA Email Marketing has free enterprise-level email marketing solutions. AVADA Email Marketing is perfect for small businesses and new Shopify eCommerce stores.
#3. Spocket - Product Sourcing App
Price: Free plan is available
Spocket is also a dropshipping platform that gives entrepreneurs access to a wide array of US and EU products (you may also find a few merchants in New Zealand and Australia here).
Best of all, Spocket's high-quality products are available at pre-negotiated discounts of up to 60% off the retail price. This way, you'll be able to make a higher profit on each unit sold. Moreover, because most Spocket suppliers are located in the US and EU, you can offer customers fast delivery times. Usually, your customers receive their orders within 2 and 7 days, which is incredibly fast compared with other dropshipping companies.

#4. PageFly - Advanced Page Builder
Price: Free plan is available for one page of each page type (e.g. one custom homepage, one custom product page, one custom About Us page, etc). If you need more pages for your website, you probably need one of the paid plans starting from $19/ month.
Pagefly is an easy drag-and-drop page builder for Shopify. It lets you design your own custom pages on Shopify. Its main competitor is Shogun, but unlike Pagefly, Shogun does not have a free plan.
It has a bunch of starter templates you can choose from. Otherwise, you can also start building your store from scratch by adding elements to the page, and then editing its styling options.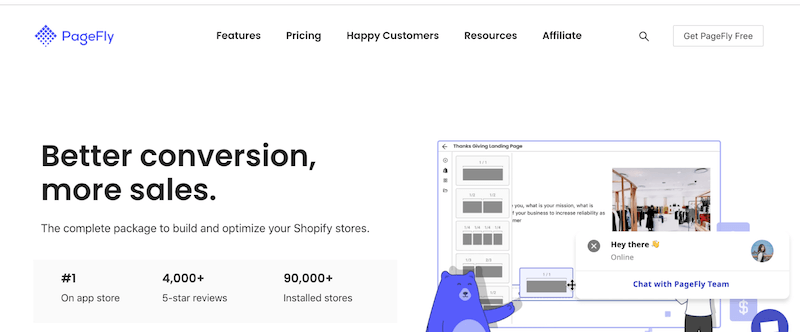 Opinew is fully integrated with Pagefly! Learn more about how to build high-converting pages with Pagefly & Opinew.
#5. Bold Discount - Conversion Optimization for Your Store
Price: 14-day free trial is available. The Basic plan starts at $19.99
48% of customers asserted that discount/ sales promotions can speed up their purchase decision. Bold Discount is an app that helps you to create effective promotion programs and therefore optimise the conversion rate of your Shopify store. It's trusted by over 10,000+ merchants to run promotions during their biggest sales of the year, including Black Friday and Cyber Monday, and backed by industry-leading support.
Bold Discount can help to save time by scheduling sales ahead of time and auto-tag products on sale. Your Shopify store can also have a fully customizable live countdown sale timer on every item at a discount in your Shopify store.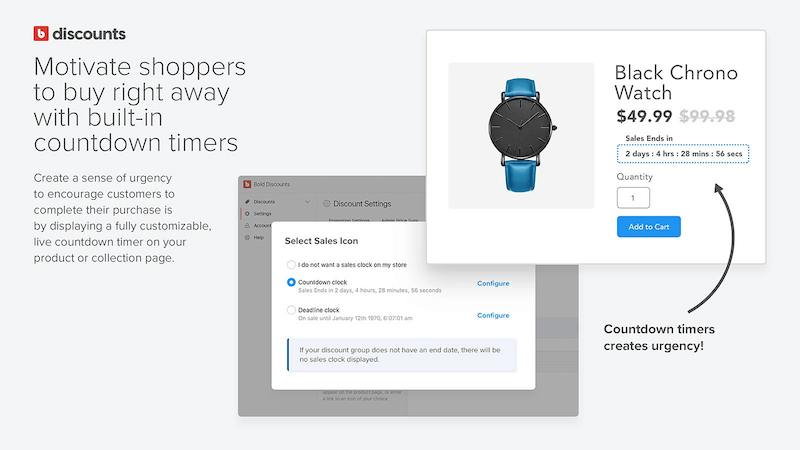 #6. PushEngage - Decrease Abandonment Cart Rate
Price: Free plan is available. You can also have a 15-day free trial before deciding to pay for the business plan at $29/month.
Do you have a problem with cart abandonment? According to some recent estimates, cart abandonment costs online retailers $4.6 trillion. That's a lot of potential revenue lost, isn't it? PushEngage can help you solve that problem by customising push notifications to the user at any time interval.
Some of its key features are:
Price Drop Alert Campaign: A drop-in price is a big motivator for customers to make buying decisions.
Inventory Alert Campaign: It can auto-update users when the product is back in stock using the inventory alert campaign.
Notification In Native Language: PushEngage allows you to send a notification to your customers in the native language, thereby taking personalization to a whole new level.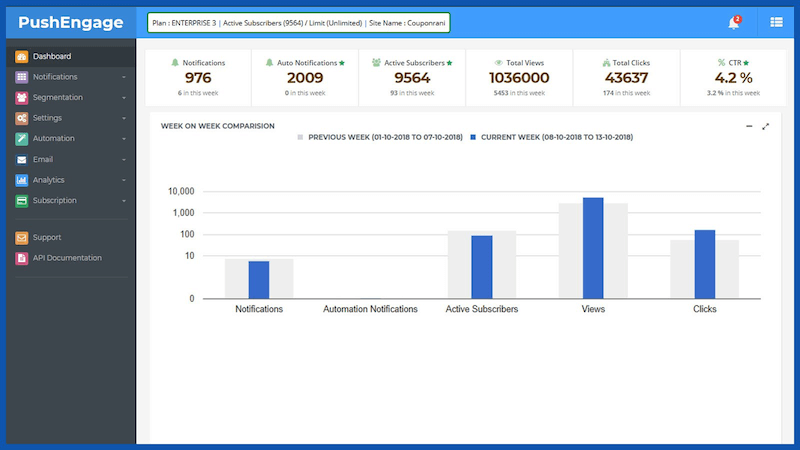 #7. Opinew - A Complete Solution of Review Management
Price: 14-day free trial available.
Opinew is a Shopify product review app, that takes your Shopify store to a new level in review management, review requests, and presenting this information in a seamless design and feature-rich way.
Whether you are a dropshipping startup, a nationwide brand working on marketing communication strategies across your Shopify store, or a global e-commerce retailer consolidating product reviews across multiple online Shopify stores, Opinew is designed to boost your conversions and store authority in a quick, easy to use way.
With Opinew, you can:
Import product reviews: Import customer feedback from Amazon, AliExpress, and eBay.
Customize your social proof sections: Customize how your reviews are displayed on your site.
Migrate reviews: Migrate reviews from platforms like Loox, Judge.me or Yopto
Improve your SEO: Opinew creates rich snippets for your store
Request Reviews: Send review request emails to customers.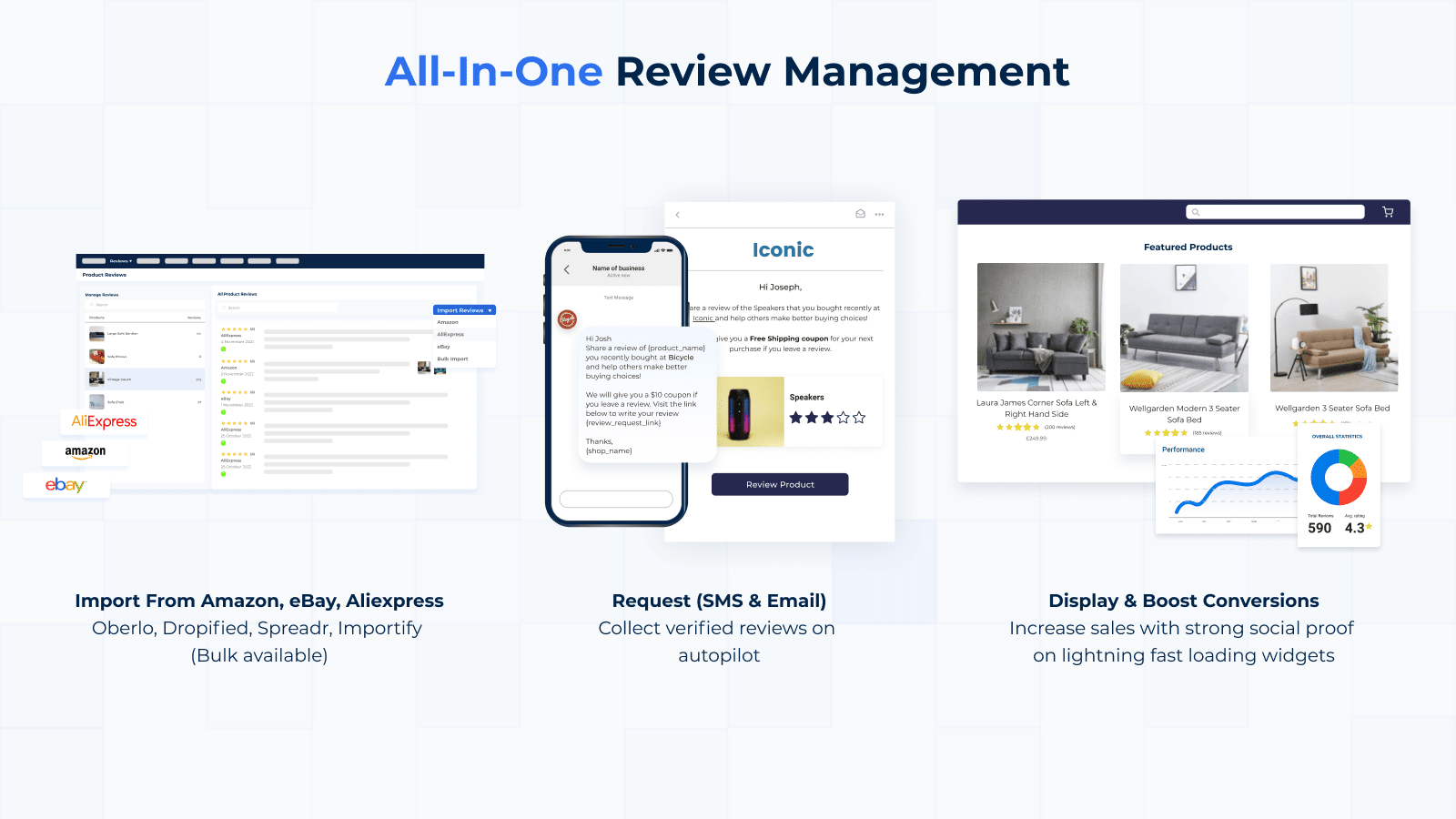 #8. Plug in SEO - SEO optimization Shopify App
Price: A free 7-day trial is available. It costs $20/month after that.
Shopify SEO plugins will make managing your online store's search engine optimization a lot simpler, putting you ahead of your rivals. Plugin SEO is one of the most easy-to-use and effective Shopify SEO optimization apps.
Top Features of Plugin SEO:
It lets you bulk edit SEO data like meta tags and descriptions.
The plugin helps fix broken links and image alt tags and optimizes your blog for higher rankings.
It lets you monitor your organic traffic and also offers easy integration with Google Webmasters Tools and Google Analytics.
You can set target focus keywords on all your product pages to help them rank higher in the organic search results.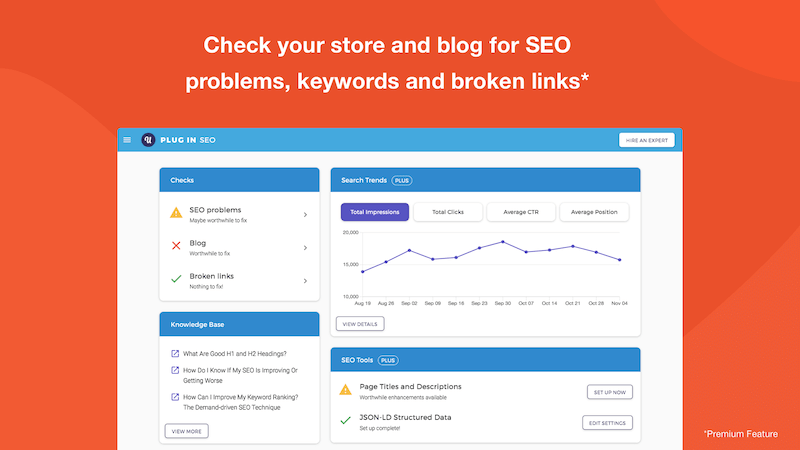 #9. Easyship - Easy Way to Shop Worldwide
Price: Free plan is available. You only need to pay for your shipping cost
Easyship helps Shopify sellers ship internationally as a pro. It enables merchants to grow their sales worldwide by accessing discounted shipping rates from 50+ global couriers or linking their own carrier accounts. With Easyship, you'll be able to show accurate rates within checkout, including required taxes, duties, and courier fees upfront for every shipment.
Merchants can leverage Easyship's global fulfilment network, compare courier solutions, generate labels, automate returns, notify customers, and offer worldwide tracking with ease.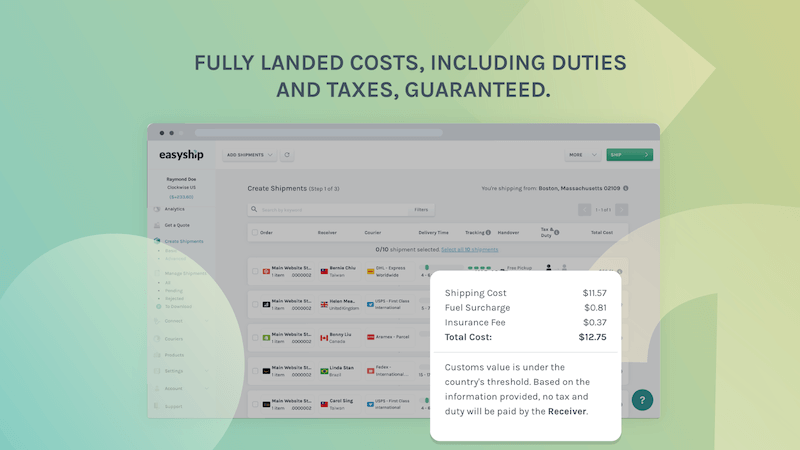 #10. Countdown Timer by POWr.io - Create Urgency for Shoppers
Price: Free plan is available
According to many researchers, urgency is a prominent psychological technique that compels people to take action right away. It is deeply ingrained in our brain and relates to FOMO (fear of missing out). When running a Shopify store, you can use some techniques to create urgency to optimize your conversion rate, Countdown Timer by POWRr.io is one of the best apps that help you do that.
Create your countdown timer bar with these features:
Display the remaining years, days, hours, and minutes of a special deal or sale event.
Countdown to checkout at any future date to build up excitement for an upcoming event, such as an end-of-season sale, new collection launch, and more.
Allow customers to copy/paste a coupon or discount code in a discount timer and direct customers to your sale landing page on your site.
Reset the checkout timer for each new visitor, so every visitor sees their own X minutes remaining on a special sale or offer.
#11. Hubspot - Marketing, Sales, and Service Software
Price: Some free tools are available. The starter plan starts at $45/month
Understanding your customer insight is the most important thing when you do e-commerce business. Whether they are clicking on a social ad, reading your latest blog post, or making a purchase, your customers are providing valuable data that can tell you exactly what they are looking for.
Connecting HubSpot to your Shopify store helps you to understand customers' data and provides you with marketing tools to engage with your customers and optimize the conversion rate. Now with Hubspot, you can deliver the right message to the right person at the right time.
Firstly, you have to connect HubSpot and your Shopify store to sync customers, products, and deals. The sync turns this data into powerful marketing signals in HubSpot. Then, Hubspot helps you to upgrade your marketing with this data by creating abandoned cart email nurturing, smart CTAs in content, product-specific re-engagement ads, and much more.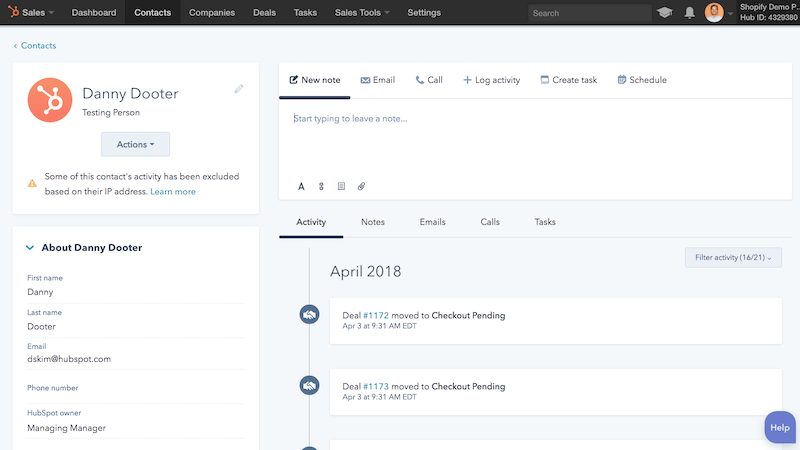 #12. Wiser — Personalized Product Recommendations
Price: Free plan is available
Wiser is a Shopify app that enables you to display personalized product recommendations across your website - the home page, product pages, cart page, or even on popups. The app comes with multiple widgets that let you display recommendations that help upsell and cross-sell products; including frequently bought together, related/ similar products, top-selling products, trending/ hot-selling products, recently viewed products, new arrivals, featured products, and more.
These personalized and relevant recommendations ensure that the shopper doesn't drop off from your store after viewing a product. Wiser uses your customers' previous behaviour to create suggestions for them when they visit your Shopify store, increasing the chances of them converting.

#13. Facebook Messenger Live Chat - Continue communication
Price: Free plan is available
Real-time customer communication is key to converting your potential customers. The longer you take to respond to a message, the more likely you are to lose this customer.
Facebook Message Live Chat is a powerful "all-in-one" customer support software used by small and medium-sized businesses. Installation is fast and easy and no coding skills are required. After installing this app, your customers will be able to contact you via a "Live Chat" button on your website anytime they have a query.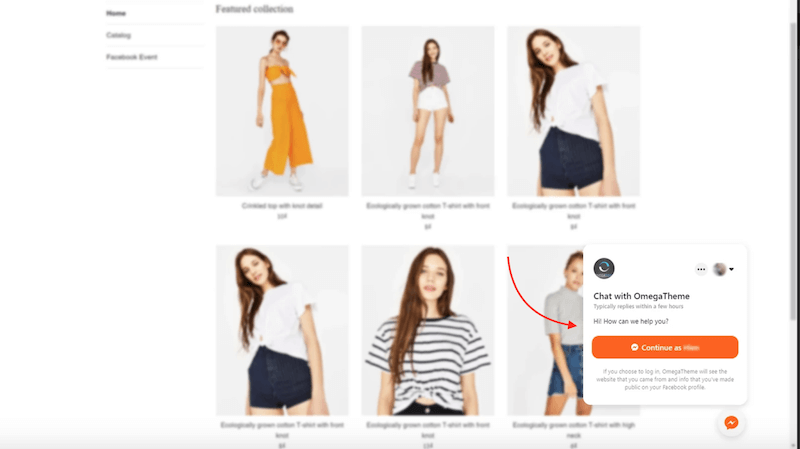 #14. Moosend - Email Automation Platform
Price: Free plan is available for companies with less than 1,000 subscribers. The Pro plan starts at $8/month.
Moosend is an email marketing platform that automates routine activities so that marketers can concentrate on developing long-term relationships with their customers. It has an easy-to-use interface for creating emails and tracking campaigns, and it doesn't need any coding or web design knowledge.
With Mooesend, there's a drag-and-drop campaign editor to easily add text, images, social share buttons, and other elements to the email newsletter. Marketers can either create their own designs or access Moosend's library of newsletter templates, then preview what the design will look like in both desktop and mobile interfaces. When newsletters are ready, marketers can enter test email addresses and schedule their email campaigns to send on a specific date and time.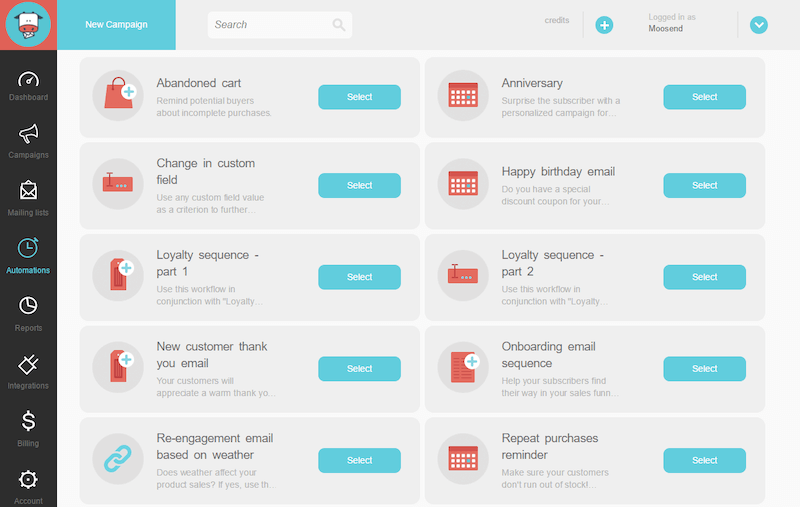 #15. AfterShip Returns Centre - Return Management Tool
Customers return products for a variety of reasons, including incorrect size/colour orders, defective products, products that do not meet their needs, and so on. So, even though you despise dealing with returns, you must deal with them. Customer dissatisfaction and potential sales could be diminished as a result of a bad return experience.
Using AfterShip Returns Centre, you can release all the hassles to manage all the return requests and update the status of the returns in one place.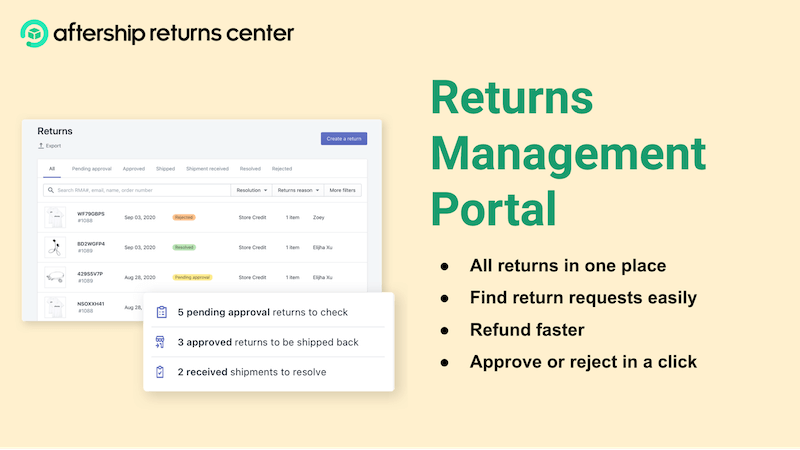 #16. Auto Currency Switcher - Increase international sales
Price: Free plan is available. The premium plan is at $9.95/ month
The final (bonus) one of our 15 best Shopify apps is Auto Currency Switcher. As e-commerce is going global, the majority of foreign customers prefer to see the prices in their home currency automatically. Thus, Shopify Auto Currency Converter App helps you target international customers all over the world and increase your global sales.
Auto Currency Switcher is an app with features like detecting a customer's country automatically, and displaying the country flag in the currency selection box,... Customers can also manually change the currency from the currency selection box. The app helps to increase the comfort level of a foreign customer and increase your global sales.
Let's get started with your Shopify store
That's our list of the 15 best Shopify apps for 2023. We believe that any Shopify store owner can take advantage of these apps and scale their Shopify store to a new level.
It's your turn to try them out and see how they can improve your store. Drop us a comment if you have any feedback or recommendation.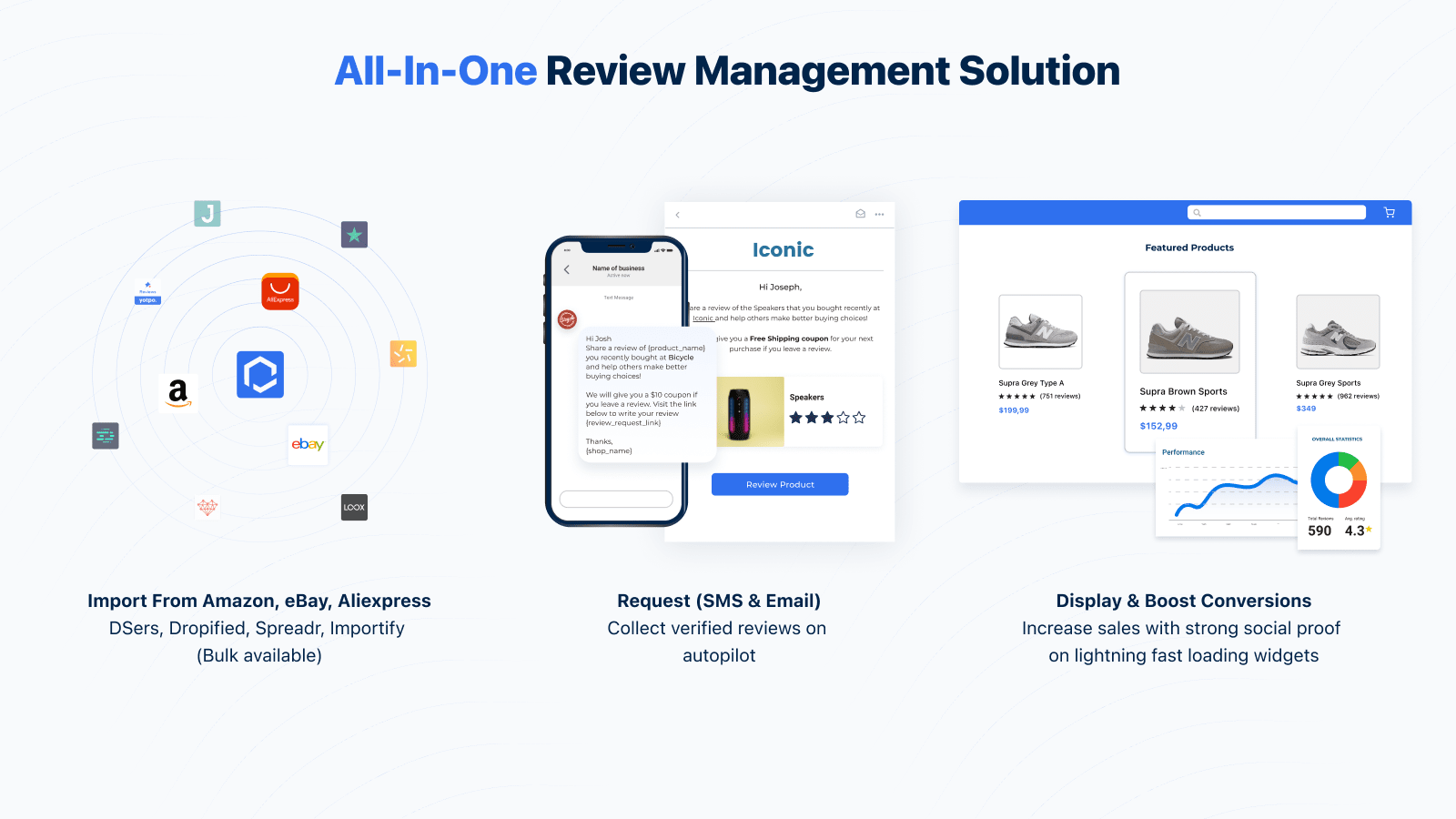 Get started for free
All-in-one review management solution for Shopify stores looking to build trust and increase conversions. 
Install Opinew
Opinew Blog Newsletter
Join the newsletter to receive the latest updates in your inbox.
---