This short article will tell you exactly how to import product reviews from AliExpress to your Shopify store using Opinew Product Reviews.
Step 1: Add Opinew Product Reviews to your Shopify Store
First you'll need to install Opinew from the Shopify app store. You can find us on the app store by clicking the button below!
Step 2: Import Reviews
Option 1 [Quick & Recommended]: Use the Chrome Browser Extension
Our Chrome extension enables you to import Aliexpress reviews quickly and in bulk from popular dropshipping apps (Spreadr, Importify, Dropified). You can import one by one from Aliexpress pages too.
How to use and install the Chrome extension
Option 2: Use the form
After opening the Opinew app via the apps tab you should navigate to Get Reviews > Import Reviews menu, seen below: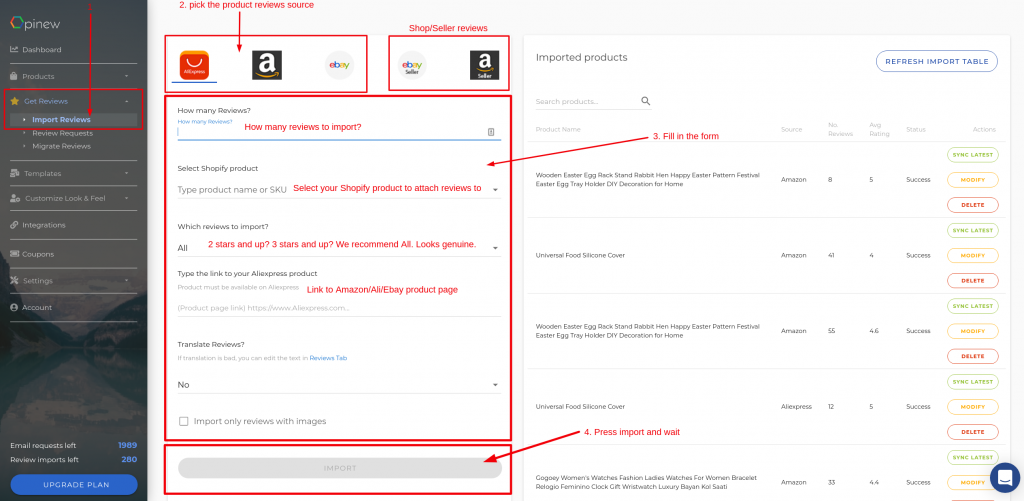 Step 3: Pick Aliexpress Tab and Fill out the Form. 
Once you have navigated to the AliExpress tab within the app you will need to fill out a short form so that the app knows exactly what you're looking for. An example of how this form should be filled out can be seen below. 


First, enter the link to the product on AliExpress.
Then, select one of your own product pages to import the reviews to.
Then, select the number of reviews you wish to import (You can also play around with star and translation options if you like!) .
Finally, hit import! 
Step 4: Check that the Reviews Import was Successful.
It shouldn't take long for the import to process and the reviews to be added to your store. You can check the import status using the interface to the right of the form you just filled out.