Top 20 Best Shopify Apps for Direct-to-Consumer Brands
Introducing Direct-To-Consumer Brands
Direct-to-consumer brands are more and more popular in the e-Commerce world. According to a 2018 survey, 87% of US consumers say that they would buy products directly from a brand online if given the option. Not surprisingly, more and more manufactures in a range of product segments - from eyeglasses to mattresses and sneakers - are jumping on the direct-to-consumer (D2C) bandwagon.
To stay on top of the market, your direct-to-consumer brand needs to be standout and be constantly improved. In this article, we'll introduce you to the list of 20 best Shopify apps that help to leverage your direct-to-consumer brand to a new level.
What should you know about the direct-to-consumer brands strategy?
Before we dive in, let's go through some basic information about the direct-to-consumer model. Direct-to-consumer (or D2C) brands manufacture, market, and distribute their own products without relying on traditional stores or other middlemen.
The benefits of choosing the direct-to-consumer model are many, but to name a few, this model helps to reduce cost, eliminate the barrier between the producer and the consumer, giving the producer greater control over its brand, reputation and sales tactics. Moreover, it also helps the brand to interact directly with end-consumer to get a better understanding of them and provide a seamless start-to-finish buyer's experience.
But every coin has two sides. What about the drawbacks of the D2C model? Changing business from B2B (Business-to-business) to D2C means that instead of selling to only a few distributors, you now have to sell the products to many individual customers, which increases the complexity of the distribution chain and poses additional risks. For instance, now you have to concern yourself with shipping, labeling, and also handling customers' data. These tasks are previously in charge by distributors such as wholesalers and retailers.
Now you have learned some basic knowledge about the D2C model, the decision of choosing this model or not is yours. But if you plan to build your direct-to-consumer brand, we're with you.
Top 20 Best Shopify Apps to leverage your direct-to-customer brand
App for Building eCommerce websites
#1. PageFly - Shopify Advanced Page Builder
Price: Free plan is available for one page of each page type (e.g. one custom homepage, one custom product page, one custom About Us page, etc). If you need more pages for your website, you probably need one of the paid plans starting from $19/ month.

Having a customized and good-looking website is one of the most important things for a D2C brand as it can market directly to website visitors and customers. Pagefly is one of those page builders that consists of a simple drag & drop editor and various features that most store owners need.
There are some reasons why we recommend you to use this app:
Easy to use
Plenty of optimized templates
Dedicated customer support team.
Opinew is now fully integrated with Pagefly! Learn more about how to build high-converting pages with Pagefly & Opinew.
#2. Shogun - A drag and drop page builder
Price: 10-day free trial is available. The Build plan starts at $39/month
Shogun is another advanced Shopify page builder that has received lots of positive customer reviews. Many direct-to-consumer brands like Chubbies, K-Swiss, MVMT, Leesa, FILA, and The Ridge are using Shogun to create exceptional experiences for their customers. It allows you to build beautiful landing pages for your Shopify store, including standard pages, blog posts, product pages, and collections.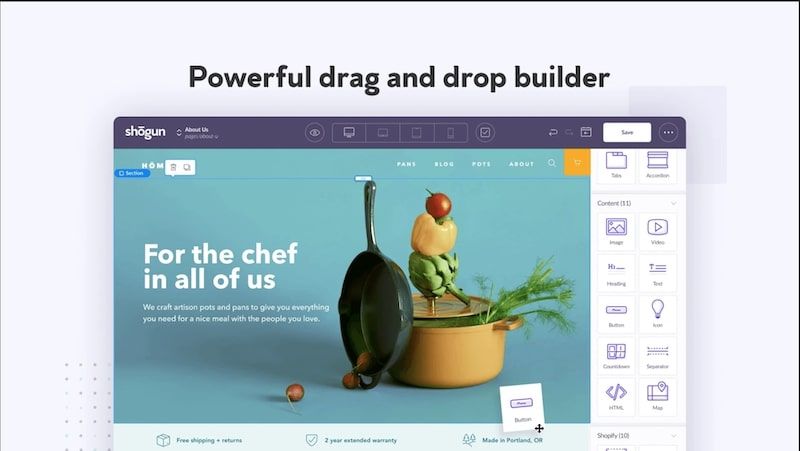 When comparing Shogun and Pagefly, you will see that Shogun has built-in analytics and split testing, whereas, with Pagefly, you have to integrate with third-party analytics. Shogun also has more beautiful templates for you to choose from. That's why it's more expensive and doesn't offer a free plan as Pagefly does.
#3. Booster - Page Speed Optimizer
Price: Free
When building a direct-to-consumer website, you should never forget to optimize your site loading speed. Faster pages are more efficient and provide a much better on-page user experience. According to some recent research, if a website takes longer than 3 seconds to load, over a quarter of users will click away.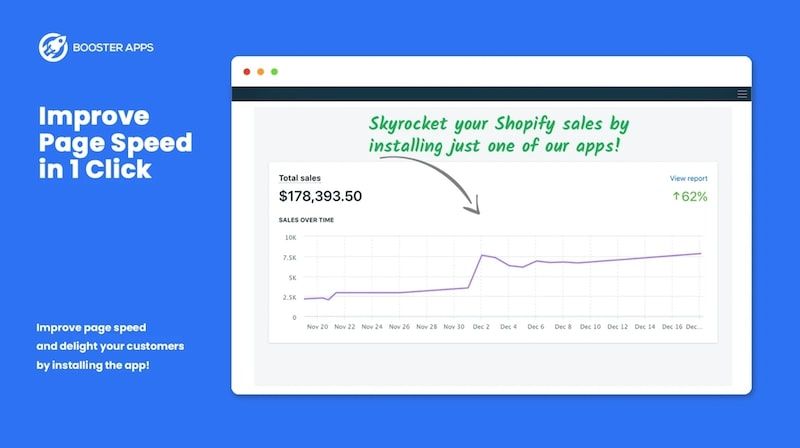 Booster is a free Shopify app that helps you instantly improve page load times. One-click installation. No coding is needed. It takes you less than 3 minutes to get set up and improve your user experience.
App for Trust and Security
#4. Opinew - A Complete Solution for Social Proof Management
Price: 14-day free trial is available. The paid plan starts at $90/year.
When you do D2C business, any customer comment matters. It not only boosts consumer's confidence to make buying decisions, but it also helps you to get lots of insightful understanding about your customers. By placing social proof at every stage of the customer journey — whether it's testimonials, positive reviews, likes, or shares — a D2C brand can build trust with customers and encourage new ones to buy from them with confidence.
Opinew is a great Shopify app that will take your Shopify store to a new level in review management, review requests, and presenting this information in a seamless design and feature-rich way.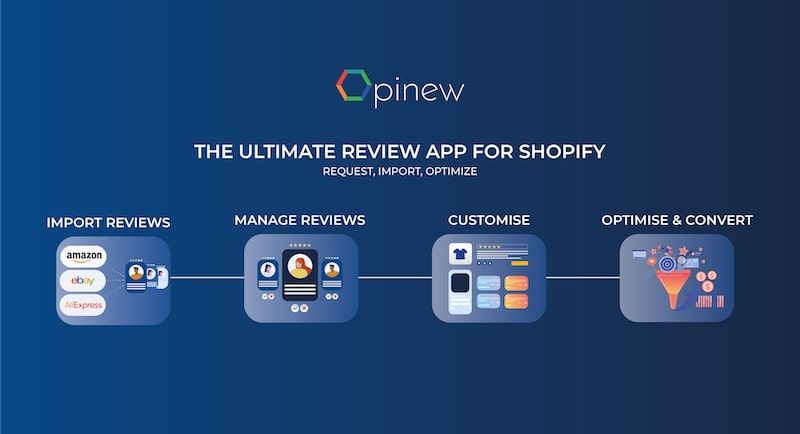 With Opinew, you can:
Import product reviews: Import customer feedback from Amazon, AliExpress, and eBay.
Customize your social proof sections: Customize how your reviews are displayed on your site.
Migrate reviews: Migrate reviews from platforms like Loox, Judge.me or Yotpo
Improve your SEO: Opinew creates rich snippets for your store
Request Reviews: Send review request emails to customers.
Install Opinew for your Shopify D2C brand here!
#5. Ultimate Trust Badges - Add Free Trust Badges
Price: Free
Trust badges are icons, images, or logos that you place on your Shopify store to build trust among visitors. They're most frequently seen on checkout pages where they aim to reassure users that they can safely complete a purchase. Or in other cases, they simply highlight a customer-friendly policy or a trusted partner.

Install Ultimate Trust Badges, you can access more than 300 free badges in a variety of segments such as Credit Card Providers, Banks, Currencies, etc. Then you can easily customer the badges without any technical experience with its intuitive what-you-see-is-what-you-get settings.
#6. Free Trust Badges
Price: Free plan is available. The Premium plan starts at $5.99/month.
Free Trust Badge is another app that helps you insert trust badges in your website but mainly focuses on payment trust badges. The purpose of these badges is to make shoppers feel safe to buy from you.

Installing this app, you will unlock more than 670 premium payment badges and multiple design options. You can change the font size and color of them to match the theme and your brand identity. You can also drag and drop the trust badges you want into nearly anywhere on your store website within a few clicks.
App for Marketing and Conversion Optimization
#7. Klaviyo - Email and SMS Marketing Automation
Price: Free to install. Get started with up to 250 email contacts for free forever. Paid plans start at $20/month.
Just searching "email marketing" in the Shopify app store, you will see over 400 results. However, when it comes to direct-to-consumer email marketing, one name tends to stand out: Klaviyo.
Klaviyo is the leading eCommerce marketing platform in the Shopify ecosystem. Over 50,000 stores around the world use Klaviyo to send personalized emails, SMS messages, signup forms, and more. At its core, Klaviyo has a drag and drop email composer along with various pre-built email templates for common email campaigns. There are also powerful automation tools that enable you to create complex automated email flows.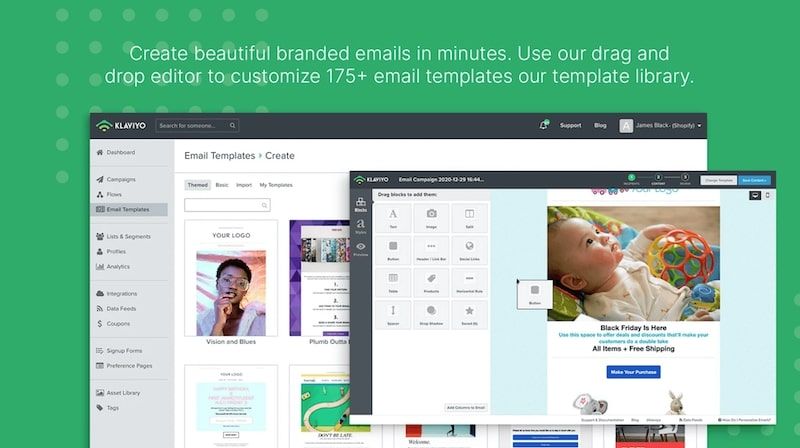 Some of the features and email campaigns you can create with Klaviyo include:
Abandoned cart flows
Post-purchase follow up emails
Sync email lists to Facebook custom audiences
Segmentation based on a variety of eCommerce related factors
Optimization tools such as multivariate testing
Personalized product recommendations
#8. SEO Optimizer - All‑in‑one SEO solution
Price: Free plan is available. The Pro plan starts at $29.88/ month
Search engine optimization, or SEO, is the practice of increasing the quantity and quality of traffic to a website through organic means. Organic search e-commerce SEO is crucial to the success of any e-commerce store in 2021, including your direct-to-customer brand.
SEO Optimizer will ensure that you are set up for On-Page SEO success. It will constantly monitor and automatically optimize your store to ensure you're meeting Google's best practices when it comes to technical SEO.

For more details, here is something that SEO Optimizer app can help you:
Boost your image search traffic with optimized image ALT tags
Use our AutoPilot feature to fix SEO issues based on customizable rules
Automatically build, maintain, and submit your store's sitemap to Google to ensure every page is indexed and crawled by Google
Monitor and automatically redirect broken links (i.e. 404 not found) that are hurting your SEO and conversion rates
#9. ReConvert Upsell and CrossSell
Price: Free plan available. 30-day free trial.
The direct-to-consumer market is highly competitive. To survive, you need to constantly get new customers as well as turn your current customers to repeat ones. You might not notice, but your store's thank you page gives you the perfect retention boosting opportunity.
ReConvert Upsell & Cross Sell is a simple yet powerful app for thank you page optimization. It allows you to customize your thank you page fully and easily with a drag & drop interface.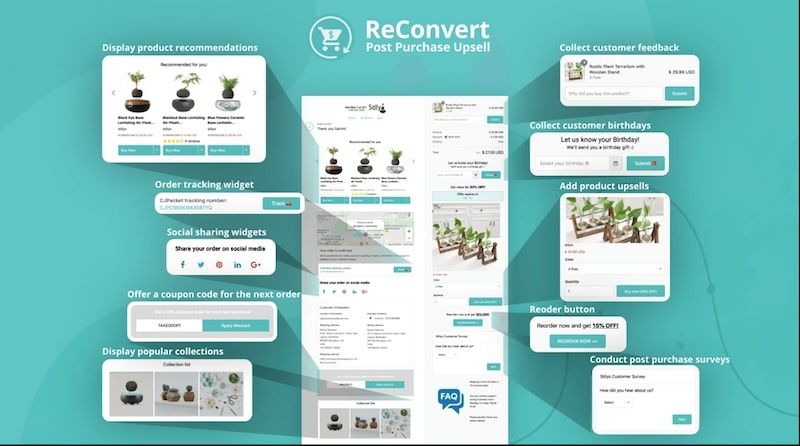 Here is some widget that ReConvert can add to your thank you page:
Discount popup with countdown timer (upsell)
Product recommendations upsell & Cross sell (Personalized Recommendations integrations available)
Birthday collector
Reorder button (upsell)
Social sharing
Post-purchase surveys
#10. LoyaltyLion - Loyalty and Rewards
Price: Free plan is available for stores with fewer than 800 monthly orders. If you receive more than 800 orders per month, you might want to upgrade to the Small Business plan at $159/month.
LoyaltyLion will help you set up a loyalty & reward program to your customers: award loyalty points for purchases, sign-ups, subscriptions, birthdays, reviews, referrals, social media likes, follows and tags

#11. Smart Search and Instant Search - Advanced Search Widget
Price: 14-day free trial is available. The Pro plan starts at $9/month
Smart Search & Instant Search is a Shopify app that helps you create a guided customer experience across all touchpoints of the product search & discovery journey and maximize your store conversion. As your customer starts typing in the search bar, the search drop-down menu populates with highly relevant product suggestions.
This app also helps to boost revenue with additional business tools, such as:
Optimize search results with rule-based product merchandising.
Increase order value with Upsell & Cross-Sell Widgets: product recommendation blocks like Customers Who Bought This Product Also Bought, Similar Products, etc.
Use Analytics reports to get rich insights into how your customers use your site search: popular search terms, terms with no results, products clicked, etc.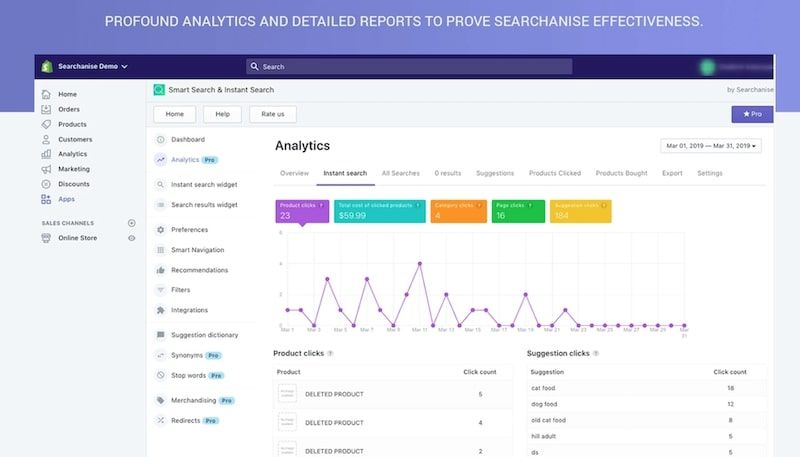 #12. Countdown Timer Bar - Boost Sales With Urgency
Price: Free plan is available. The Premium plan starts at $9.99/month
After you have written your marketing message and built up an emotional connection with the user, it's time to create a sense of urgency. This connection and the urgency in your message can make the user feel they must act now to avoid missing out on something important. Countdown Timer Bar is an easy-to-use app for you to do that.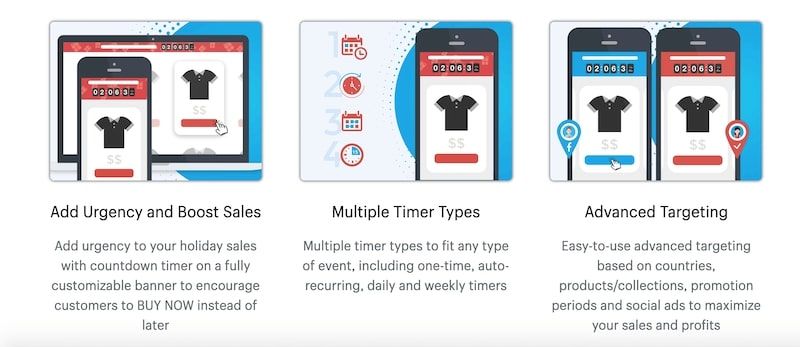 With this app, you can create multiple types of countdown timers to meet different needs such as generic countdown, periodic countdown, daily/weekly countdown, and visitor session based countdown. The Countdown Timer Bar app also supports unlimited active bars for creating different promotions on different pages.
App for Shipping and Delivering
#13. Order Printer Templates
Price: Free to install. You have to charge $29 (one-time fee) per template. Additional templates get an automatic 50% discount.
When choosing the direct-to-consumer model, you will need to deal with individual orders from tons of different customers from different countries. It can be quite tough at first. Order Printer Templates is a Shopify app that helps to reduce the burden for you by creating customizable invoices, receipts, packing slips, return forms, and gift receipts.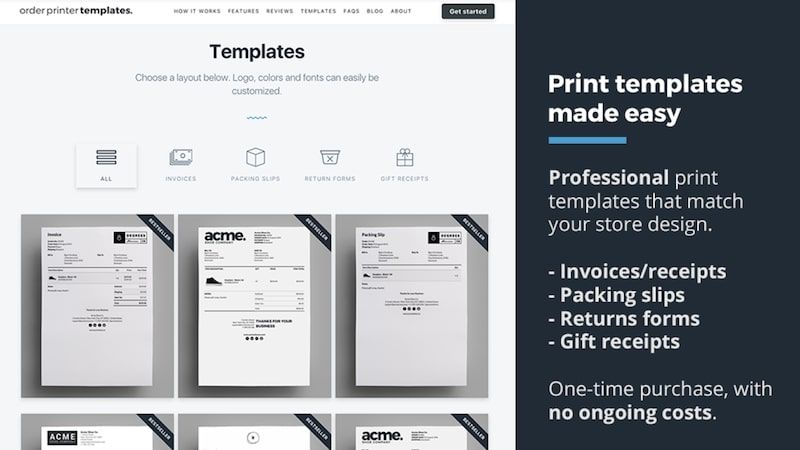 Here is a simple 3-step process to get started:
Select your starting template design - try as many as you like for free. Each design has a matching Invoice, Packing Slip, Returns form, etc.
Customize the design to suit your brand and style - it takes less than 5 minutes.
Buy it once and use it forever in Order Printer Pro, or Shopify's Order Printer
#14. Easyship ‑ All in one shipping solution
Price: Free to install. Users simply pay for what they ship. Costs incurred are shipping costs and subscription fees for more established stores
Here's one rule when doing a D2C brand: Regardless of the type and size of business you're running, customer satisfaction always comes down to how well you handle the order fulfillment process. And sadly, shipping isn't easy to manage. You have to coordinate various shipping companies to ensure that your customers all over the world receive their orders in time, and at the lowest cost possible. In addition, you need to have a sound framework for processing any subsequent returns from the customers who reject their shipments. It can be a lot of work. Therefore, an app like Easyship is what you need.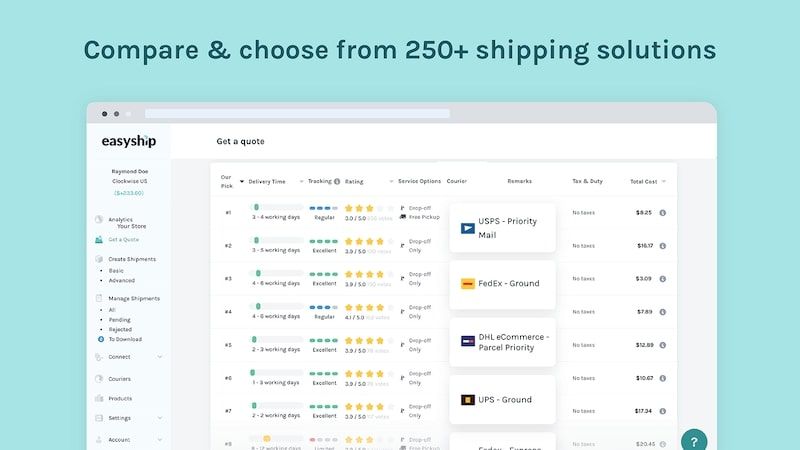 To be more specific, Easyship is a cloud-based platform that provides tools for managing and coordinating both domestic and international shipments across the globe. The tools can, for instance, help you establish not only the shipping rates but also the corresponding tax rates applicable in each country. Easyship further promises to automatically generate tax and customs documents, as well as conclusively calculate if sellers or customers are bound to incur additional costs along the way.
#15. Order Delivery Date - Let Your Customer Pick the Delivery Date
Price: Free plan is available. 21-day free trial before you pay for the Basic plan at $14.99/month
Order Delivery Date is another app to help you bring a smoother shipping experience for your customer. It helps you make getting the package more real in the eyes of the customer, and make him more likely to buy, by allowing him to choose his custom delivery date for his order.

In detail, you can allow your customers to choose exactly when they want to receive their package while setting up delivery rules that would prevent customers from choosing times at which you can't deliver. Delivery data is integrated into each order on Shopify, including notifications sent for each order created by the admin from the store's back-end.
App for Customer Satisfaction
#16. BEST Currency Converter
Price: Free plan is available. The Elite Plan starts at $9.95/month
If your D2C brand wants to sell globally, you probably need an app like BEST Currency Converter. The app detects your customer's location and automatically selects the currency for them. They can also change it manually if they wish from the Currency Switcher. By helping your customers shop in their local currency, you decrease customer frustration and cart abandonment, increasing your sales.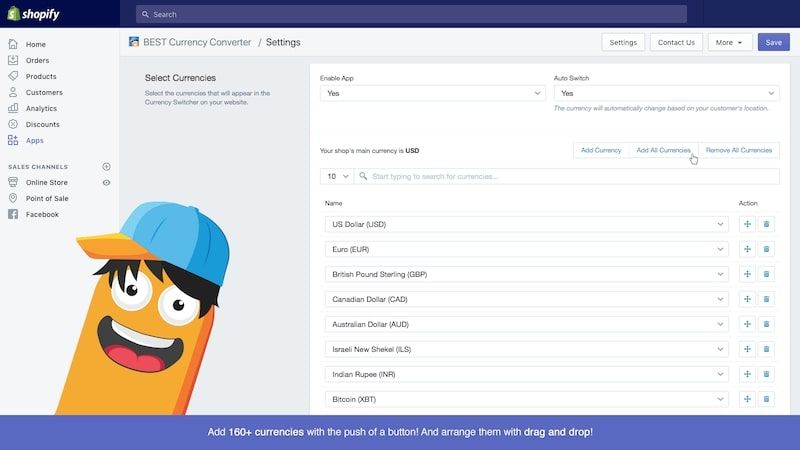 #17. HelpCenter - FAQ and HelpDesk
Price: Free plan is available with 50 tickets/month (Email, Chat, FB Messenger). 14-day free trial before paying for the premium plan at $4.95/month
A help center is the first point of contact for customers and employees alike. Customers need answers and the help desk is where they turn. Therefore, managing your help center is an important task that you shouldn't skip.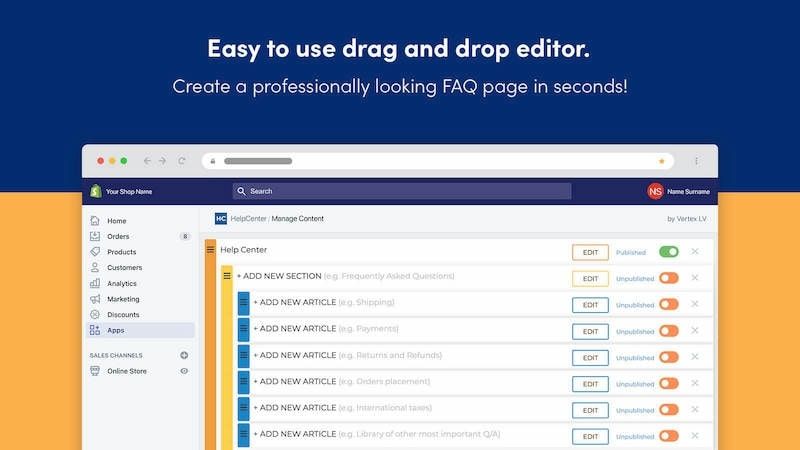 HelpCenter | FAQ & HelpDeskby Vertex LV is what you need. It is a user-friendly customer service app for e-commerce stores, aimed at making interactions with customers more effective. By combining three highly effective solutions: FAQ builder (1); HelpDesk ticketing (2); and Live Chat (3) – HelpCenter is a true lifesaver for every D2C brand that values customer experience and its own time.
#18. Lucky Orange Heatmap and Replay
Price: Free plan is available. 7-day free trial for Starter plan at $10/month
Do you wonder why your direct-to-customer website visitors are not converting to customers? If so, you may want to try the session replay tool called Lucky Orange Heatmaps & Replay. It's designed to provide in-depth information on how users are interacting with your website, primarily through heatmap tools and mouse tracking. Based on this information, you know how to improve your D2C store to bring better results.

Here are what it can do:
Watch people live on your site: Watch every mouse click, move and scroll in real-time or watch recordings later. It records all visits - not a sample like some replay apps.
Use heatmaps to see where visitors engage the most: Answer the questions of what people are engaging with most on your site and whether they're scrolling far enough to see your calls to action
Lower cart abandonment: Use live view to see visitor challenges then engage them with live chat. Use polls to offer special discounts to increase conversions
#19. Form Builder - Build the Best Contact Form
Price: Free plan is available. 30-day free trial.
Have you ever got into confusion while creating the forms on your Shopify store due to the lack of technical expertise? If you have, the Form Builder app is capable of helping you solve this issue.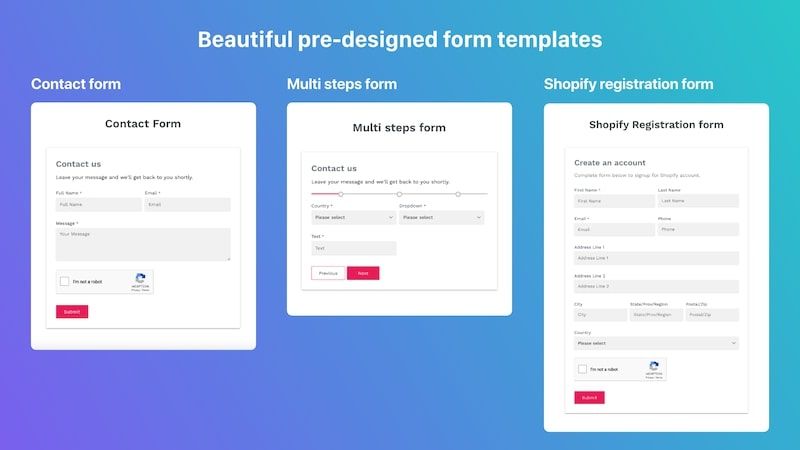 Here are some key features that Form Builder owns:
Unlimited number of forms
Unlimited number of input fields.
Automatically send an email back to the customer who submitted the form
All data of a custom form or contact form is stored. It is useful if you want to review the data. Integrate form data with Klaviyo, Mailchimp, Zapier
#20. Facebook Messenger - Live Chat
Price: Free plan is available. The Premium plan starts at $4.99/month
Converting potential customers requires real-time consumer communication. The longer you hesitate to respond to a message, the more likely you are to lose this consumer. Facebook Messenger - Live Chat is a great tool for you to immediately communicate with your customers. So consider it as one of your customer support channels.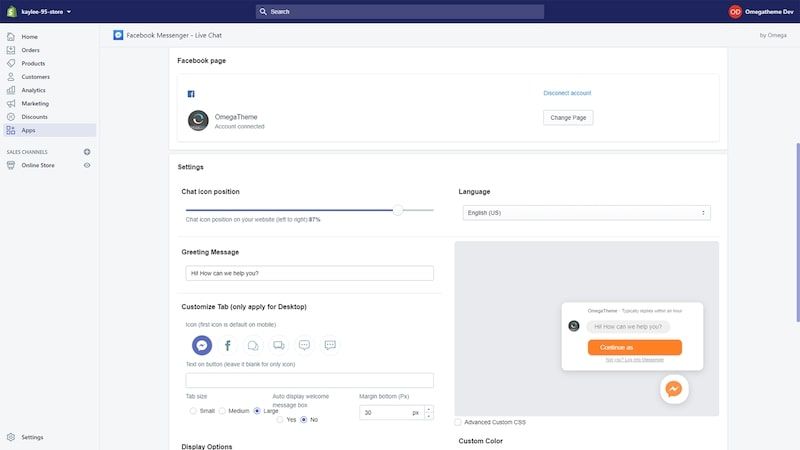 Facebook Messenger Live Chat also provides the Chatbot feature to decrease the workload of your customer support team. For example, you can set up Chatbot to automatically ask visitors basic questions about their size, their locations, etc. It can also save the history of conversation with your customers so that you can have a full overview of interaction on one page.
It's time to start your Direct-to-Consumer Brand
If it is the first time you're running a direct-to-consumer Shopify brand, it can be a little hard at first. That's why we're here, to introduce you to the list of 20 best apps to make your store better, make your business smarter and more effective. Now it's your turn to try them out and see which ones work best for your D2C store.
Install Opinew on your Shopify store today and build strong social proof to increase your conversions: