Top 10 Shopify Apps to Import Reviews from Amazon
Comparison of the best Shopify apps for importing reviews from Amazon for Shopify merchants who are looking to build trust and boost more sales.
Table of Contents
Customer reviews are undoubtedly an option on your eCommerce website to boost conversions and convert sales. It is essential at every stage of your customer journey that helps customers form their decisions before making a purchase.
Reading online customer reviews is a way to tell customers whether they can trust a product or brand, thus improving customer experience and building trust and credibility.
Whether you are looking for a Shopify App to help you collect and display reviews on your store, it would not be a big deal if you are also selling on other big marketplaces or drop-shipping sites like Amazon, AliExpress, eBay, and more.
In this article, we hand-picked a list of the top 10 Shopify Review Apps that could help you easily import reviews from Amazon - the world's biggest eCommerce platform to your Shopify stores.
Here are the Top 10 Best Shopify Reviews Apps to Import Reviews from Amazon in 2022 you should look for, including Free and Paid apps suitable for businesses of all sizes, based on our recommendation.
Ratings: 4.9/5.0 ⭐ (1228 reviews)
Opinew Pricing:
Free Plan available
Starter - $19/month
Growth - $69/month
Advanced - $149/month
Enterprise - $399/month
Key features:
Import reviews including photos and videos from online marketplaces of your choice like Amazon, eBay, AliExpress, DSers, and more. Opinew is an ideal option for importing and collecting reviews since you can enjoy a quick and easy import tool in 1-click and bulk import with our Chrome Extension.
With Opinew, you can showcase your hard-earned reviews using 8 beautiful widgets, including Product Reviews Widget, Product Stars, Collection Stars, Homepage Reviews Carousel, All Reviews Page, Reviews Footer Badge, and convert sales better with customizable options to match your theme. The widgets are fully responsive no matter what device your visitors use.
Opinew is the most lightweight Reviews App on the App Store; hence, you can display hundreds of reviews on your Online Store 2.0 easily without hassle, and display reviews on Google Search, Google Shopping, and Facebook. Unlike the other Reviews App on the market, Opinew offers a large hosting capacity that allows you to import 1,000s reviews within minutes without slowing down your Shopify stores.
Your reviews will be synced periodically; with AI Smart Reviews feature, only highly converting reviews will be featured on top, which helps target customers more effectively.
Ratings: 4.5/5.0 ⭐ (391 reviews)
Areviews Pricing:
Free Plan available
Premium - $6.99/month
Ultimate - $12.99/month
Key features:
Unlimited products and reviews with images (1500 reviews per submit) from not only Amazon but Aliexpress, Shien, Wish, Etsy and Bandgood and show all your reviews in one page like Happy Customers Page, Cart Page, with full theme customization options to match the design of your Shopify stores.
Filter reviews before importing to save your time and import images from specific country and more . Just be sure the reviews will come in English language only. All new reviews will be auto-sync to make your products look active all the time.
Another interesting option is to track all your visitors from different countries and see which product they opened. You can see all the visitors in the map and with top countries statistics to help you with targeting
Ratings: 4.9/5.0 ⭐ (990 reviews)
LAI Ali Reviews Pricing:
Free Plan available
Essential - $4.95/month
Growth - $9.95/month
Expert - $14.95/month
Key features:
LAI Ali Reviews allows you to import reviews from Amazon, AliExpress and many other sources. Check out the image below for more.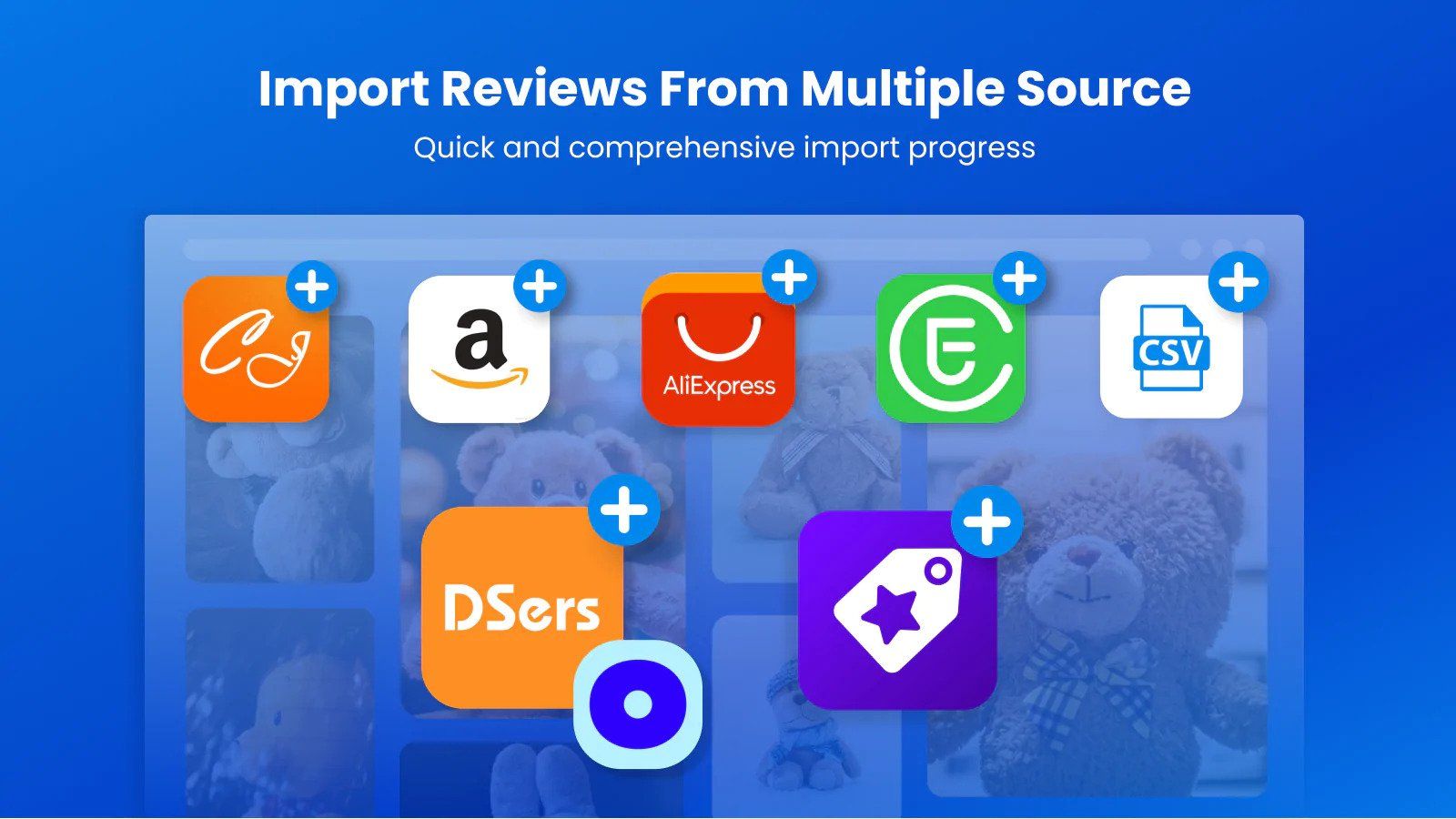 With LAI Ali Reviews, you can easily build trust with authentic social proof, and your reviews will be synced between similar products, without brandmark on any of your pages.
Filter reviews using the Smart Filter feature that allows LAI to automatically detect and moderate spam reviews, and customize every elements of the review widgets to fit your theme style.
Partner-friendly review app with available 18 beautiful layouts and custom designs, with support of different languages, including: Reviews, Reseñas, Avaliações, Évaluation, Avis, Bewertungen, Recensioni, Valoraciones, Vurderinger, Отзывов, 评价, 리뷰, 구매후기,...
Ratings: 4.9/5.0 ⭐ (410 reviews)
Editorify Pricing:
Free Plan Available
Premium - $9.95/month
Gold - $14.95/month
Key features:
Collect/ Import Product Reviews from Amazon, Aliexpress, Dsers, and multiple wholesalers. Check out the complete list of supported websites here.
What is great about Editorify is you can import Photo Reviews from multiple sources to your Shopify stores and link them to any product variant. Import videos to your Shopify store product description with a click of a button.
See how you can easily import authentic reviews from multiple wholesalers into your store to boost customer's trust, maximize engagement, build social proof and get more sales with Editorify here.
Ratings: 4.9/5.0 ⭐ (893 reviews)
Ryviu Pricing:
Free Plan Available
Basic - $6.99/month
Advance - $9.99/month
Unlimited - $19.99/month
Key features:
Ryviu is another great app with similar features to import reviews from Aliexpress, Amazon, Etsy, Dhgate, and Walmart.com (with the Free version you can import 20 reviews from AliExpress only), and quick and easy import with the help of Chrome Extension.
Ryviu app offers basic features for Shopify merchants to quickly build trust in their store, from displaying product review widgets on any page, layout customization with various themes to choose from, and the ability to edit the language of reviews.
The app is not embedded in Shopify platform, however, it provides an in-app Analytics dashboard that displays the store growth and countries where reviews came from, also analytics for reviews.
Ratings: 4.9/5.0 ⭐ (1821 reviews)
Rivyo Pricing:
Free Plan Available
Starter - $5.99/month
Business - $10.99/month
Enterprise - $15.99/month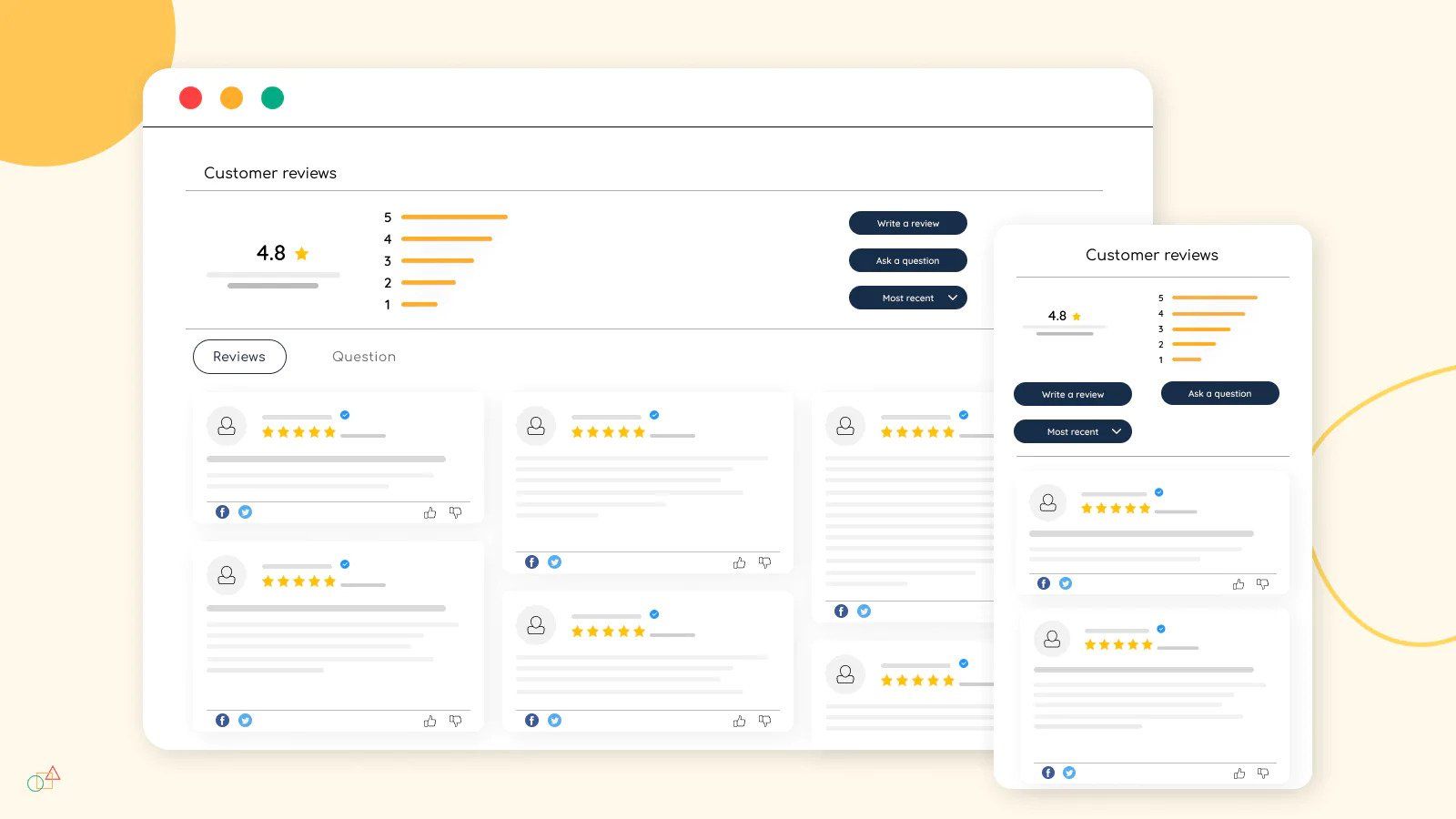 Key features:
Rivyo is an easy-to-user review app comes with surprisingly cheap price and enough features to use on your Shopify stores. If you are just starting a business on Shopify, consider using this app to help display more reviews with their great in-app import feature.
Import from Amazon/AliExpress only: Bulk Import valuable reviews back to your store from Amazon or AliExpress. Get unlimited product reviews along with photo reviews and export limitless reviews as a CSV file format.
Ratings: 4.7/5.0 ⭐ (224 reviews)
Monimo Pricing:
Free Plan Available
Grow - $9.99/month
Pro - $24.99/month
Advanced - $59.99/month
Key features:
Monimo is a feature-rich review app that makes it easy to collect customer reviews. The app allows you to import reviews from Amazon, Etsy, and eBay from the starting Grow plan at $9.99/month.
Choose the modern layout style that fits your Shopify store's theme: Basic list, Basic grid, Masonry grid, or Side list for an attractive, stylish look and 100% responsive design that works great on phones. They all come with customizable settings to display reviews on Homepage, Category, Cart Page, and Product Page.
The app is a preferred option for anyone who wants a cool and modern way to present reviews on their stores, and you can look for more beautiful widgets on higher plans with in-app analytics available on their highest plan only.
Ratings: 5.0/5.0 ⭐ (98 reviews)
Reviews Importify Pricing:
7-Day Free Trial
Starter - $5.99/month
Bronze - $19.99/month
Silver - $39.99/month
Gold - $79.99/month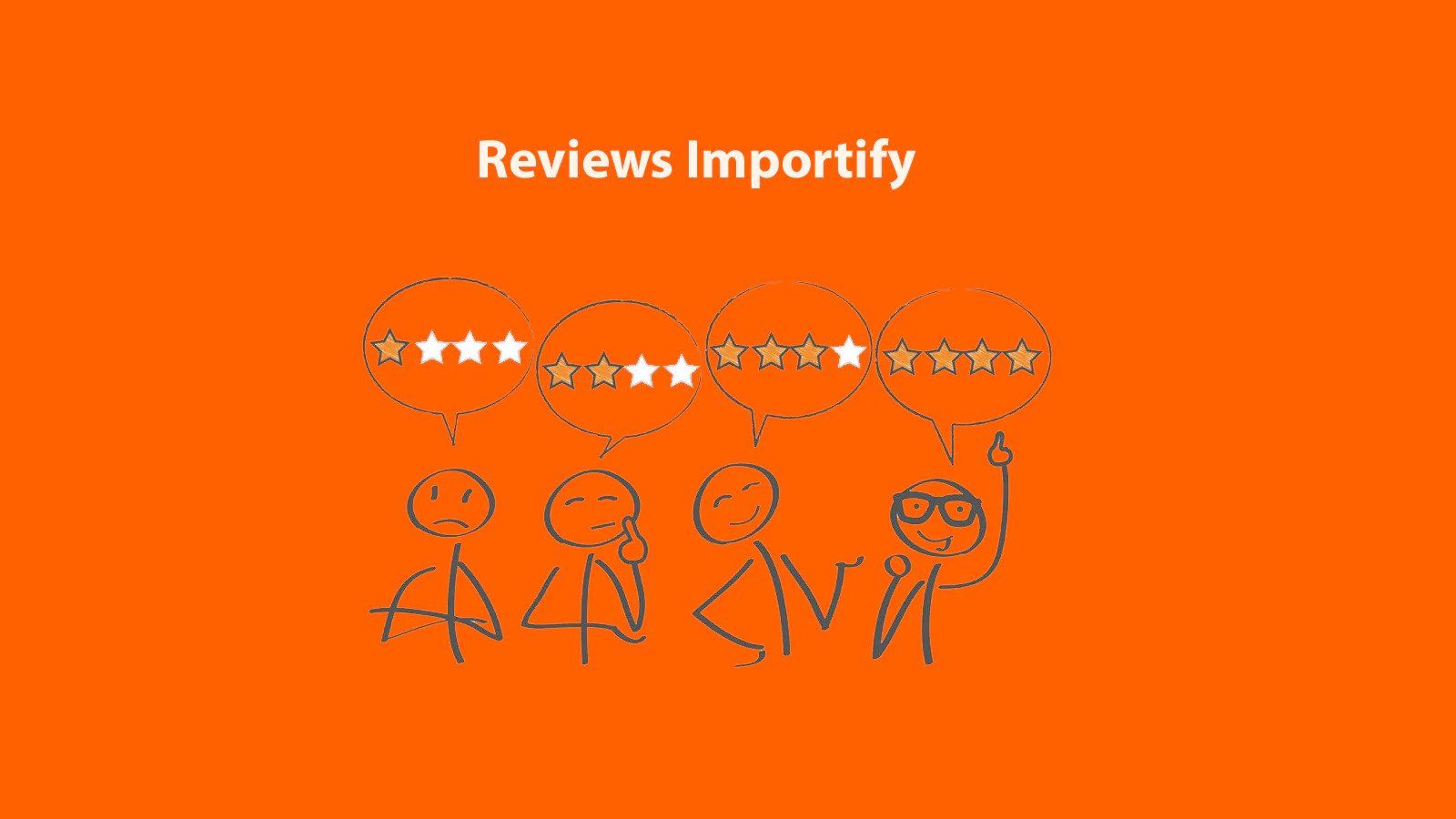 Key features:
Reviews Importify is a reasonable Reviews App, that supports Shopify merchants to import reviews from marketplaces like Amazon, Ebay, Walmart, Easy, Jet, Aliexpress. The app provides an automatic review sync option to sync new reviews from the marketplace after initial sync instantly.
With Reviews Importify, merchants can showcase reviews on Home Page, Product Page, Collection Page with possible control option in the app dashboard to manage them and filter reviews for a better customer experience.
While the review widgets are limited, you can use the Review Carousel to help display featured reviews and place them anywhere on your Shopify stores. Enable the Product Q&A (FAQ) so that admin can clear the doubts of their customers before making a purchase.
Ratings: 4.8/5.0 ⭐ (15 reviews)
Amazon Reviews by Reputon Pricing:
7-Day Free Trial
Standard - $5.99/month
Key features:
Reputon Amazon Reviews app is a new app that lets you easily import reviews from Amazon seller account. This app focuses on Amazon seller feedback to improve your site trust, reputation, and social proof in one click.
Display your reviews and star ratings from a selection of widgets, including Compact Badge, Reviews List, and Testimonials Carousel, and showcase them on your website with easy Amazon integration for reviews.
If you are looking for an easy-to-use Amazon import tool that also compatible with popular review apps, then Reputon might be an option to begin. The app also supports various languages other than English to help display reviews more effectively and instill trust in your website.
Ratings: 4.9/5.0 ⭐ (103 reviews)
Aliexpress Reviews Importer Pricing:
Free Plan Available
Paid Plan - $6.95/month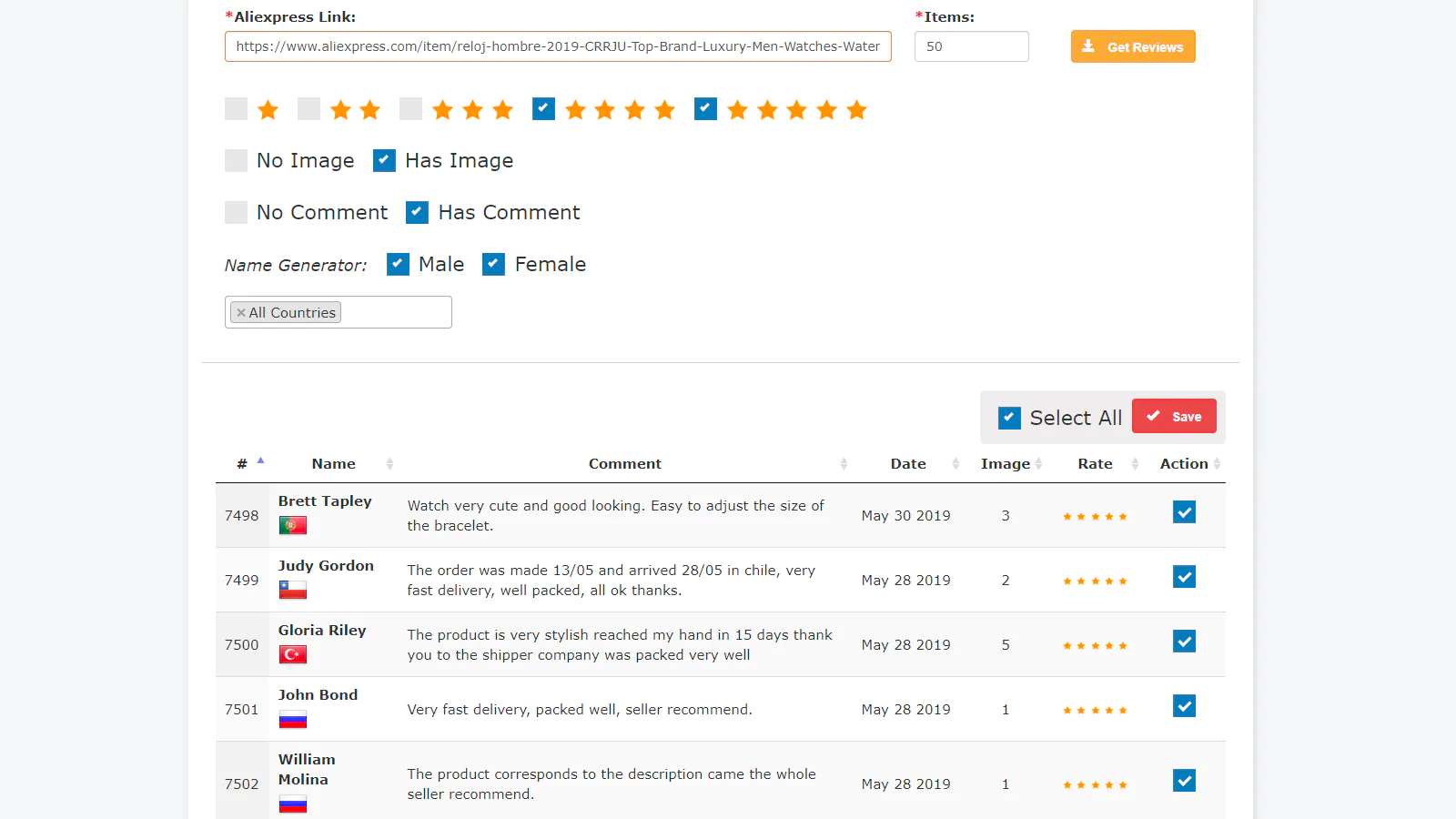 Key features:
If you are an Amazon seller looking to build social proof with authentic reviews on your Shopify stores, Aliexpress Reviews Importer is a review import tool that can help.
The tool includes essential features that allow you to import valuable reviews from Amazon and AliExpress to attract more shoppers and increase sales. You can enjoy importing unlimited reviews easily for 5 products on their Free Plan, and display them on your sites along with photo reviews using the review widgets with no coding required.
Shopify merchants can choose which reviews should be imported by star options (all-star, only 4 stars, only 5 stars…) with an advanced filter feature and select a layout that fits into any device, all from Aliexpress Reviews Importer's app dashboard.
Opinew Blog Newsletter
Join the newsletter to receive the latest updates in your inbox.
---