Top 10 Shopify Review Apps to Import AliExpress Reviews
Comparison of the Top 10 Best Shopify Reviews Importer Apps for importing reviews from AliExpress for Shopify merchants.
Table of Contents
For Shopify merchants who are just starting out, customer reviews are important. It is an essential element that could help make your stores look busy and more trustworthy. You might question this: How could you persuade customers to purchase with zero (0) reviews on your store?
If you are a drop shipper selling on big platforms like AliExpress, Amazon, eBay, etc., using a Shopify review app makes it easy to import, collect and display user-generated content without dedicating time to managing them. Each product reviews app on the marketplace has its features set and specifications, making it hard to choose the right one for your stores.
With that said, we have shortlisted the Best Shopify Review Importer Apps to make it simple for you to add customer reviews from AliExpress, the largest global e-commerce platform for small sellers and drop shippers, to your Shopify stores.
Check out the list below for the Best 10 Shopify Product Reviews App to Import Reviews from AliExpress that matches business needs of all sizes, based on app ratings, features and pricing. What is the best Shopify Reviews App would you consider using? Let's explore!
Ratings: 4.9/5.0 ⭐ (1228 reviews)
Opinew Pricing:
Free Plan available
Starter - $19/month
Growth - $89/month
Advanced - $199/month
Enterprise - $399/month
Opinew is a preferable option for Shopify merchants to quickly import, collect, and display customer reviews from AliExpress in an all-in-one review management platform. With Opinew, you can easily import reviews from AliExpress with no limit with photo and video reviews in just 1-click and display them on any page of your Shopify stores using a set of 8 highly-customizable widgets that can fit any Shopify theme.
Being the most lightweight Shopify Reviews App in the marketplace, Opinew's commitment to its users is a smooth experience during the importing process without slowing down your Shopify stores. With Opinew's powerful Chrome Extension, you can import up to 1000's reviews in minutes without hassle, and be sure your stores will always look great no matter what device your visitor uses.
Opinew's most highlighted feature includes AI Smart Reviews Assistant, which lets users showcase their best-converting reviews automatically and boost sales with user-generated content. You can expect to increase your conversions by up to 30% thanks to its powerful feature and convert more customers with verified reviews.
Ratings: 4.8/5.0 ⭐ (385 reviews)
Judge.me AliExpress Reviews Pricing: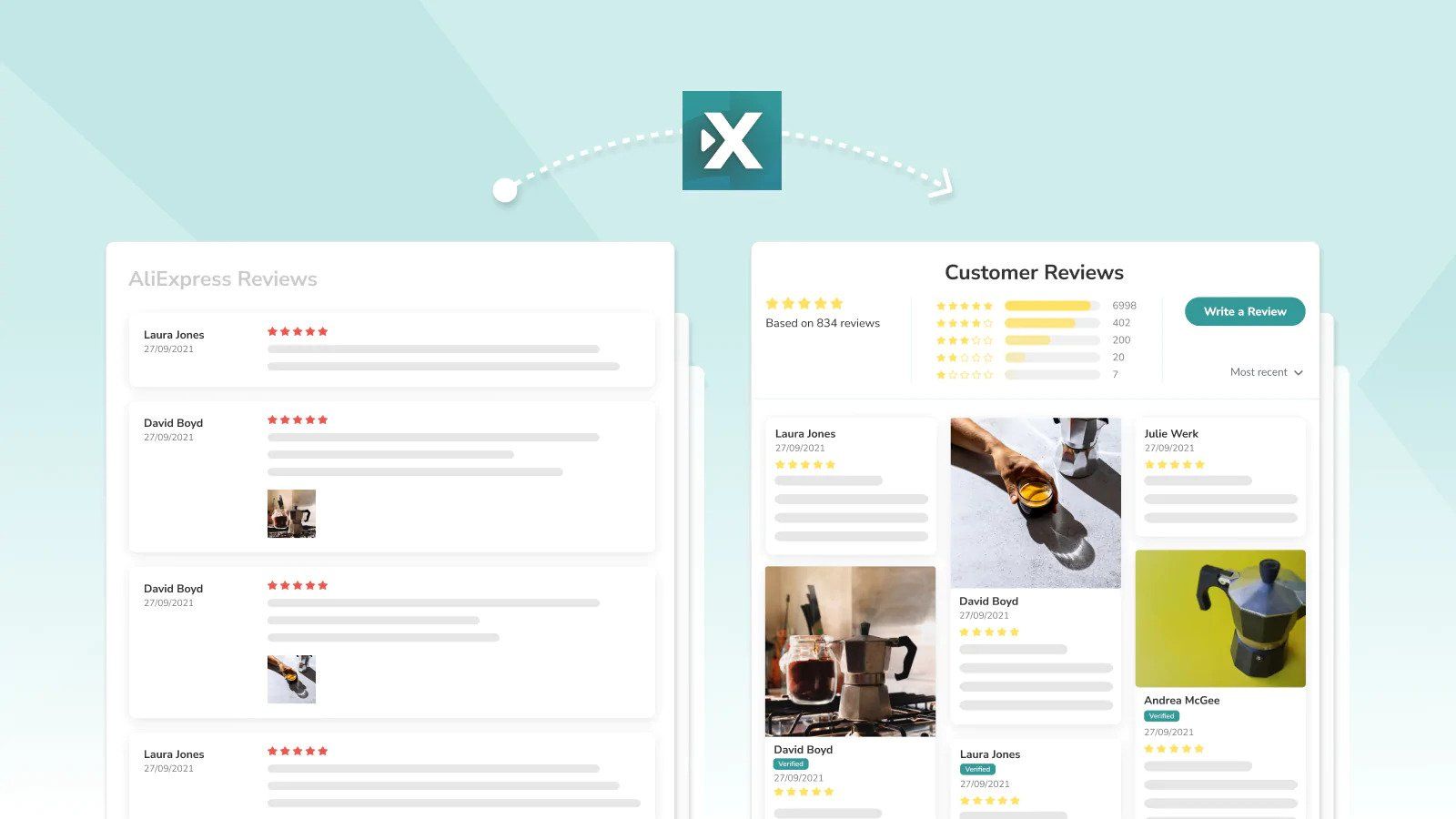 Just like its name, Judge.me AliExpress Reviews is a Free app that helps import multiple reviews from AliExpress and store them on their server. You will need to install another Review App to display imported reviews on your Shopify stores, or integrate with the other Judge.me Review App easily to export your reviews to use.
While this requires a long process to import reviews from AliExpress, however, the app is Free-to-use, and you can enjoy multiple review imports (ratings, texts and photos) at once for an unlimited time. Google Chrome Extension is also available for Shopify merchants to import reviews directly from AliExpress pages.
Ratings: 4.9/5.0 ⭐ (9710 reviews)
Ali Reviews Pricing:
Free Plan available
Starter - $9.90/month
Essential  - $19.90/month
Premium - $49.90/month
Ali Reviews is a notable and long-term Product Reviews App in the market that allows Shopify merchants to import reviews easily from AliExpress and grow their Shopify stores with strong social proof and increase conversions. Powered by FireApps, the app is one of the highest-rate Reviews Importer Apps that grew into an all-in-one solution best suited for small to medium businesses on Shopify.
The most highlighted feature of Ali Reviews includes the ability to display relevant reviews to the target audience based on their personal information (Geolocation/AOV/purchase history) and on-site behaviours (in-cart products, viewed products).
With 9+ appealing review widgets available, you can showcase your reviews effortlessly on the important pages and customize your review elements with no coding required.
Ratings: 4.9/5.0 ⭐ (996 reviews)
LAI Ali Reviews Pricing:
Free Plan available
Essential - $4.95/month
Growth - $9.95/month
Expert - $14.95/month
LAI AliExpress Reviews is a fast-growing Reviews App that offers a quick and simple process for Shopify merchants. Its key features include importing reviews from AliExpress and other drop-shipping sources via 3 different methods, either direct source, with CSV files, or through a drop-shipping app Oberlo (now replaced by DSers).
The app offers 18 eye-catching layouts and more custom designs, including 12 templates for different colour swatches (including dark and light modes) with customizable options to edit every element of the review widget.
With the Smart Filter feature, you no longer have to worry about spam reviews as it helps detect and moderate them, and LAI also blocks the other pages from stealing your hard-earned reviews with its anti-theft protection feature.
Ratings: 5.0/5.0 ⭐ (717 reviews)
VS Ali Reviews Pricing: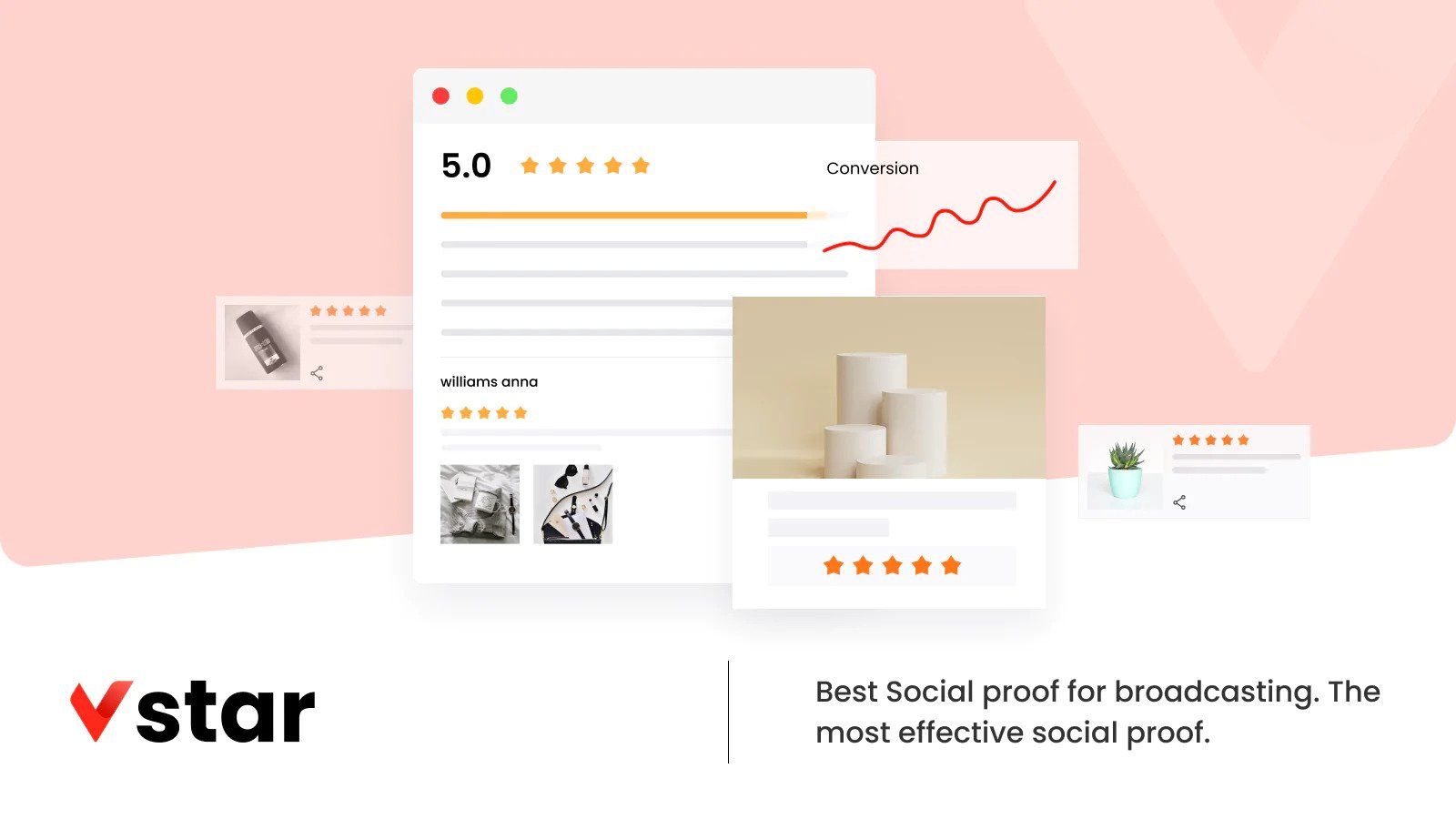 Vstar is a relatively new Product Reviews Shopify App that was designed specifically for importing reviews from AliExpress for drop-shipping businesses and turning your social proof into the most effective marketing material.  
Vstar is an effective Reviews App for Free that is worth taking a look into, as it offers enough basic features for new merchants to start their business that wants to showcase beautiful reviews on their Shopify stores. With Vstar, their marketing material also mentioned the ability to import comments with user-generated content from AliExpress with up to 50 comments at a time.  
Merchants on the Free plan can enjoy a Product page review display with 2 different kinds of layouts switching only, and that's enough for small businesses to start showcasing their user-generated content with photo and video reviews on their Shopify stores.
Ratings: 4.5/5.0 ⭐ (393 reviews)
Areviews Pricing:
Free Plan available
Premium - $6.99/month
Ultimate - $12.99/month
Another interesting Reviews App that should be on this list comes with the great ability to import unlimited products and reviews with images (1500 reviews per submission) from not only AliExpress but Amazon, Shien, Wish, Etsy and Bandgood. While all their plans come with a subscription cost, Shopify merchants should opt for an option to import reviews from AliExpress for the first 100 products on their Free plan.
With Areviews, you can display all your reviews in different styles that help with boosting your sales on the Happy Customers Page, Cart Page, and full theme customization options to match the design of your Shopify stores. Translation options are available for Aliexpress reviews only.
Areviews offers a great feature to filter reviews before importing so merchants can save time and choose to import images from specific countries and more. You can also track your visitors from different countries and see which product they opened that help with targeting statistics right in the Areviews App Dashboard.
Ratings: 4.7/5.0 ⭐ (224 reviews)
Monimo Pricing:
Free Plan available
Grow - $9.99/month
Pro - $24.99/month
Advanced - $59.99/month
Monimo is a modern-designed Shopify Reviews App that makes it easy to collect customer reviews. With Monimo, Shopify sellers can build strong social proof on their stores with authentic reviews imported from AliExpress, Amazon, eBay, and Etsy.
Merchants can choose from various attractive stylist layout options, including a Basic list, a Basic grid, a Masonry grid, or a Slide list that is 100% responsive on other devices. Whether you are on the starting plan or not, Monimo offers a clean minimal app dashboard UI design that helps set up the widgets easily and showcase reviews on the Product and Collection Page to increase buyer confidence and motivate purchases.
To sum up, Monimo is a preferred option for any Shopify merchant who looks to present reviews in a beautiful and minimal way that also integrates easily with Shopify stores.
Ratings: 4.9/5.0 ⭐ (895 reviews)
Ryviu Pricing:
Free Plan available
Basic - $6.99/month
Advance - $9.99/month
Unlimited - $19.99/month
Ryviu Product Reviews app is a product reviews app that helps you generate social proof and customer support interactions by providing product evaluations and answering product questions.
With the help of a useful reviews import tool and Chrome Extension provided specifically for Shopify merchants, Ryiu App lets you easily import reviews from AliExpress, Amazon, DHgate, and CSV files within just a few clicks.
You can collect and display prominent reviews on any page using the reviews carousel widget and manage them inside the app dashboard with basic analytics that displays the store growth and countries where the reviews came from.
Ratings: 4.9/5.0 ⭐ (2747 reviews)
Automizely Pricing:
Free Plan available
Essentials - $11.00/month
Enterprise - Custom Plan
With Automizely, Shopify merchants can easily import photos and text reviews from AliExpress in one click and showcase product reviews the way they feel will fetch maximum engagement and sales. You can import reviews by adding the "Import Reviews" button to the browser bookmark, or bulk import 100-500 reviews at once via CSV files.
Automizely's key feature includes the Smart Import Logic that allows merchants to auto-import the latest 100 reviews of 4-5 stars to their Shopify stores and build brand trust within seconds. The app also provides attention-grabbing widgets to display authentic photo and video reviews with star ratings on Product Pages and Collection Pages and manage them in one place to strengthen brand credibility.
Ratings: 4.9/5.0 ⭐ (51 reviews)
Opinew Pricing:
Free Plan available
Bike - $7.90/month
Moto - $15.90/month
Car - $29.90/month
A2Reivews is another go-to Shopify Reviews App that has all the basic but essential features for all Shopify users. While it is a more favourable solution for drop shippers and new Shopify stores, the app is also a perfect match for the growing needs of Shopify brands at any stage of their journey.
A2Reviews's intuitive user interface supports Shopify merchants to easily import product reviews from AliExpress and Amazon into their stores in just a few clicks. Users can log in to manage multi-sites and languages, and filter reviews under smart editor, to increase conversions.
This is one of the few Shopify Product Reviews App that offers attractive features like dark mode display and real-time notification to meet your needs and expectations.
Opinew Blog Newsletter
Join the newsletter to receive the latest updates in your inbox.
---