How to build a highly converting one-product Shopify store in 2021?
When talking about dropshipping, we often think about stores with a vast range of different products. While this might seem popular, it doesn't mean that it's the only way to do dropshipping or e-commerce.
Sometimes, you don't need to have a huge product selection to be successful, you just need to have only one good idea to win the market. Selling only one product can be profitable as running a general store with various kinds of items.
In this article, we will give you the most basic information you should know before jumping into the one-product store model.
1. What is a one-product store Shopify and why should you give it a try?
Some people already said that one-product Shopify stores are in a growing trend and going to be the future of e-commerce. But what is a one-product store exactly?
One-product store definition
The term "one-product store" (or single product store) is very self-explanatory. It's dedicated to selling a single product. You can have many different variations such as color, size, etc, but basically, you are selling only one type of product. Instead of building a general Shopify store with hundreds of products in all categories, a one-product store on Shopify focuses on solving only one specific customer's needs.
General store vs One-product store - What is suitable for you?
To answer the question of which model is the best fit for you, we will go through each kind of Shopify store and analyze its pros and cons.
General Stores
General Shopify stores are online stores that have products in multiple categories. These categories can be entirely unrelated to one another. Sibling Gadget can be a great example of a general store. When visiting their websites, you will see that they have hundreds of products in many different categories from pets products, car accessories, to health and beauty products.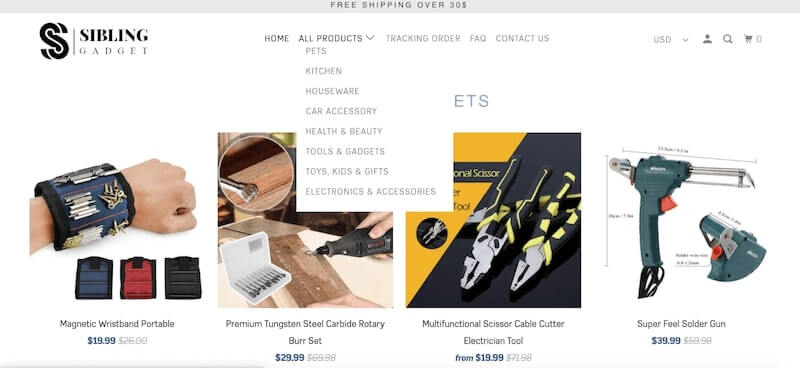 Pros and cons of general stores:
The Pros
As you are selling many products in different categories, you can have a wider potential audience.
You don't need to invest too much in market research. Your website traffic will show you which products your visitors like or don't like.
You will have more opportunities for cross-selling (suggesting items related to what the visitor has already added to their cart).
The Cons
It's difficult to distinguish your stores from a lot of other general Shopify stores in the market.
Product-related tasks (such as writing descriptions, photos,..) can be overwhelming as you have too many products to take care of.
Optimizing SEO is difficult because of a lack of focus.
It's tough to build a structured marketing plan because you cater to so many niches.
One-product Stores
As mentioned above, a one-product store Shopify is set up to focus on selling a single product. You can take Snooz as a great example of a one-product store. Snooz sells a portable white noise machine called SNOOZ to help people fall asleep and remain asleep with the sound of a fan.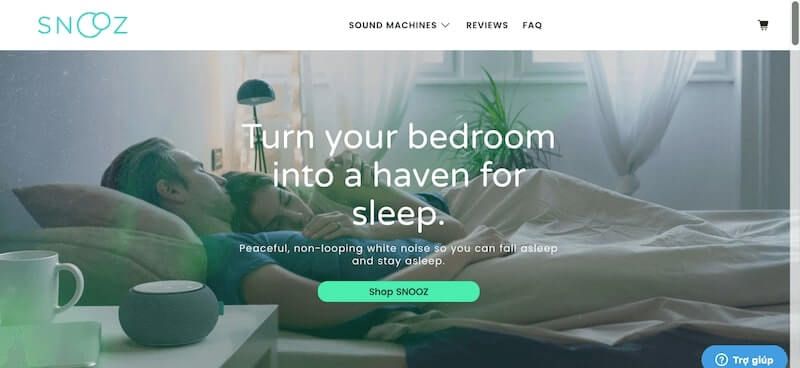 Trying to determine if a one-product store model is right for you? Let's look at its pros and cons.
The Pros
Your store has better focus. You know who your audience is, why they're interested in your product.
You can easily optimize your marketing budget because you don't have to test everything like a general store.
Fewer distractions, fewer links, fewer choices equal higher conversion rates.
Because you sell only one product, people can easily remember your store and what you offer. Over time, you can be seen as an authority on the subject since it's all you do.
Your customer service can be optimized as you only have to answer questions about a single product.
The Cons
You will have to deal with more pressure because you're counting on only one product.
You will have to do in-depth market research on the product and why people buy it. You can't change much about your offering once the store is set up.
Compared to running a general store, you have fewer opportunities to maximize your revenue by cross-selling.
Come back to the question of which model you should choose, there's no absolute answer. It highly depends on your experience, your goal, your skills, and your resources. But if you're confident about the product you have in mind, already have some experience and insights in e-commerce, let's go ahead and create your single product store.
2. What you need to do before starting to build a one-product store
Conduct product research
Having a winning product is the heart of successful one-product Shopify stores. You might wonder why many store owners come up with such a brilliant product idea. Here are some suggestions for you to do product research on Shopify:
Your product should be hard to find: It wouldn't make sense if your product can be easily found in supermarkets or other online stores. Mitchell Sandridge is an entrepreneur who made $680 in three months with his one product Shopify store. Rather than searching for winning products that other dropshippers were already selling, he took a different approach "I picked products that weren't too many orders actually, so it hadn't been tested before. They weren't in much demand but I can see potential in that product".
Your product should have the "wow" factor: It's ideal if your product could generate great passion and excitement the first time your potential customers see it. Your product should be visually and emotionally appealing. In an article about what gives new products the "wow" factor, Associate Professor Alpert said: "The more innovative consumers believe a product to be, a better their overall attitude towards it and the more likely they are to buy it".
Remember to validate your idea before launching: There are many ways to validate your product idea. You can use some online tools such as Google Keyword Planner or Google Trends to know how many people are searching for your product. You can talk to your potential customer to see if they're willing to pay for your product. You can also run a small Google Adwords or Facebook Ads campaign. These ads will show you how people would likely purchase the product.
Prepare product images and marketing content
After validating your product idea and being confident enough to officially get started, your next steps are preparing product images/videos and writing product descriptions as well as marketing message:
Product images/ video: If you source your product from e-commerce platforms such as AliExpress or Amazon, you probably have some product images/videos. But it would be more effective if you can try making original images. You can hire freelancers from Fiverr to whom you would send the product, then they could film product footage for you. And that way, your images/ videos can catch people's attention because they haven't seen it before.
Product Descriptions: The product description includes all information about the product, like product title, product features, pricing, shipping information, etc. The ultimate of this content is not only to give information but also aim to convince visitors to buy.
Marketing message: If you can say only one short sentence to your potential customer to persuade them to make a buying decision, what would it be? Your marketing message should be clear, easy to understand, and still able to show off your product value. Let's see some examples:
Cable Clear (provides cable management solution to hide tv wires): Hide TV cables  - Quickly and Easily with Cable Clear
Hana (sells sustainable feminine care): Upgrade Your Period in a Sustainable Way.
DryRobe (sells dryrobe for active outdoor activities): Get changed - Stay warm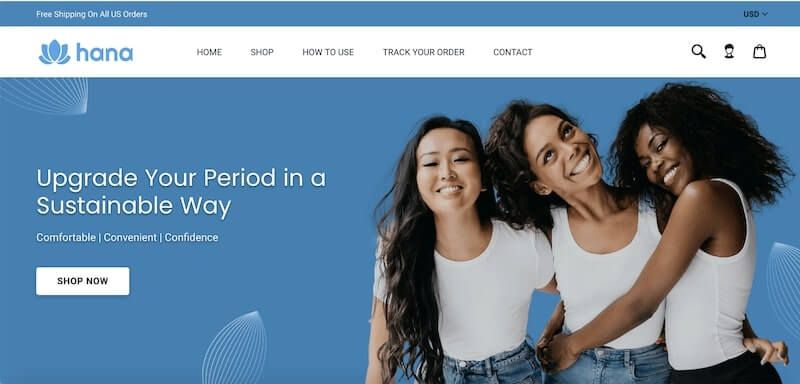 Choose the right Shopify theme
When building a new store, the first step would be picking a suitable one-product store Shopify theme. This is especially vital for one product Shopify stores because you have to make the best first impression with your visitors.
We suggest you take a look at a list of 18 single product store Shopify themes (free and paid) and find the best match for your store. In the next part of this article, we will guide you to use Debutify - the one that is chosen by many leading e-commerce entrepreneurs.
3. Build your one-product store
Let's say that you have successfully found a winning product Shopify and prepared all the material you need to set up a store. Follow these steps to create a high-converting Shopify one-product store:
Step 1. Sign up for Shopify
Go to Shopify, then click the Start free trial button at the right corner of the homepage. Follow the instruction to sign up for a Shopify account.
Read more about Getting Started With Shopify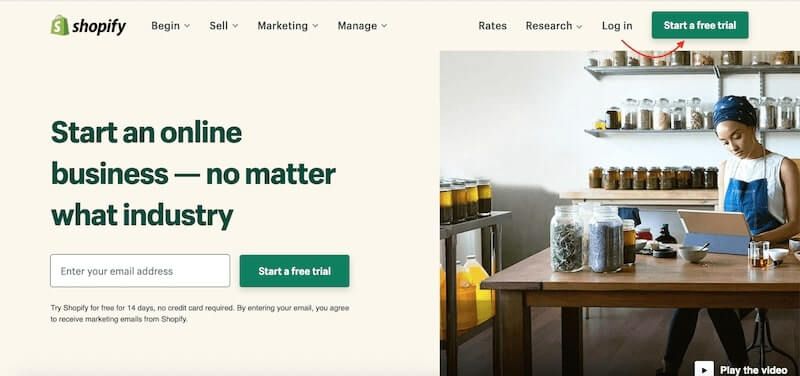 Step 2. Add your product
After that, go to the Shopify dashboard. Here's where you can add your product.
Click on the "Add Product" button. Then you can fill in your product details, such as title, description, image, price, shipping information, variant, etc. You can always change this information later so you don't really need to make it perfect here.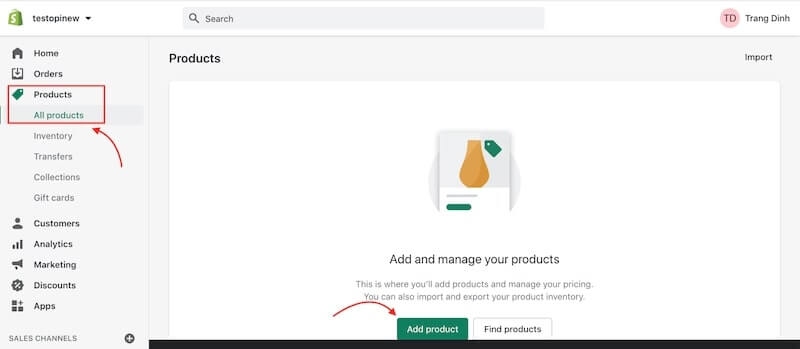 Step 3. Pick and install a theme
In this article, we will use Debutify as a theme for our demo Shopify one-product store. You can use any other themes that you find suitable to your needs.
Go to Debutify, then click on the Free Download button at the right corner of the homepage. Then it will ask you to fill in your store name.
Step 4. Build your homepage and product page
Now, you can go to the theme editor dashboard to customize your pages.
Homepage: This is the most crucial page on your single product Shopify store. This page will be where customers decide if they're interested in the product or not. You should have all of the important details about your product that visitors need to know, including: your product's name, the features it has, the problems it solves, the price,... Here is where you show the most appealing product's photos and videos as well.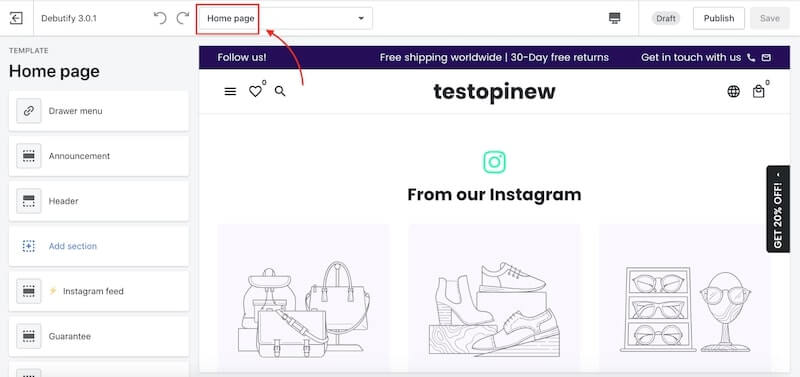 Product Page: With a one-product store, the basic information about your product has already been shown on the homepage. Therefore, on the product page, you can highlight key features, provide more add-on information such as shipping methods, warranty policy, different variants, etc.
Here is an example for you about a product page: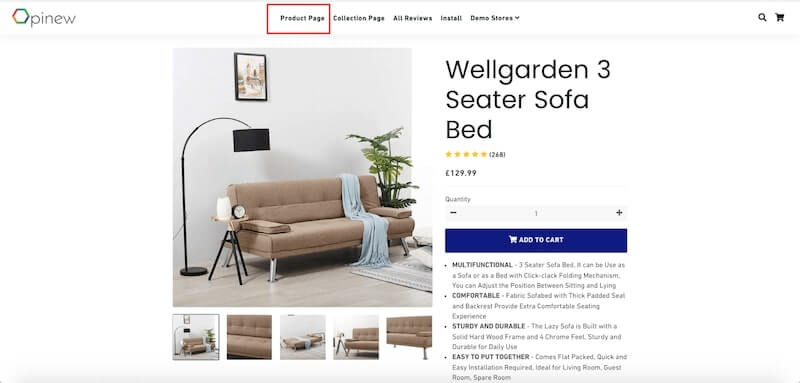 Step 5. Create social proof
One of the best ways to build trust in your single product Shopify store is to provide reviews from people who have benefited from your product. But customers use reviews in many different ways, on many different platforms. Therefore, it's important that you can find a smart tool to help you manage all of the social proof on Shopify.
Opinew is an app that allows you to bring reviews from multiple platforms into one source in Shopify, making review management much simpler and ensuring no channels are forgotten. Moreover, interacting with reviewers is also a great way to get customer insights and improve their satisfaction, and help you to control the narrative with your customers.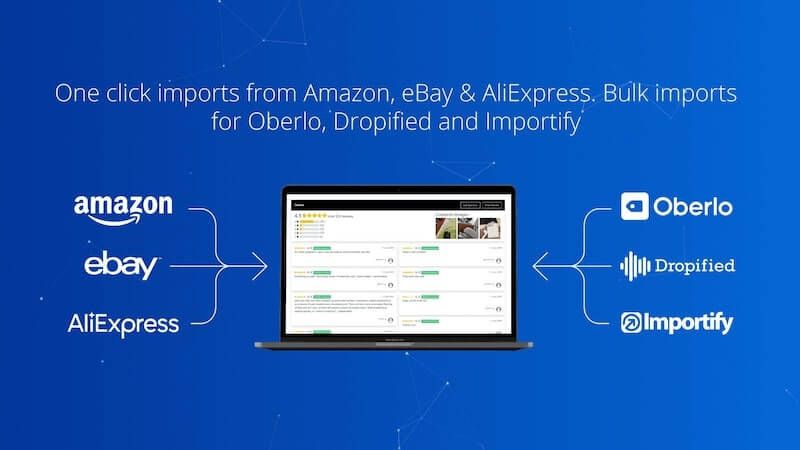 You can create a social proof section on your homepage, or even a separate page containing all your Shopify store's reviews, like this one in our demo.opinew.com store: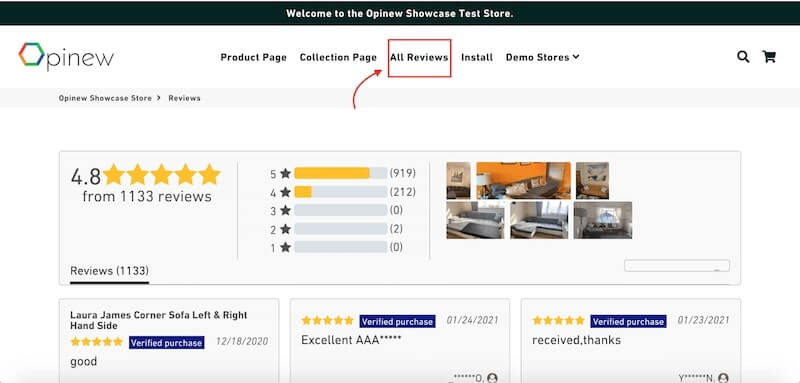 Step 6. Supercharge and optimize your store
When you get to this staff, you have successfully set up a basic store. Now you can optimize your one-product store Shopify by adding more elements and functions. Here are some suggestions for you:
Requests post-purchase UGC (User-generated content):  In the e-commerce world, it's important that you can offer authentic experiences that connect at the human level. To do that, you can ask customers to answer questions about the products they have purchased and share photos of how the product was used. With Opinew, we give you 3 ways to automatically request reviews from customers that ordered and provide you with a constant stream of verified reviews.
Read more about How Review Requests Work with Opinew.
Improve your product page SEO: SEO strategy is one of the best eCommerce tips to increase your online visibility. Focusing on content development (like blogging) is a solution to increase search rankings. But we suggest you also focus on your product page. Identify your desired keywords, optimize your product descriptions, alt text, and other elements. This action will help with your overall SEO results.
Add urgency and scarcity elements: You can add elements such as a countdown timer, flash sales, limited quantity notification, etc. These elements make your customer experience the fear of missing out (FOMO) which drives them to make purchase decisions faster. For Shopify stores, there are many apps that can help you to add this element easily such as Countdown Timer, Smart Scarcity, Bold Discounts, etc.
Step 7. Launch your one-product store
After everything is done, you can now tell the world that you're opening a single product Shopify store. Remember to always come back to optimize your store, and be open to receive any feedback from your friends or your customers. Their input is very important for you to constantly improve your store.
4. Top 3 best one product store examples
GrillMan is the ideal shop for backyard BBQ enthusiasts. It provides weatherproof grill covers with high-quality materials to shield it against even the harshest conditions. And to account for all models and styles of grills, they have many options with sizing to fit all popular grill brands including Weber, Dyna-Glo, Char-Broil, Blackstone, Pit Boss, and more.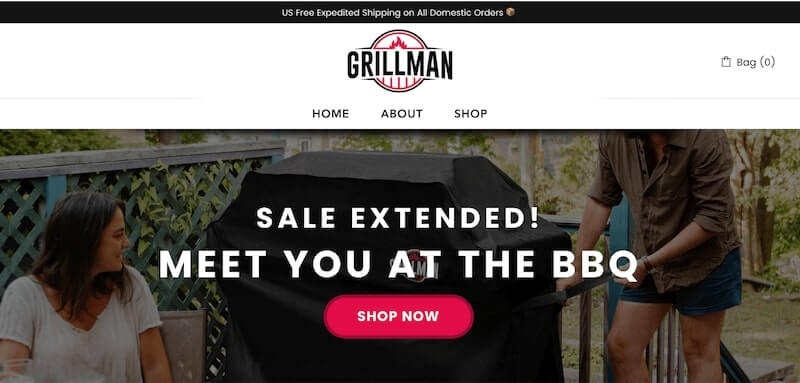 Using Opinew to manage all the social proof, let's see how GrillMan presents its reviews: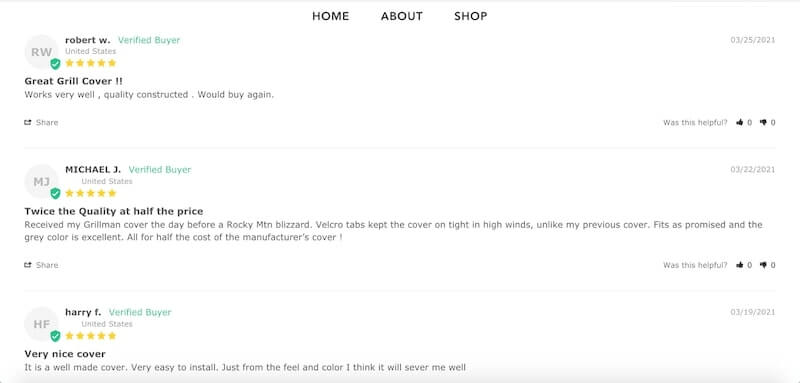 Zap It provides electric bug zapping rackets that help to instantly eliminate mosquitoes, flies, and other pests in a single swing. Whether you're camping, hiking, or enjoying a family picnic, Zap It allows you to zap anytime, anywhere.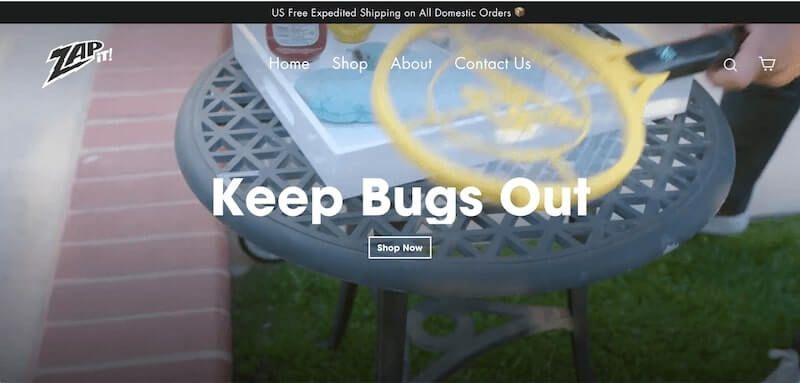 CableClear is a patented cable management solution to hide TV wires in walls for mounted TVs and digital photo frames. CableClear is easy to install and the in-wall conduit is engineered to comply with international building safety standards.
Different from two previous examples, Cable Clear has a separate Reviews page to show all the customer reviews. Setting up by Opinew, this page definitely helps to increase visitors' trust.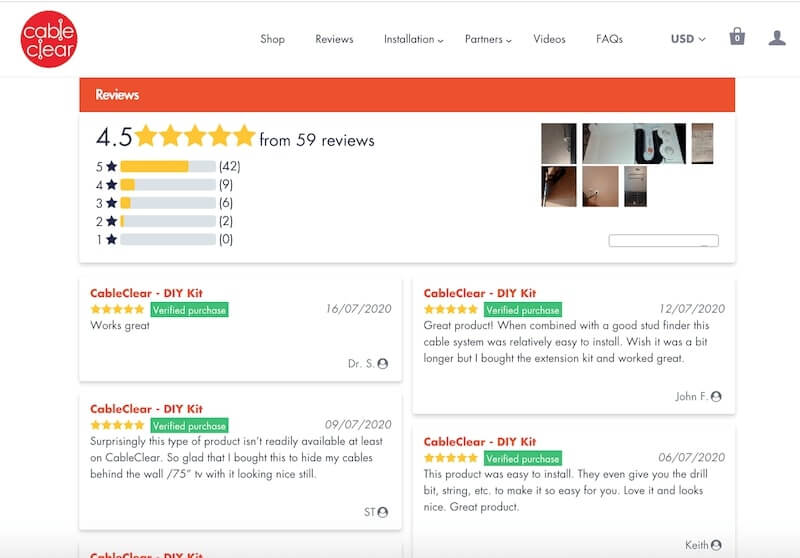 Now it's your turn
Now it's time for you to start your own one-product store Shopify. With all the information we have been discussed, we hope that you have a solid foundation and confidence to start your own journey. Don't hesitate, give it a try and you will learn a lot with your own experience.

We hope we answered most of your questions and if you've got any remaining questions be sure to contact us, we'd love to hear from you.
Download Opinew today and see how your customers can help develop your conversion opportunities through Shopify.