How to Add Reviews to Shopify: Best Practices to Boost Conversions
Table of Contents
In today's e-commerce landscape, customer reviews are a vital component of success. They help create credibility and trust. But mainly help influence purchasing decisions. As a store owner, adding customer reviews to your Shopify store can have a profound impact on your business. Follow our guide to explore the power of customer reviews and how you can add it to your store.
The Power of Customer Reviews in E-Commerce
The Importance of Reviews
Customer reviews serve as a powerful tool for establishing credibility and trust in the online realm. When prospective buyers encounter positive reviews, they perceive a higher level of trust and reliability. Reviews also have a psychological impact, instilling confidence and reducing purchase anxiety. By showcasing customer feedback, you can create a sense of social proof that motivates shoppers to choose your products over competitors.
Studies and Conversions Increase
Multiple studies have highlighted the significant impact of customer reviews on conversions. According to a survey by Spiegel Research Center, displaying reviews  increases conversion rates by up to 190%. Another study by BrightLocal found that 76% of people "always" or "regularly" read online reviews for local businesses.
Using reviews in your Shopify store can bring various advantages, such as increased sales, greater customer engagement, and better brand reputation. These statistics highlight the benefits of adding reviews.
How to add reviews to Shopify stores
Importing Reviews from Other Marketplaces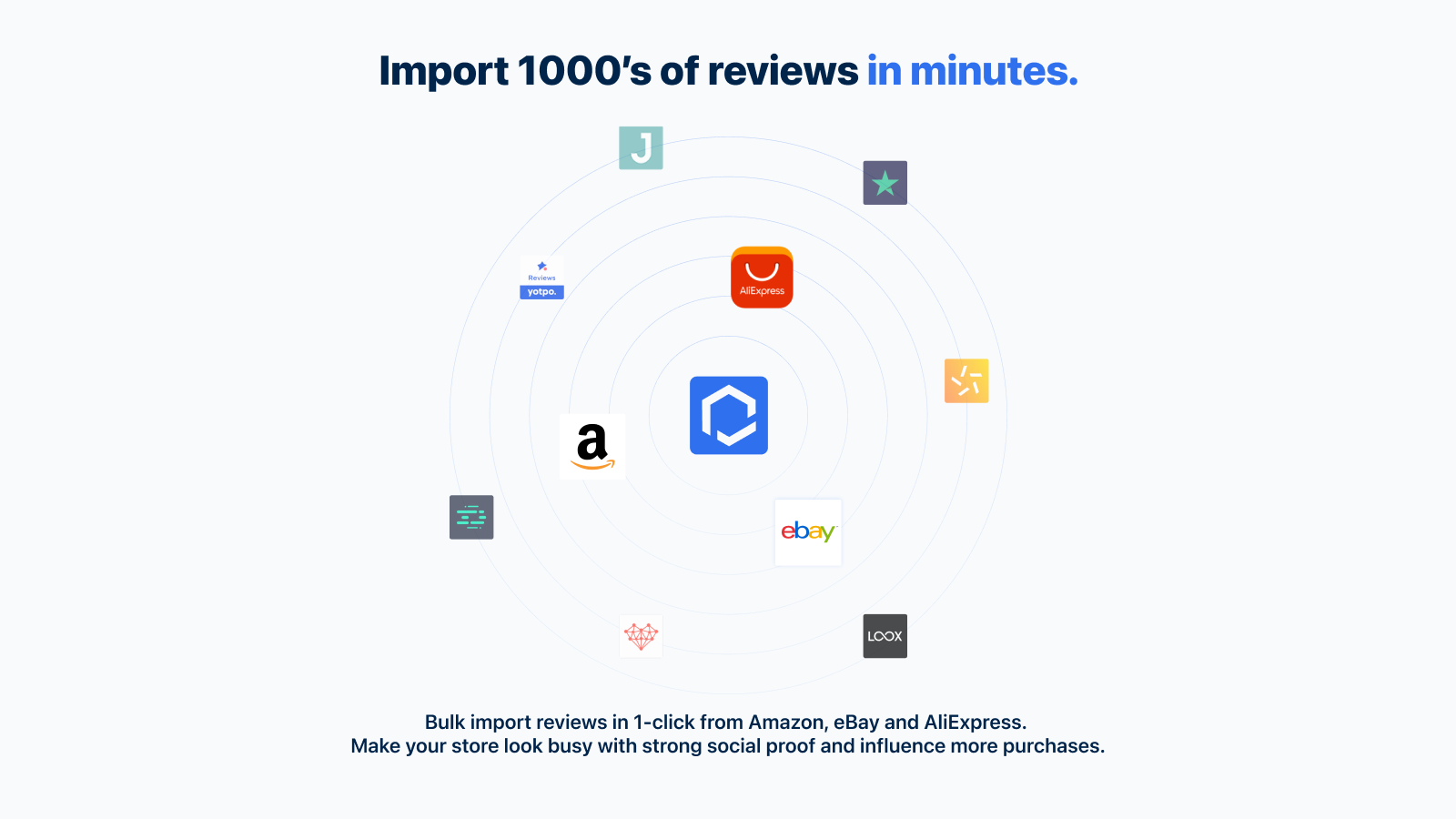 You can start by importing reviews from popular marketplaces such as Amazon, eBay, AliExpress, and Etsy. By leveraging existing customer feedback on these platforms, you can establish immediate social proof for your products. To import reviews, follow these steps:
Step 1: Export reviews from your other platform.
Step 2: use review import apps or tools compatible with Shopify.
Step 3: Map the exported reviews to the products in your Shopify store.
Step 4: Configure the display settings to showcase imported reviews.
Importing reviews not only saves time but also gives your store an added layer of credibility.
Check out our complete guide to importing reviews to Shopify from multiple marketplaces.
Request Reviews from Customers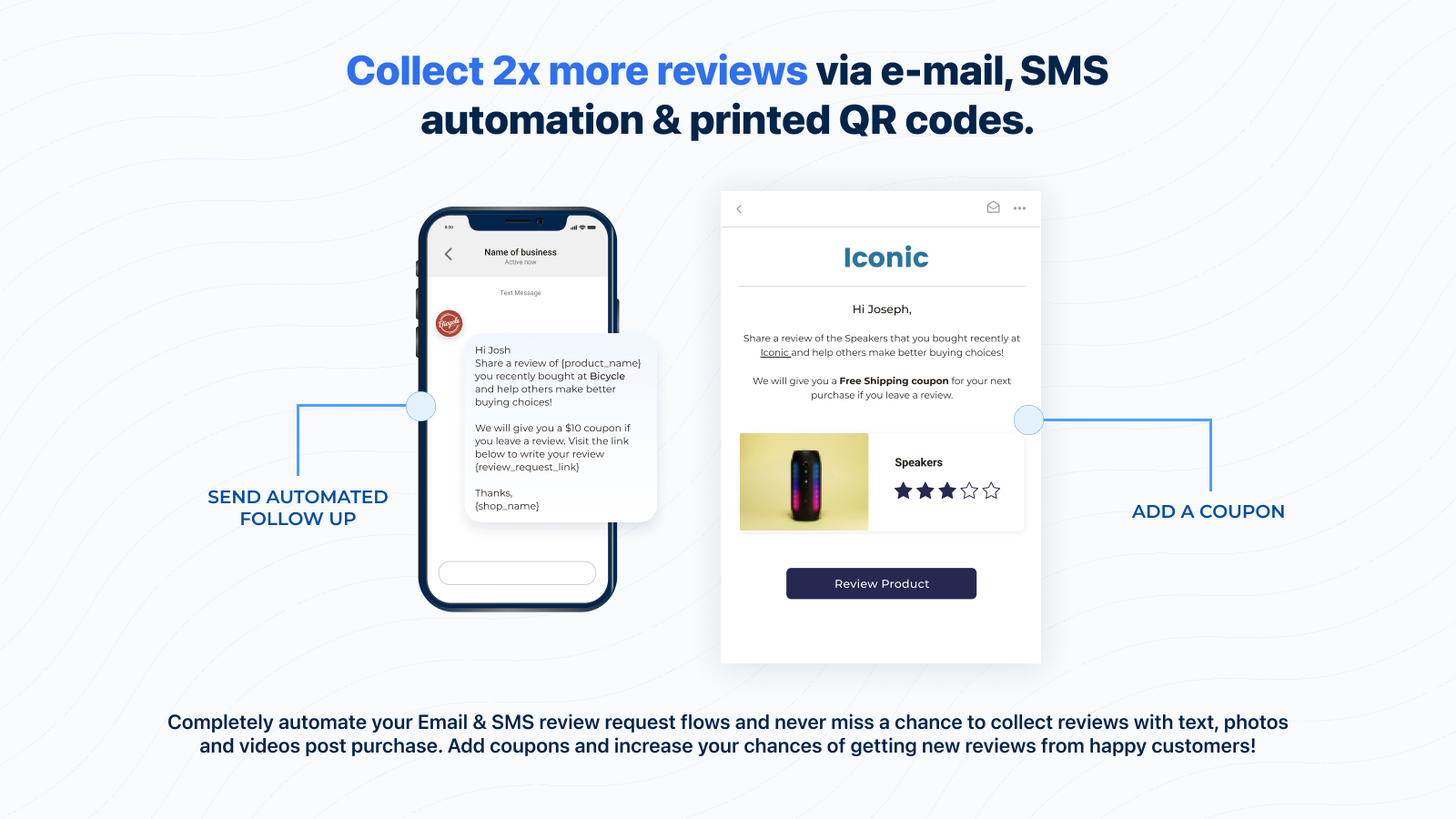 Your existing customers can be a valuable source of reviews. Actively asking for reviews from them helps generate fresh and authentic content. Here are some strategies to consider:
Post-Purchase Emails & SMS: Send emails and SMS to customers after they've had a chance to use your product. Include a request for feedback, emphasizing the value their reviews bring.
Personalized Requests: Reach out to satisfied customers individually, express your gratitude for their purchase and kindly ask for a review. Personalization adds a personal touch and increases the chances of a response.
Incentives: Offer incentives such as discounts or loyalty points to customers who leave reviews. This encourages participation and shows your appreciation for their feedback.
Remember to time your requests correctly, make the process seamless, and encourage customers to provide honest and detailed reviews.
Using a Shopify Review App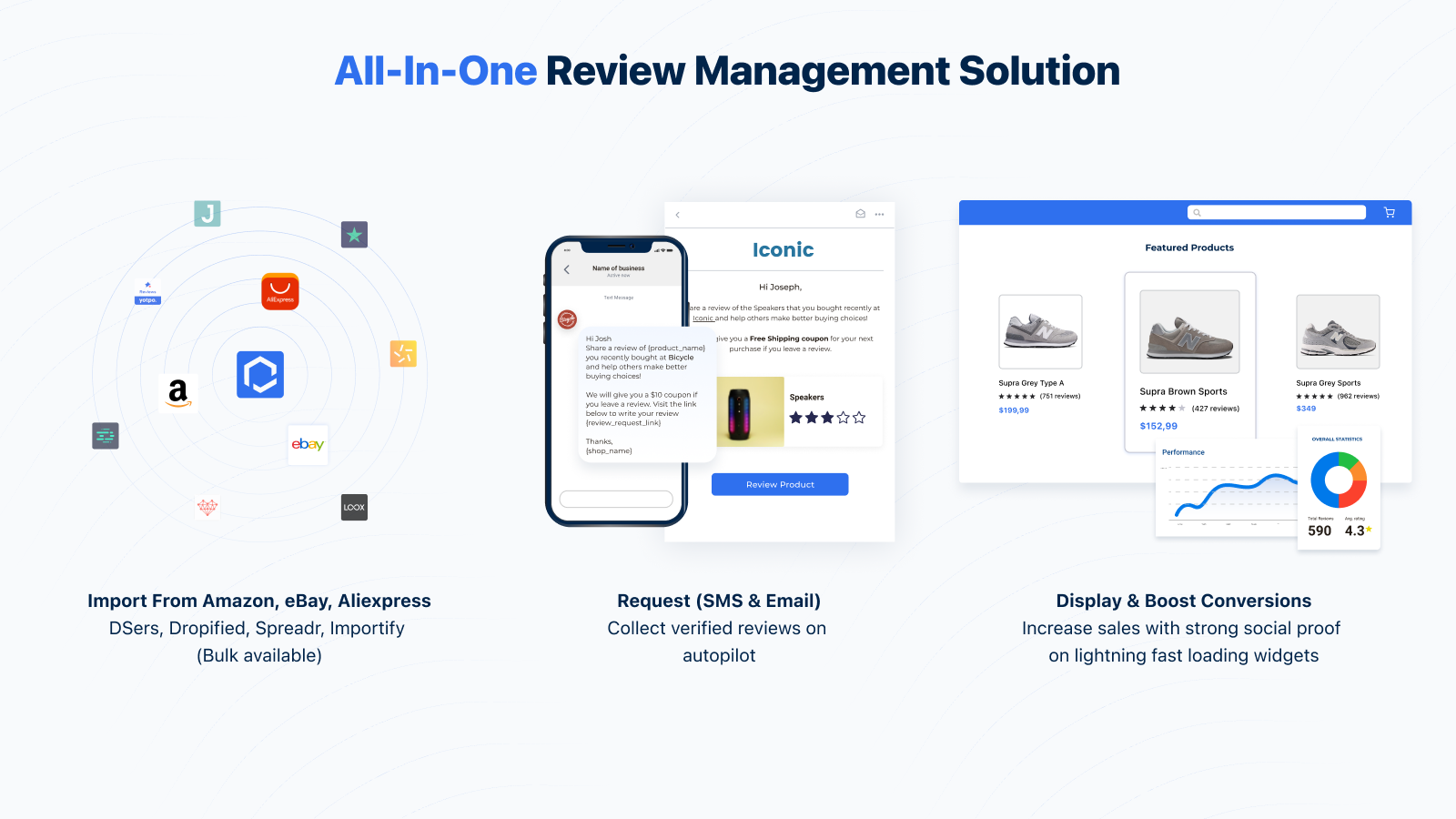 Review apps designed for Shopify stores offer an efficient way to manage and display customer reviews. Here are some benefits of using review apps:
Better Management: Review apps provide a centralized platform to collect, organize, and respond to customer reviews effortlessly.
Match review widgets to your branding: Tailor the review display to match your store's branding and design aesthetics.
Integration with other Shopify features: integrate with other Shopify functionalities, such as product pages, email marketing, and social media.
Popular review apps for Shopify include Opinew, Loox and Yotpo. To install and configure a review app, follow these steps:
Step 1: Access the Shopify App Store and search for your desired review app.
Step 2: Install the app and follow the on-screen instructions for setup.
Step 3: Customize the app settings, including review display options, moderation settings, and email notifications.
Step 4: Test the app's functionality and ensure it aligns with your desired review display format.
We've also written for you a comprehensive overview of Shopify review apps and what features you should look out for.
Manual Review Entry
In cases where importing reviews or using a dedicated review app is not feasible, manually adding reviews can be an option. To do this effectively, consider the following:
Create Review Sections: Within product pages or store-wide testimonial pages, add dedicated sections to display customer reviews.
Ensure transparency and credibility by clearly indicating that you manually add these reviews, thus maintaining transparency and preventing misleading information.
Remember to maintain the highest level of integrity and only add genuine and verified reviews manually.
Implement a Review Incentive Program
Create a review incentive program to motivate customers to leave reviews. Offer rewards, such as loyalty points, exclusive discounts, or freebies, to customers who submit reviews.
This approach not only encourages participation but also increases customer engagement and loyalty.
For example, you could add coupons when sending review requests to your customers. That way you give them an incentive to both leave a review and come back to make another purchase!
Host Contests or Giveaways
Hosting contests or giveaways can generate excitement and engagement while encouraging customers to leave reviews. By offering attractive prizes, you motivate customers to participate and share their experiences. Here are a couple of examples:
REI started a photo contest urging customers to share pictures of their outdoor adventures and review the products they used. This approach generated a wealth of user-generated content and authentic reviews, showcasing the brand's connection with its active community.
Lush Cosmetics ran a campaign where customers who left reviews entered a draw to win a year's worth of supply of their favourite product. This not only encouraged review submissions but also created buzz and increased brand visibility.
A study by Nosto showed that 79% of people say UGC highly impacts their purchasing decisions. Creating giveaways or hosting contests is a great way to easily generate UGC to display on your Shopify store.
Collaborate with Influencers or Bloggers
Partnering with influencers or bloggers in your niche can be an effective way to generate authentic reviews and reach new audiences. Leverage their influence by offering them your products for free. Their expertise will help you generate compelling reviews. Here's an example:
Meal kit delivery service HelloFresh collaborates with food influencers and bloggers to create recipe reviews featuring their products. These influencers share their experiences, along with detailed recipes and honest opinions. This helped reach their dedicated audience and potentially attract new customers to HelloFresh.
Utilize User-Generated Content (UGC)
Encouraging customers to share their experiences through UGC is a powerful way to generate reviews and build a sense of community. UGC can include photos, videos, or testimonials created by your customers.
Fashion brand Free People runs a UGC campaign called #FPMe, where customers can share photos of themselves wearing Free People clothing. These photos serve as reviews, showcasing how customers style and enjoy the products. This UGC campaign not only generates authentic content but also builds a loyal community around the brand.
Leverage Customer Support Interactions
Utilize your customer support interactions to gather reviews. After resolving a customer's issue, politely ask if they would be willing to share their experience by leaving a review. This approach can yield valuable feedback and help build a positive brand image.
Collaborate with Local Communities or Nonprofits
Partner with local communities or nonprofits to support a cause related to your brand values. Donate a portion of your sales to these organizations and ask customers to leave reviews highlighting their involvement in the cause. This strategy not only generates reviews but also enhances your brand's social impact.
Add Testimonials To Your Shopify Store
Using Shopify Review Apps to Display Review Widgets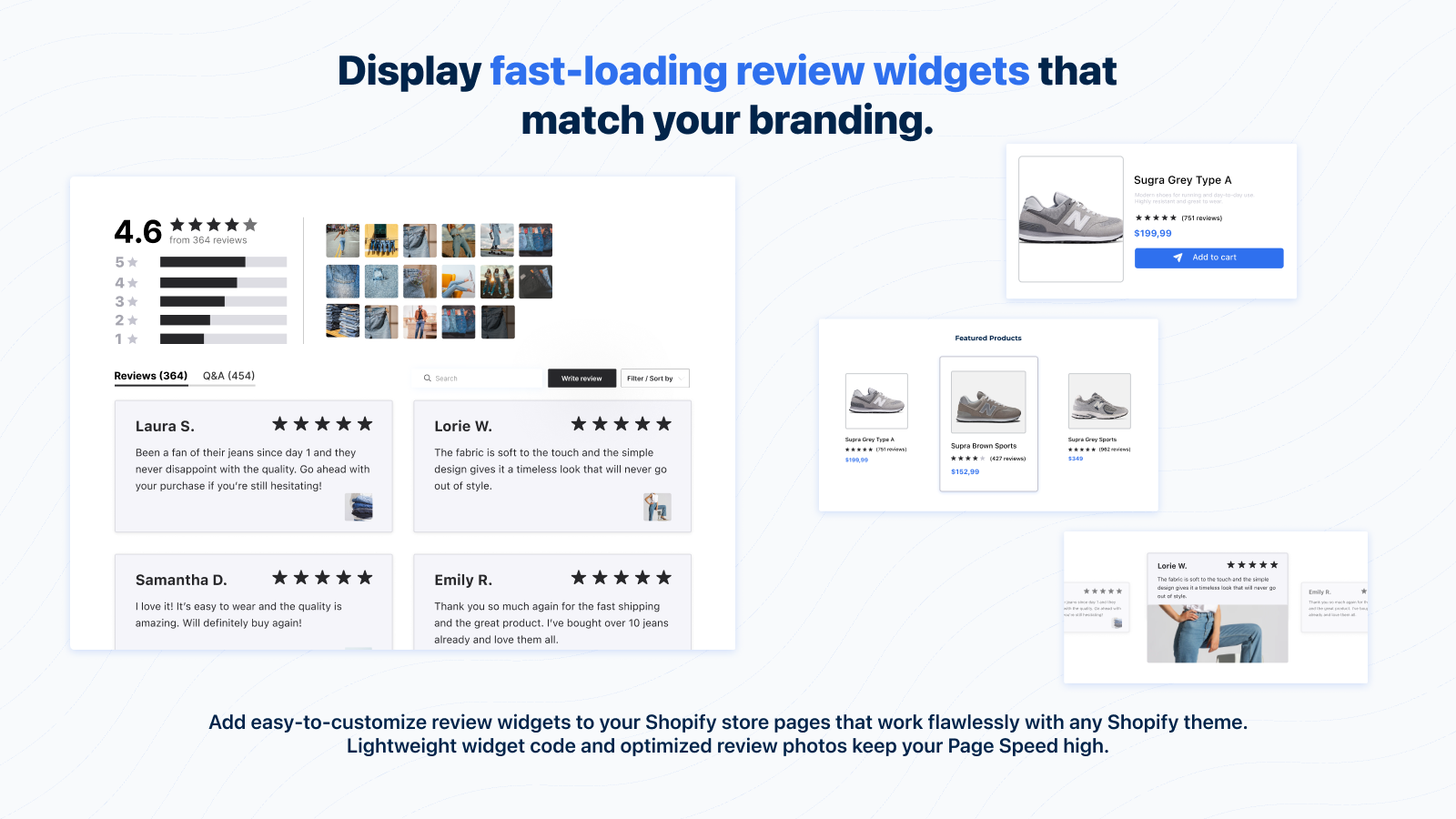 Review apps offer a range of customizable widgets that can be integrated into your Shopify store. These widgets can be displayed on product pages, collection pages, or pop-ups to maximize visibility. Some popular review widgets include star ratings, review carousels, and customer photo galleries. Here's how to install and configure a review widget using a review app:
Step 1: Access the settings of your installed review app.
Step 2: Choose the desired review widget and its placement.
Step 3: Customize the widget's appearance, layout, and behaviour.
Step 4: Preview and test the widget across various devices to ensure a seamless user experience.
By leveraging review widgets, you can showcase social proof prominently and encourage further engagement from potential buyers.
Leveraging Default Testimonial Sections in Shopify Themes
Many Shopify themes offer built-in testimonial sections that you can add and customize easily. These sections offer a simple yet effective way to display customer reviews without the need for additional apps. To leverage default testimonial sections, follow these steps:
Step 1: Access the theme editor in your Shopify dashboard.
Step 2: Enable the testimonial section or block within your chosen theme.
Step 3: Customize the appearance, layout, and content of the testimonial section.
Step 4: Add customer reviews manually or configure the section to display reviews automatically.
While default testimonial sections provide a convenient solution, keep in mind their limitations in terms of customization and advanced functionality.
Adding customer reviews to your Shopify store is a strategic move that can significantly boost conversions and enhance customer trust. By leveraging the power of social proof, you establish credibility and motivate potential buyers to choose your products over competitors.
You can adapt the process of incorporating reviews into your store based on your needs. This can include importing reviews from other platforms, requesting customer reviews, using a review app, or manually adding reviews to Shopify
Implementing review strategies effectively ensures your Shopify store thrives in an increasingly competitive e-commerce landscape.
Remember, customers are more likely to make informed purchase decisions when they see positive reviews from satisfied buyers. Take action today and start adding reviews to your Shopify store, and reap the rewards of increased conversions and customer loyalty!
Opinew Blog Newsletter
Join the newsletter to receive the latest updates in your inbox.
---