Build a Shopify Store with Debutify Theme & Opinew
We're excited to announce this new integration between Opinew and Debutify! Debutify makes things simple for Shopify users looking to start crafting an online store that meets their needs. It's a free Shopify theme that comes with pre-built templates fitting specific niches, and extensive configurable options such as customizable slider options and fade-in animations, product testimonial options and advanced product filters. You can also customize your header and footer, with vast color selection available to choose from (29 colors). It's a free Shopify theme that's suitable for both beginners and advanced Shopify users.
Unlock the power of Shopify stores with Debutify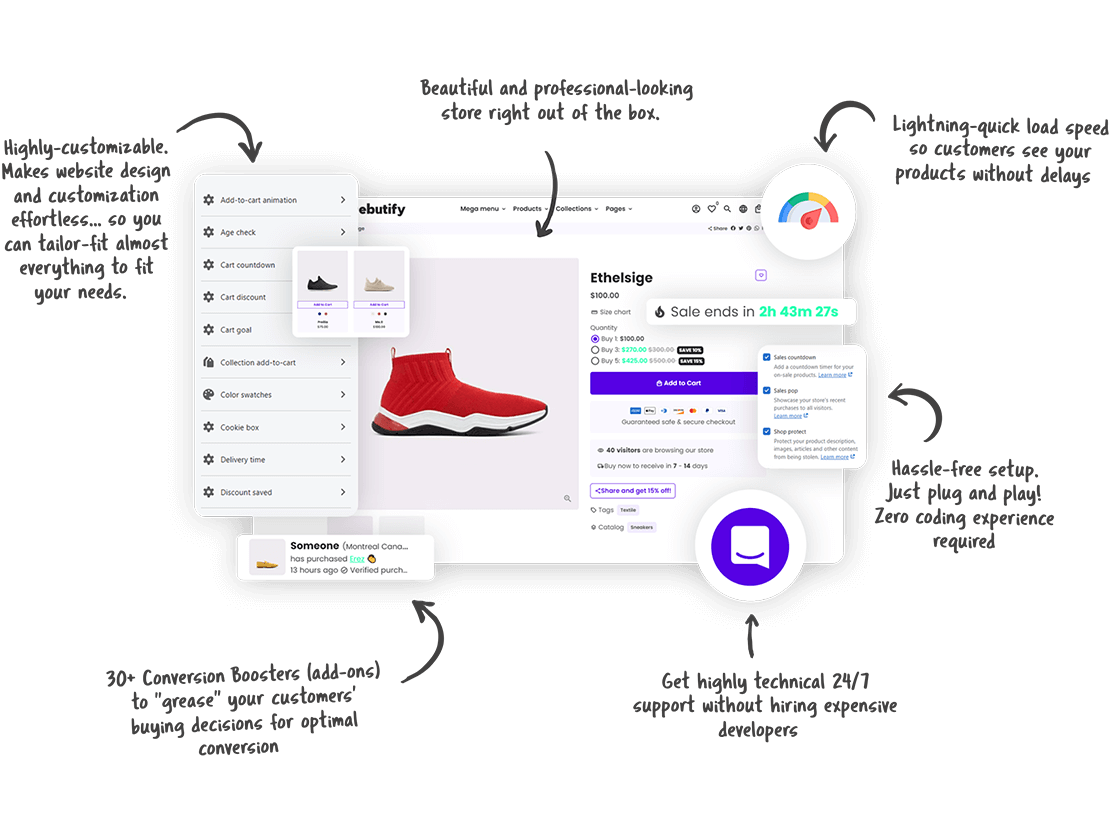 List of pages you can create with Debutify
Landing page: It's where visitors land when they first visit your store. Want to capture leads and make sales with an optimized landing page? Debutify offers free premium add-ons that give you the perfect layout optimization.
Home page: Help your potential customers to find what they came here for. Debutify provides an intuitive and easy-to-use layout and design that enable customers to find sections easily on the page, and you can customize it to your liking with various theme settings.
Product page & Collection page: A feature-rich template can help you transform your eCommerce store, no matter which products or services you offer. The theme is mobile-friendly, allowing customers to navigate products quickly without clicking through each store's item.
Blog page: Having a blog is a must to build your customer loyalty and boost your conversions. With Debutify, you can save time optimizing your blog funnel to handle incoming traffic and turn it into conversions.
Cart page and Checkout page: Debutify allows you to customize the style of your cart and checkout page, without editing the code.
Other pages: You can use the default template to create any page, for example, Password, Gift card, 404 page and Search page.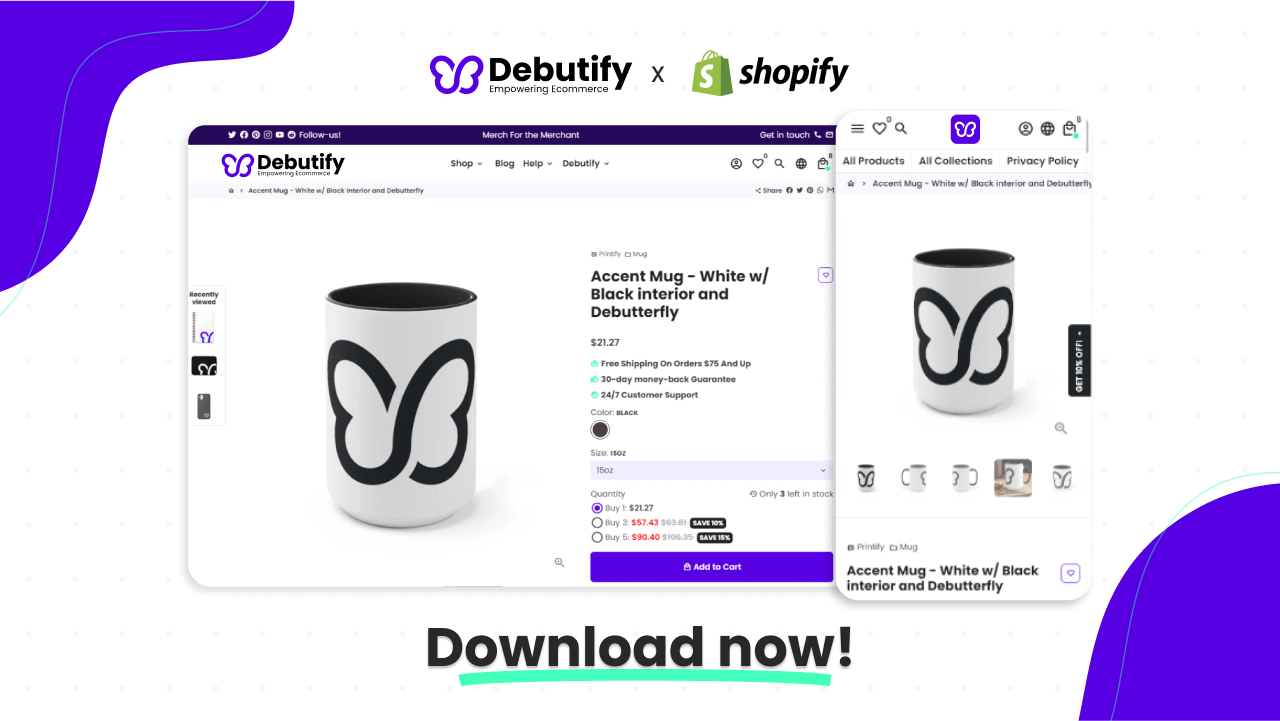 Specific add-ons that are specific for conversion
To help you quickly optimize your Shopify store, Debutify offers 47 add-ons and more in various categories. For example, you can maximize your customers' cart with Cart Upsell, Upsell Bundles, Upsell Pop-Up add-on or boost the conversion with Cart Countdown, Sticky Add-To-Cart, Delivery time add-on.
You can instantly and easily add Add-ons (sections) in Shopify Theme Editor; using pre-built add-ons will significantly shorten your store build time. They are necessary add-ons that can bring essential upgrades to your store and allow maximum conversions from your content.
Combine the power of social proof and high-converting pages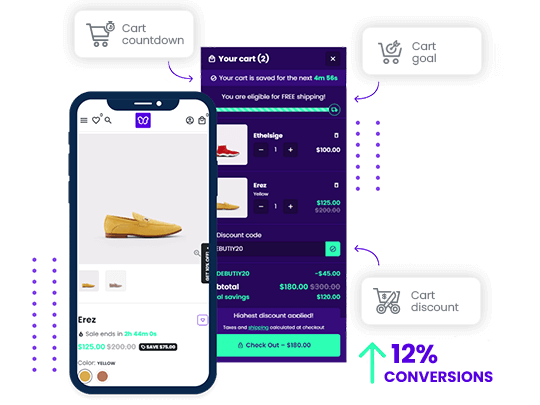 Top 3 Reasons why social proof is important
Social proof is essential in building an online reputation based on your customers' perception of the brand. Because 91% of customers read online reviews before they make a purchase, and social proof works based on the basic psychology concept that people are more likely to follow others performing the same action.
Showing many happy customers through testimonials and customer reviews means you also have a community around your brand; thus this helps build trust and encourage potential customers to buy with confidence. Opinew can help you set up follow-up email whenever customers complete an order, and display your best converting reviews on top of the page using AI-powered tools. Sometimes you will receive negative reviews, but it's okay not to be perfect; it shows your brand is legitimate and trustworthy.
Establish your credibility and authority
Regardless of whether you've got many reviews or not, social proof helps build credibility and authority. In a growing competition and lack of brand authority, it helps set you apart from your competitors and highlight you as an expert in your area of expertise. No one wants to buy a product from the person they do not know, and customers may find it more convincing to buy from an expert in the field.
Lead to a better customer experience
Social proof helps potential customers get a better idea of what they can expect from your product; thus you can improve your overall customer experience. It's proof that you have met customer expectations and people will start to pay more attention to your brand. It's more convincing if you can highlight testimonials from big, well-known brands they love, rather than hundreds of reviews from average people. Let happy customers speak for you!
3 Reasons how Debutify helps stores getting started quickly and build very converting Shopify stores
Simple layout with full theme customization
To install the Debutify theme on your Shopify store, you just need to install the Debutify theme app and choose to add the theme to your store. The setup is hassle-free with zero coding required so you can activate it and start editing the theme your own way.
Debutify's pages use a simple and optimized layout, which can help customers quickly access your store page and experience it easier. With Online Store 2.0, it is even easier to find what sections you need to edit in the Theme Editor, customize the theme and create a unique website that meets your needs in no time. Those improvements can lead to a better customer experience and conversion rate for your store.
Learn more about Shopify OS 2.0 and the new Shopify Dawn Theme
Ready-made templates to improve conversion rate
Debutify is a highly customizable template that is specially designed for Shopify's specific niches. The theme is suitable for dropshipping, print on demand, or even branded stores.
For Shopify beginners, Debutify is considered a neat and light design theme that you can quickly get for free with enough basic features to optimize your store's performance. You can choose out of different templates from Home page, Product page, or even Cart page and Check-out page you could edit, or customize it to match your brand's style.
The theme is also optimized for page speed with automatic updates monthly, which is important to reduce the store's cart abandonment rate. Now you won't have to look for help from an expert to do custom tasks, Debutify has got you even when you have no design experience and helps you with a beautiful, responsive store's design.
One app for all - Boost your sales with built-in Add-Ons
Debutify theme comes with 47 Conversion Boosters (Add-Ons) that help you get the most out of your store and optimize it for better conversions. Literally, the add-ons can help you save your time and money; you don't need to source a dozen of Shopify third-party apps to help you run your online store.
Instead, the built-in add-ons are simple yet powerful, and they all come together in a dominant theme that is perfect for shop owners who are not familiar with coding. You don't have to worry about the integration issues and ghost codes that slow down your page loading time; the add-ons adapts to your theme's style and settings automatically.
Let's say Testimonials and Customer reviews are the effective strategies to boost your conversion rate, and Debutify has it covered. You can edit, update and post customer reviews with the product testimonials slider; or using a review app like Opinew that integrates with Debutify which can help you collect more reviews and display them on highly customizable widget layouts on your storefront.
Read our help center article and follow our step-by-step guide to integrate Opinew & Debutify!
It's time to take action on your Shopify store
If you are looking for an easy-to-use Shopify theme that converts, Debutify theme  is an ideal option. The theme is designed specifically for conversion optimization with extensive add-ons and integrations. The integration between Opinew & Debutify allows you to collect, display and maximize the use of your user-generated content to help increase customer engagement, build trust and boost more sales.
We've also written an article on our top 5 best examples of customer product reviews designs on Shopify, have a look at it to find some inspiration if you are building your shop!
Download Opinew today and see how your customers can help develop your conversion opportunities through Shopify.