21 Best Shopify Stores To Get Inspiration in 2022 [Part 1]
With 31% of the market share, Shopify is the largest eCommerce platform. Here you can find all the tools you need to create a wonderful eCommerce store that drives sales. While the success of each Shopify store comes from a variety of reasons, it's still helpful to know why they are so successful.
Here's the first part of our list of the 21 best Shopify store examples that will bring you a jolt of inspiration. If you're on the journey of building your own Shopify store, you must check this list out.
Before diving into the first part of our list of the 21 best Shopify websites, let's go through the criteria of a good Shopify store.
What makes a good Shopify store?
When working with Shopify store owners, we always try to identify their most common traits, figure out a pattern that helps the store succeed. Here are a few characteristics that best Shopify stores share:
Winning products
"What to sell?" - This is one of the biggest questions you'll be asking yourself when building your Shopify store. How do some stores end up making six figures? It comes down to having winning products.
Winning products are products that your target audience loves and sell like hotcakes. To spot your next winning Shopify products, we suggest you answer these 4 questions:
Does your product help to solve a real problem?: If your product solves a problem that someone or preferably multiple people have, then that's an awesome indicator of a winning product.
Does your product can easily found in retail stores?: Most successful dropshipping products are ones that are not normally found in retail stores. Would you wait for 2-4 weeks for a sandwich maker that you can also buy in the store next door?
Does your product have the "Wow" factor: If it does, it can easily grab your audience's attention.
Are there any competitors doing well with this product?: If there are some, can you find ways to stand out in the market?
These questions will give you some directions when you conduct your product research. Check out the list of 8 websites with public bestseller lists, this can help you get more idea of the product you might want to sell.
Solid web Shopify store design
Most Shopify sellers are focused on the website traffic, but not enough of them are concerned about what consumers see once they arrive at the store. And the crazy thing is that the factors that have the greatest impact on a store are usually small but must-have elements.
To increase your Shopify store's conversion rate, pay attention to these factors:
Website Speed: The longer you wait to speed up your website, the more customers you'll lose to a faster competitor's site. Google's mobile page speed study shows that a site's bounce rate gets worse for every second it takes a page to load. According to some research, 64% of smartphone users expect a website to load in four seconds or less. You can read this article to find some tips to boost the speed of your Shopify website.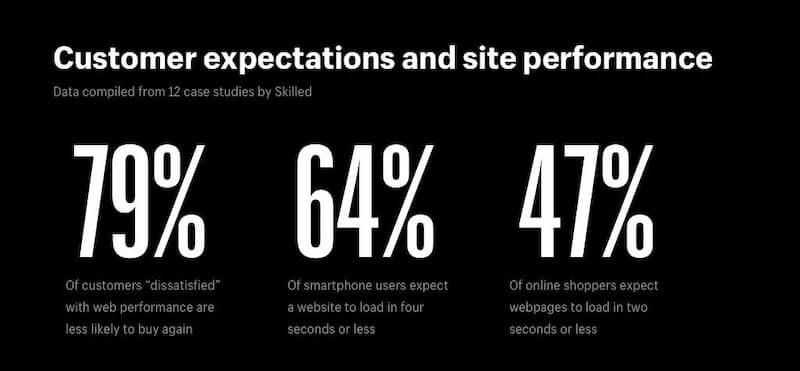 Source: Shopify
Product Image: Different from brick-and-mortar stores, online shoppers can make an instant decision based on the appearance of your store. Having high-quality product images on hand will help you make a strong first impression. You can take your own product photographs. Otherwise, you can hire a specialist picture processing firm to do the job for you.
Text Copy: Poor website copywriting can make your store unreliable. Customers will have more confidence in making purchasing decisions if the product description is informative and helpful. Furthermore, Google search algorithms aim to determine the originality, readability of a website's content in order to assist Internet users in finding the most appropriate shops. As a result, precise and thorough website copywriting will improve the product's search engine rating. When optimizing your text copy, avoid these 6 common copywriting mistakes.
Social Proof: Positive feedback and testimonials have a profound effect on the minds of the customers. Many top Shopify stores have seen improved sales as a result of prominently showing social proof on their website. Opinew is an app that makes social proof management much simpler than ever, whether you want to show the social proof section on the homepage, or a separate page, link this one: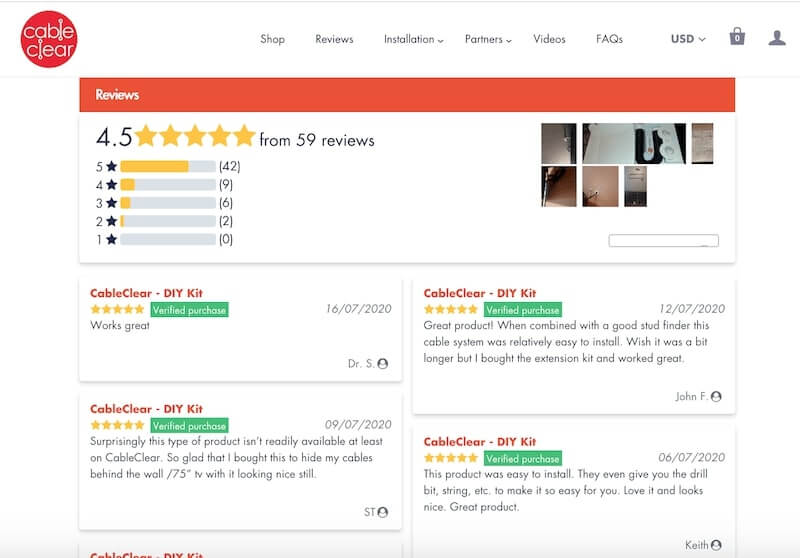 Source: Cable Clear
Good customer experience:
Every business owner loves happy customers. Happy customers spend more money, they tell their friends about you, and they leave glowing reviews. But how can you make them happy, here are some factors that you should pay attention to:
Delivery:
Customers have specific requirements or desired delivery times for various types of goods. If your customers are buying groceries, baby items, or personal items, it's likely that they want those items as soon as possible. Customers, on the other hand, are willing to wait a little longer for things like clothes, appliances, and furniture. Take a look at what your rival is doing. There are some strategies that you can consider:
Offer free shipping: Unexpected shipping costs are the leading cause of shopping cart abandonment, according to Baymard Institute's groundbreaking study. Some merchants offer free shipping on all orders, while others choose conditions. For example, free shipping on all orders over $100. The purpose of these conditions is usually to increase your average order value (AOV). But how to offer free shipping but still stay profitable, check out this article.
Scheduled delivery: Offering your customers scheduled delivery times is another way to put your customers in control of their delivery. This prevents major customer frustration from missed deliveries.
Customer Support:
Customer service is the function of assisting customers in receiving the value they paid for from a product or service, especially when things go wrong. According to the American Express 2017 Customer Service Barometer, 7 in 10 shoppers say they'll spend more money (17% more, on average) with a business that provides consistently great customer service. You can find everything you need to know about improving your customer support in this article.
Post Purchases Communication:
Your relationship with your customers doesn't end after they hand you their cash and you deliver them your product. Focusing on and strengthening relationships with current customers is a low-cost way to increase revenue. Here are some add-on apps for you to maintain post-purchase communication with your customer easily:
Use Opinew to request reviews from customers that ordered: Using this app, you can send your review request automatically via Emails and SMS. Giving customers the option to express themselves through reviews, surveys, and open-ended feedback does more than just provide you with insightful information. It also makes customers feel as though their opinions are heard and appreciated.
Use Smile.io to offer loyalty programs: Smile.io provides you many ways to engage with your existing customers: loyalty points program, referral program, our a VIP program. These kinds of programs allow you to reward your customers who frequently engage with your brand
21 examples of best Shopify stores [Part 1 - 1 to 10]
Now you know about the criteria of the best e-commerce stores, let's find out some examples of Shopify stores:
Partake is one of the best Shopify store examples. It offers cookies in flavors like chocolate chip, birthday cake, and ginger snaps that are school safe and free of the top 8 allergens as well as artificial colors, preservatives, and genetically modified ingredients.
Store category: Food & Beverage
What we can learn:
Partake has a beautiful web design with a high-quality product image and consistent key visual elements (font, color, etc…). In F&B categories, it's very important that your website's visual is clean and appealing.
It has a lot of informative information on the website, especially on its blog. Partake even publishes its ingredients to prove that the product is safe and healthy.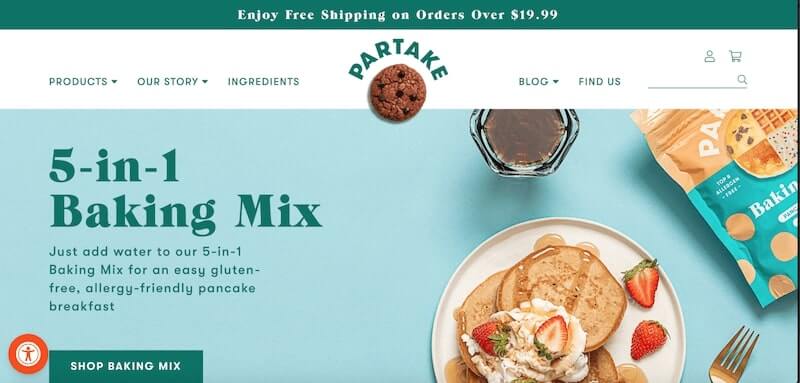 If you want to get some Shopify store inspiration, you might want to check this store out. Muscle Pharm is a niche Shopify store that sells products to help professional athletes and the everyday active individual reach their maximum potential. The product lines include: functional foods, sportswear, sports accessories, etc.
Store category: Sports
What we can learn:
Muscle owns special product lines, serving a specific group of customers which are professional athletes. This is a group of customers with special needs to serve a high frequency of exercise, always wanting to improve their fitness, so they need specialized products instead of the popular products.
For any single product, it uses Opinew app to collect and show every customer review. With specialized products like Muscle Pharm, the social proof section will help to build trust and provide insightful information for customers to make buying decisions.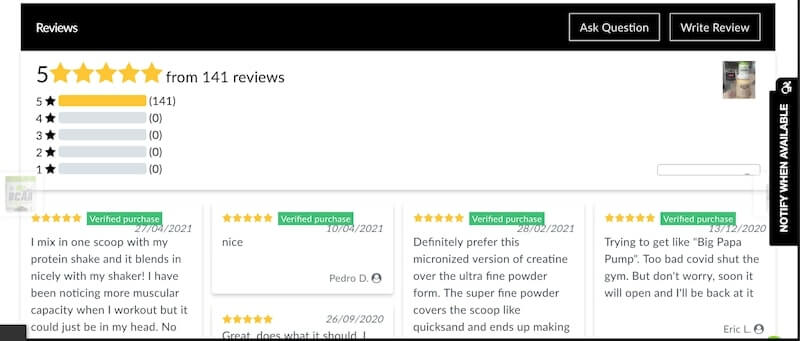 Like its name, Pipcorn sells heirloom popcorn kernels. What's unique about this store is that it was once featured on ABC's Shark Tank, where the owners got a deal that marked the beginning of their success.
Store category: Food & Beverage
What we can learn:
Pipsnacks has a stunning eCommerce website that provides a one-of-a-kind customer experience. A big plus for the store is the subtle animations and the visitors' ability to interact with the products on the homepage.
The consistency in their Shopify store design plays an important role in leaving a strong impression on customers' minds. Having a solid Shopify theme and product pages that complement their homepage are crucial for the success of Pipsnacks.
The content on its website is also insightful. Pipcorn knows that its customers are concerned about their health when eating popcorn. So their homepage features a simple slogan: "Most tender, crunchy, delicious popcorn … and it won't destroy your teeth like the 'generic' stuff."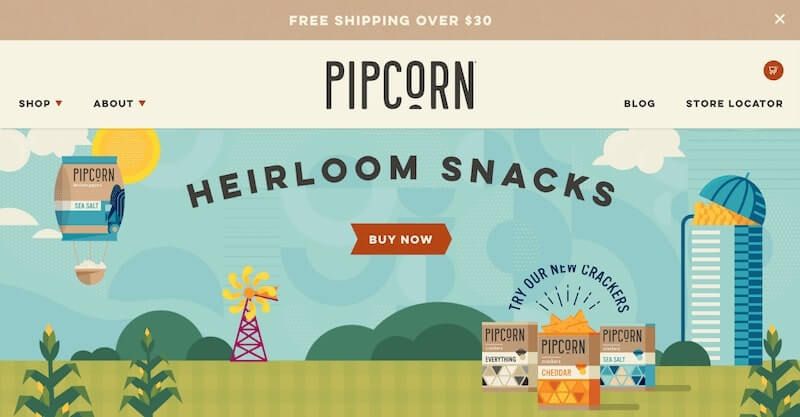 Manitobah Mukluks is a niche product store that specializes in high-quality, super warm winter boots. As an Indigenous-owned company, their vision is to build a vibrant, global brand that makes a significant impact in Indigenous communities.
Store category: Fashion
What we can learn:
Firstly, they did a good job with their website content. Considering that most visitors probably aren't familiar with the term "mukluk", they succinctly explain it, using clear and concise copy.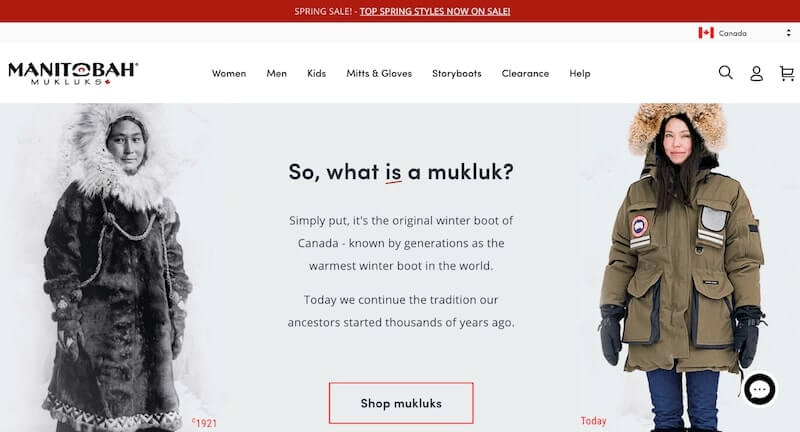 In terms of visual aspect, they also have a great video that offers shoppers a short overview of the products and shows them in motion. It starts with an unboxing footage, which allows viewers to get a sense of how high-quality their items are.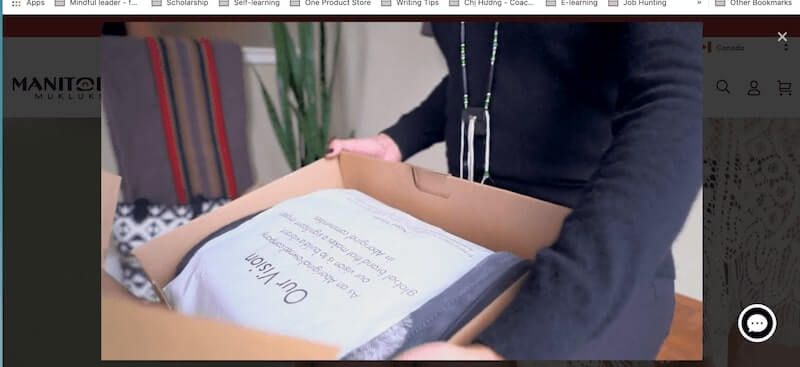 Betron is also a good store that can bring you some Shopify store inspiration. It produces and sells a wide range of premium Bluetooth speakers, headphones, earphones, audio, and power accessories. On the homepage, Betron asserted that "Our high-precision innovations make it possible to capture a truly premium listening experience".
Store category: Technological
What we can learn:
Betron has simple, intuitive navigation at the top header. It's broken down into product lines, making it easy for users to find what they want.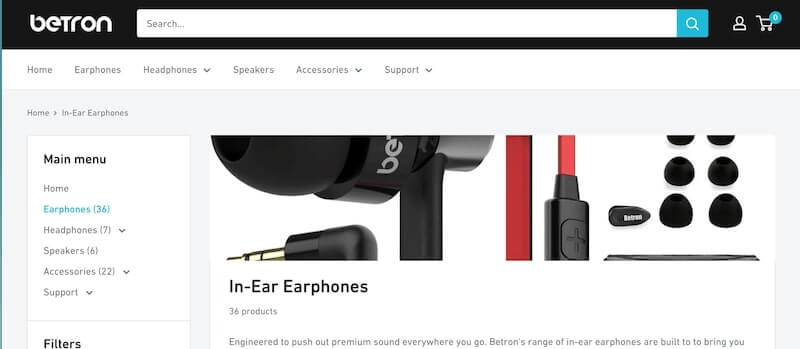 Selling premium technology products, to build trust, Betron makes effective use of the social proof sections. In their product pages, it has clear and transparent review sections that show every customer feedback. Visitors can also leave a question about the product that they're interested in. If you want to have the same social proof that Betron has, try Opinew.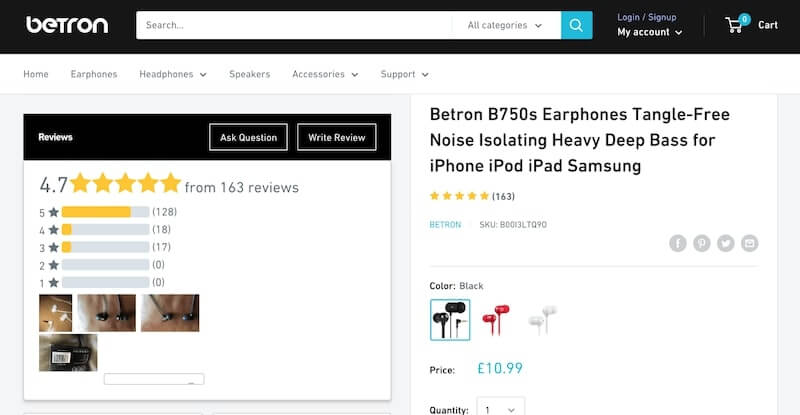 PRESS is a Shopify store example that is dedicated to 100% plant-based quality nutrition to help people live happier, more balanced lives. PRESS claims in their "About Page" that they source the highest quality fruit and veg from G.A.P. Global certified farms, including the "wonky" ones, to ensure they deliver consistent, quality products that are safe, ethically sourced, and set the standard for environmentally conscious farming practices.
Store category: Healthy Food
What we can learn:
PRESS has a strong USP and makes it bold on their website. On the homepage, one of the first things shoppers notice is that it says, "Transforming lives through the power of plant-based nutrition".

The website is connected with its Instagram account with lots of high-quality pictures of customers who are drinking PRESS's juice. It not only makes its website beautiful but also urges potential customers to try the product.
BAKblade is an online store selling patented men's grooming tools that promise a safer and smoother wet or dry DIY shave. After launching their product on Indiegogo and Kickstarter in 2016, which resulted in 240 million video views, they were able to raise $150,000 in just three days. Since then, they have built an 8-figure business, expanding to selling their products in big retail stores as well.
Store category: Men's Grooming
What we can learn:
Launching a new product like BAKblade is not easy at all, you have to build instant trust with your potential customers. BAKblade uses a smart strategy when offering a generous 60-day 100% return policy, new user discounts, and free shipping promotions. At the same time, the website proudly shows their customer reviews.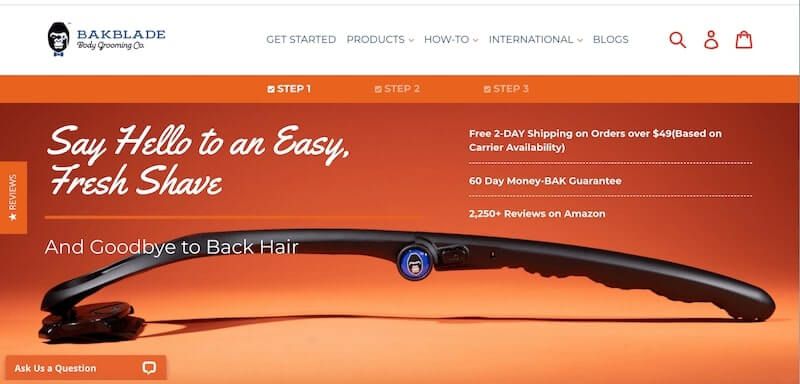 Status Anxiety is creating and selling high-quality, minimalist leather goods that complement this ethos of simplicity and true value in all areas of our lives including what we buy. Every Status Anxiety piece is handcrafted, ethically sourced, predominantly Italian and Brazilian leather. And as being asserted on their website, no rare or endangered snow leopards are harmed in the process.
Store category: Leather accessories
What we can learn:
All products on the website are of high quality, properly reflecting the brand personality. With premium products, the quality of product photos is very important to build instant trust in visitors.

Under any product description sections, it includes some social proof left by previous customers. After providing all related information about the product, some honest reviews will probably push potential customers to make final buying decisions. If you want to have the same section on your website, you can try Opinew.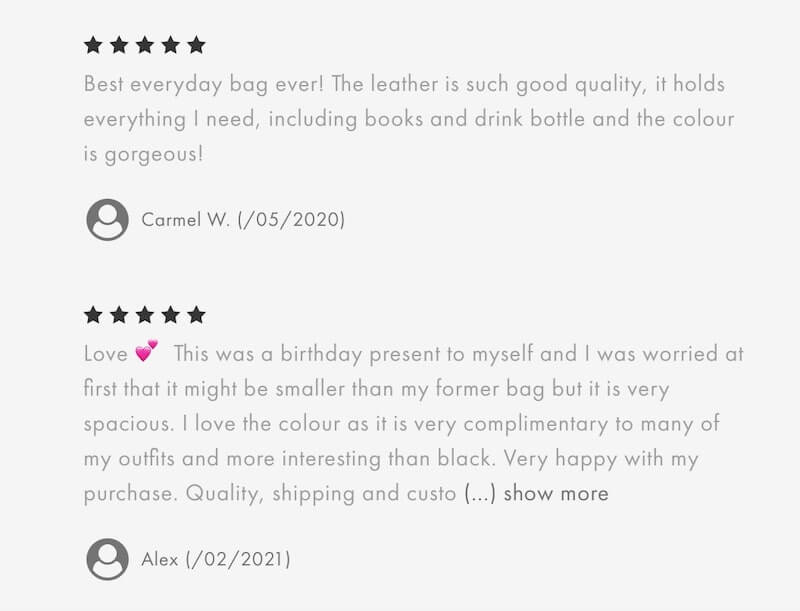 Death Wish Coffee, founded in 2012 by coffee enthusiast Mike Brown, sells only one product: coffee, and it sells it well. They've developed into a top Shopify Plus store that's also a top Amazon seller, with an approximate annual sales of over $3 million. If you're looking for the best Shopify store examples, you must check this out. Some other achievements worth mentioning include being the official coffee sponsor of the New York Comic Con and the inclusion of limited-edition merchandise such as apparel and mugs.
Store category: Coffee
What we can learn:
They did a great job with their on-brand copywriting and strong brand voice used throughout their site. Phrases "strongest coffee" and " 100%, no-BS guarantee" are repeated many times to confirm the product's USP.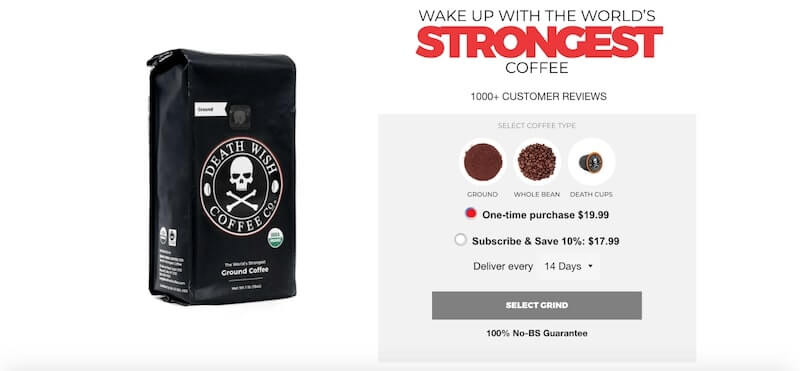 Moreover, their complex mixed business model that allows users to check out with once-off purchases, bundles, and subscriptions is also creative.

Makeup Geek was founded in 2008 by Marlena Stell with the aim of making makeup simple and enjoyable. This high school music teacher began with a YouTube channel to share her love for makeup and is now the owner of a multi-million dollar makeup company. It can be seen as one of the best Shopify shops in this niche.
Store category: Beauty
What we can learn:
The tutorial section of the web is extensive, in line with their target market, and provides lots of free, useful information. They don't just provide beginners and experts with step-by-step makeup tutorials; their YouTube channel is jam-packed with tips and trends. This useful content will bring in a huge amount of organic search, making potential customers know more about the brand, thereby increasing conversion rates.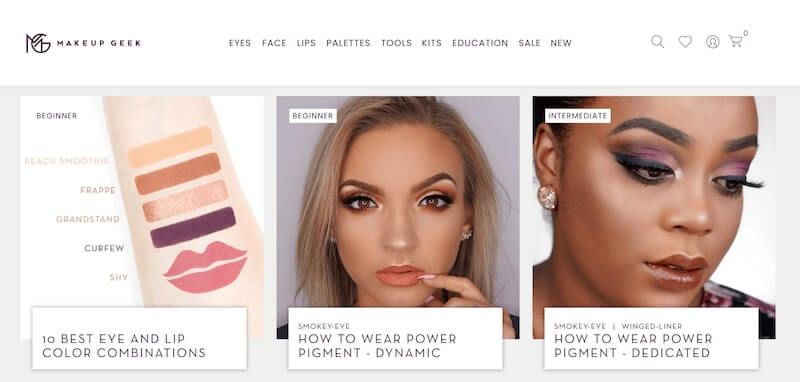 To: Best Shopify store examples of 2021 (Part 2: #11-#21)
Now it's your turn to build your Shopify store
If you take a look at all the above best Shopify store examples, there's something in common.
They've all prioritized their website, made it appealing to the audience that they're trying to target.
They put lots of effort into building instant trust in visitors by adding social proof sections, provide detailed information about the product, optimize product photos and descriptions, etc.
Now it's your turn to get started and make your Shopify store outstanding. Don't hesitate to leave a comment here if you have any questions and make sure to check out our part 2 of the best Shopify stores in 2021.
To learn more about Shopify apps, we've prepared an extensive list of the best Shopify apps to increase your sales & conversion rate.