21 Best Shopify Store Examples of 2022 [Part 2]
Here it is! Our part 2 of the best Shopify store examples is out. We're laying out the different good and bad points of high-converting dropshipping and general eCommerce stores for you to take inspiration and optimize your online shop.
In Part 1, we have outlined what makes a good Shopify store. If you have missed it, kindly follow this link: 21 Best Shopify Stores To Get Inspiration in 2022 [Part 1].
Let's get to the list!
21 examples of best Shopify stores [11 to 21]
Skinny Teatox is a health-promoting detox tea program made entirely of natural ingredients. Skinny Teatox is made entirely of natural ingredients. No additives or preservatives are used. Ingredients include: tea leaves, senna leaf, ginseng, chrysanthemum, cinnamon bark, cloves, rhubarb, ginger, and more.
Store category: Healthy Drink
What we can learn:
Skinny Teatox places its products on the homepage with an easy "Buy Now" call-to-action. For a company that isn't too complex to figure out ("All Natural Detox Weight Loss Tea" is written beside the company name in search engines), it makes sense to offer the viewers what they want upfront.
It uses pastel colors and cute icons to convey a fresh vibe throughout the website.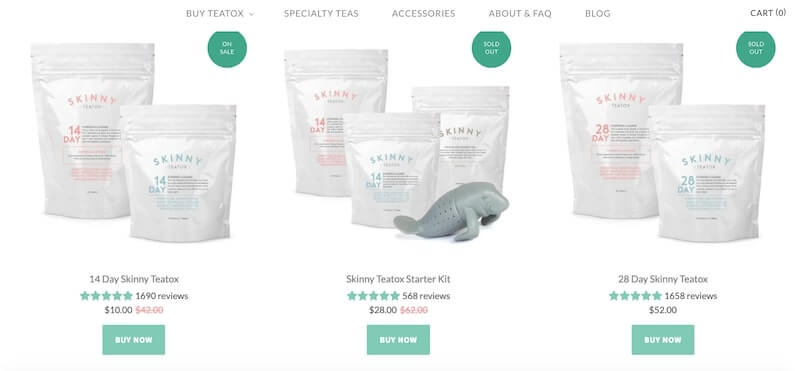 BioLite creates affordable, durable products that harness surrounding energy to cook, charge, and light daily life for off-grid households. Its mission is "to empower people and protect our planet through access to renewable energy".
Store category: Household appliances
What we can learn:
The major selling point of BioLite is its humanitarian impact (the product brings affordable energy access to places in India and Africa). They make it very clear on their website by highlighting their mission and their slogan " Gear That Brings Energy Everywhere".
The top navigation bar of the website has a clever twist as well: next to each product title are small black-and-white cartoon drawings of the product.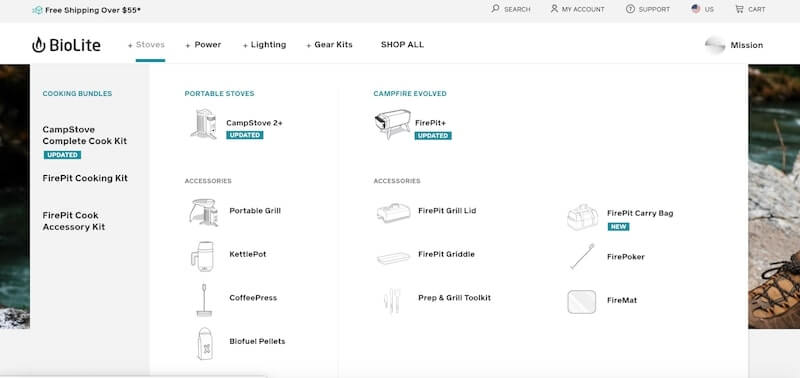 MVMT delivers premium on-trend watches and accessories, designed in Los Angeles. This multi-million dollar eCommerce company rose to prominence in 2013 and has been rapidly expanding since then. They used clever social media tactics to corner the millennial market on watches after taking the second position as the most-funded fashion campaign in Indiegogo history at the time, raising over $290,000.
Store category: Accessories
What we can learn:
A big plus of MVMT Watches is that they bring lots of add-on benefits for their customer, such as free shipping worldwide, free returns worldwide on orders over $50, 24 months warranty on all products, etc.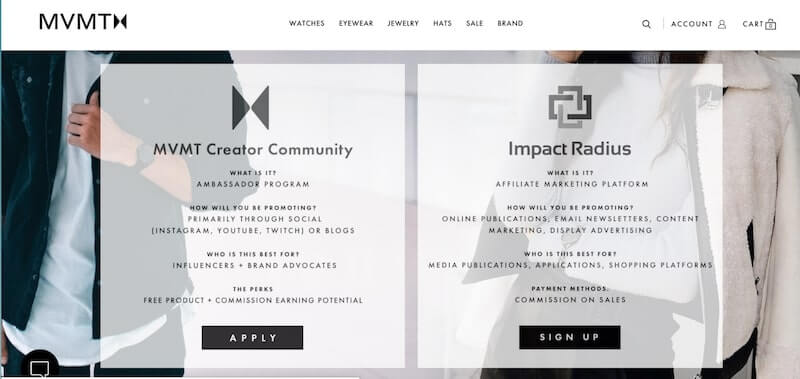 Allbirds is a unique shoe brand that focuses on design simplicity, comfort, and sustainable materials. After just two years, it was able to reach a worth of $1.4 billion. With the slogan "Made from nature, for nature", Allbirds produces its products with planet-friendly natural materials, like merino wool and eucalyptus trees, as they're our best chance for a sustainable future.
Store category: Sustainable fashion
What we can learn:
There's a lot to learn about Allbirds: their unique well-designed products, user-friendly website as well as strategic branding, etc. All of these factors can be seen as good examples for Shopify beginners.
The most outstanding thing about Allbirds is how they design their product page: professional, well-designed, and very informative. They provide information about their color and size options as well as additional page content such as Instagram feed displays, material breakdown, and product benefits.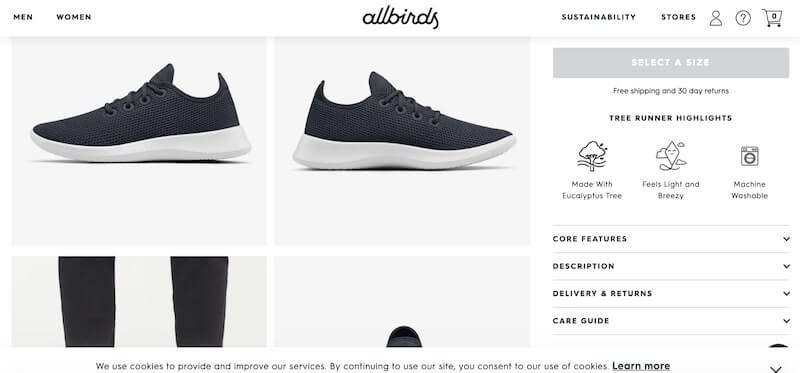 Easytek Ltd opened Vape Superstore's doors (online and in Dalston) back in 2015. Originally created to be a specialist vape shop that brought legitimate product choices and better quality to vapers, Vape Superstore has expanded to offer the most comprehensive range of products in the UK.
Store category: Vaping
What we can learn:
Due to the nature of their industry, they are unable to do any form of online advertising (Google Ads, Social, etc.), so they rely heavily on organic email and affiliate marketing. From their innovative rewards programs and email marketing strategy to their expert DIY SEO strategy, they are a prime example of how to adapt a marketing strategy to a unique brand, market, and product.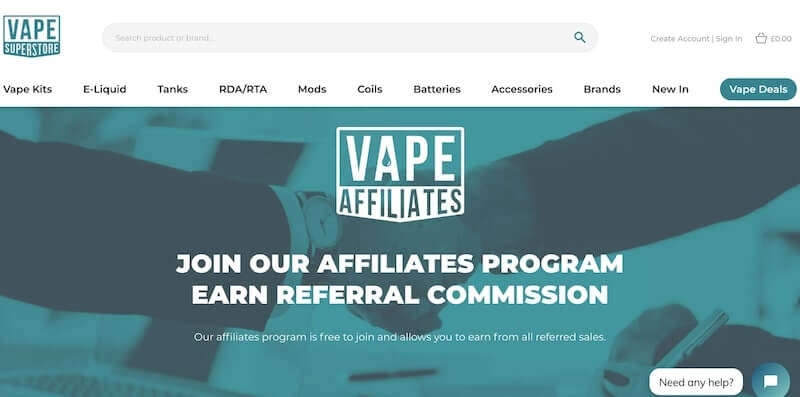 Their website is also well-optimized with simple navigation, useful information about their products, social proof sections as well as blogs page.
CASE U was launched in 2015 and is now one of the leading tech accessory brands in India. Their product lines are quite diverse, including phone cases, screen protectors, Apple watches, etc. After 5 years, CaseU has deeply started understanding consumer behavior and their psychology due to which they have been launching new products every week according to customer's needs and priorities.
Store category: Tech accessories
What we can learn:
They highlight their promotion very clearly and outstandingly on their homepage. Therefore, whenever new users go to their website, the promotion will easily catch their attention.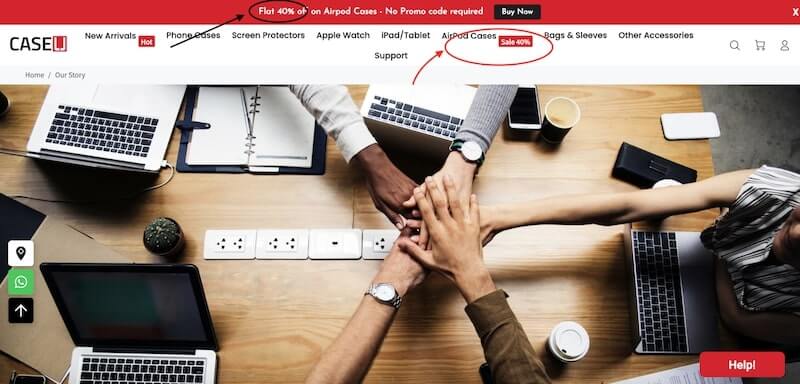 With hundreds of different products, CasuU manages to include the social proof section on every product page, which is very helpful when potential buyers want to read honest previous customer's feedback. It looks like a lot of work to collect lots of customer reviews, but if you know Opinew, everything can be set up in less than 10 minutes.
Pop Chart makes infographic posters about everything from literature, alcohol, to movies and many other things. Pop Chart specializes in turning nerdily encyclopedic pop-cultural knowledge into gorgeous, richly detailed infographics.
Store category: Decoration
What we can learn:
This site looks like one of the vintage and trendy prints they sell. It's also organized in different categories depending on a viewer's browsing preference.
Pop Chart Lab's Shopify store has a scroll-down navigation with sub-categories ranging from, "NYC" to "Kids" to "Hip Hop" to "Wine." They also have a carousel with some of their top prints on display. The shop manages to appear simple, despite its vast array of different print products, which is no easy feat.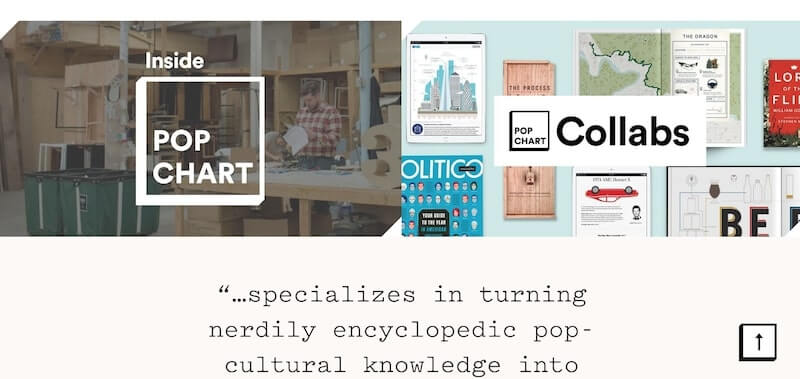 Venture Heat is a pioneer in the Wearable Heating Technology industry. Their goal is to continue to be the most trusted brand in the business. Their business philosophy is very simple: to create responsibly made products that are unrivaled in price, quality, and workmanship.
Store category: Wearable heating technology
What we can learn:
Venture Heat is also a big customer of Opinew. They include the social proof sections right on their homepage, making it very clear for visitors to access. Behind the social proof section, they add lots of photos of customers using their products. These sections. These sections allow Venture Heat to take advantage of external validation and customer advocacy in order to influence potential customers.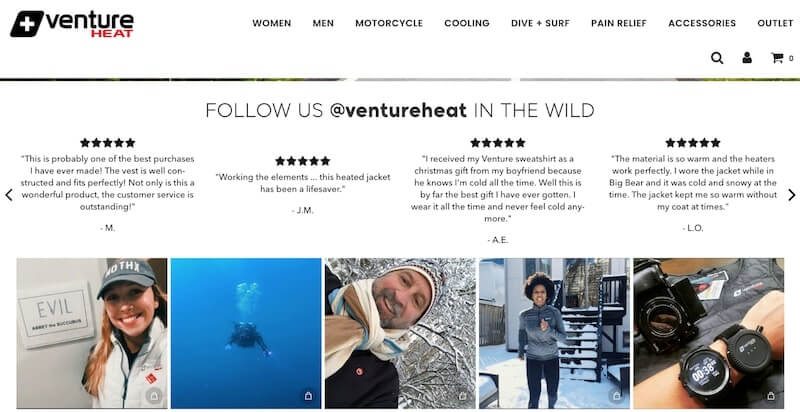 This is a family-owned company, selling fresh food and more than that. Their business model brings families together, supports communities, and gives farmers a means.
Store category: Fresh food
What we can learn:
Their website is casual and playful, with text that looks like a child's handwriting and colorful drawings of fruit. This style brings in a feeling of home and nature, which are the important parts of the Harris Farm business model.

They communicate their business philosophy very clearly and consistently throughout the website, which is "For the greater goodness", and "reconnect with the natural joy of food". It appears under the logo, on the hero image, product pages, and so on.
Muse is a Shopify store that sells research-grade EEG devices that passively senses your brain activity and translates it into the guiding sounds of weather to help you stay calm & focused. Mused devices can connect to your mobile device via Bluetooth. Once connected, you can simply start the Muse Meditation app, put on your headphones, and close your eyes.
Store category: Technological
What we can learn:
We usually think simple is better when it comes to design, but Choose Muse proves it wrong. They incorporate compelling designs with a ton of images and text, while still retaining a clean and enjoyable viewer experience, not to mention that their product is very innovative.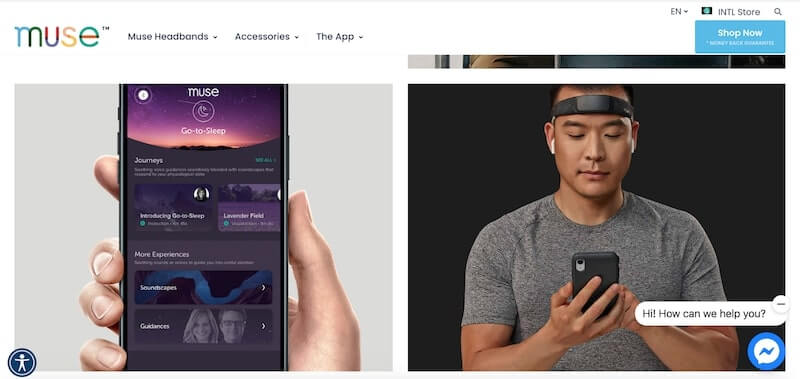 Australian Bodycare has been a front runner for skincare products since 1992. Since then, they have adhered to the same ideas: Providing the best skincare solutions and helping people achieve a better quality of life. Their product series is tailored for the entire family: It prevents and treats the most common skin problems - all while staying gentle on the skin. All products are produced with the highest quality and correct dosage of ingredients to match the skin-related problem in question.
Store category: Beauty - Skincare
What we can learn:
The design of their product and their website is very consistent, conveying a fresh, clean, and reliable feeling for visitors.

Skincare is a competitive market. The survivors will be the ones who have quality products and gain trust from customers. No one wants to risk their own skin. By using social proof in the form of testimonials, Australian Body Care helps customers make better decisions and feel confident about their choice. Wonder how they do what, try Opinew with your store.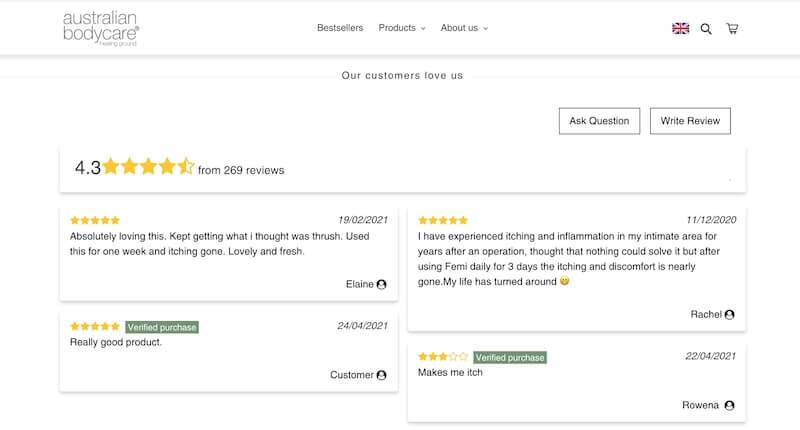 Now it's your turn
If you take a look at all the best Shopify store examples we listed above, you will find similarities between them.
They've all prioritized their website, made it appealing to the audience that they're trying to target.
They put lots of effort into building instant trust in visitors by adding social proof sections, provide detailed information about the product, optimize product photos and descriptions, etc.
Now it's your turn to get started and make your Shopify store outstanding. Don't hesitate to leave a comment here with Opinew if you have any questions and make sure to check out our part 1 of the best Shopify stores in 2021.
Install Opinew on your Shopify store today and build strong social proof to increase your conversions!