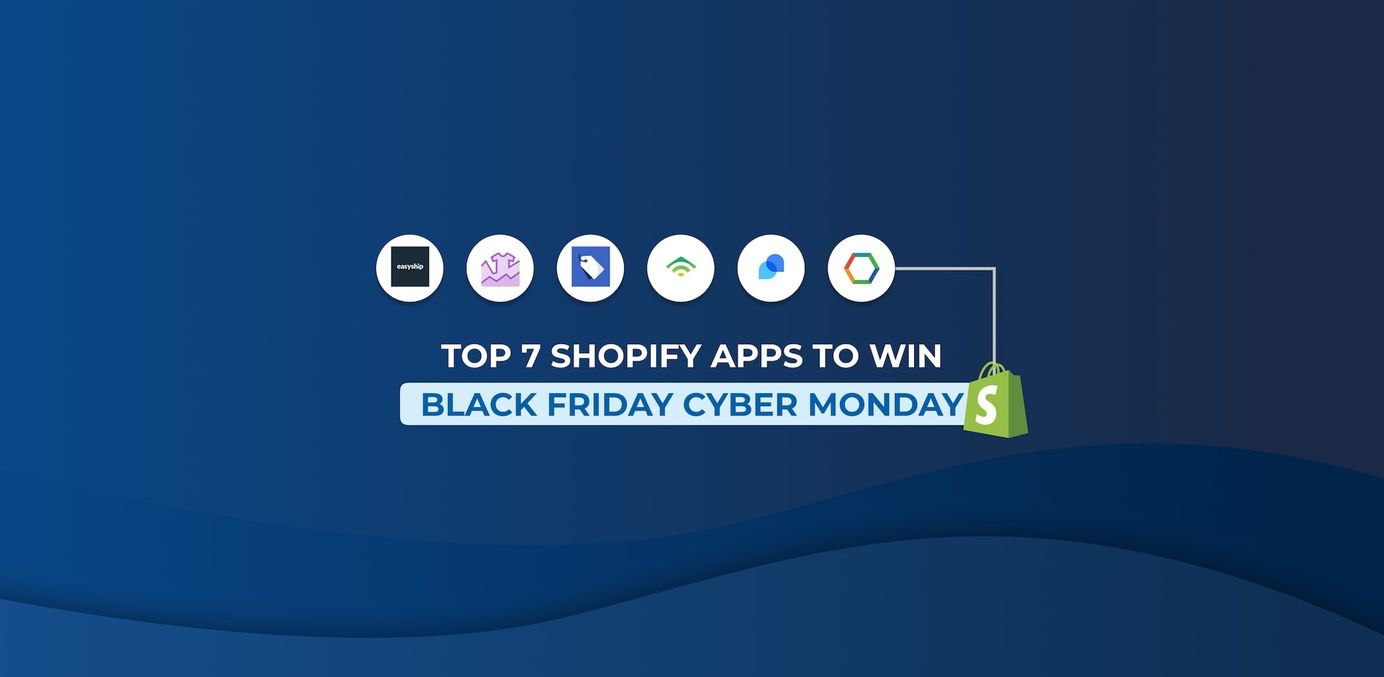 Top 8 Shopify Apps You Need To Win Black Friday Cyber Monday 2023
Table of Contents
Black Friday and Cyber Monday are the most significant eCommerce events that every store owner looks forward to every year. In 2020, Black Friday raked in #9 billion in online sales, which is a 21,6% increase from 2019. Meanwhile, Cyber Monday also brought in $10.8 billion, up over 15% from the previous year's $9.4 billion.
Even when the Covid-19 situation is still terrible in many countries, BFCM (Black Friday & Cyber Monday) has started much earlier. According to some recent research from Shopify, 54% of shoppers said they made plans to start shopping for BFCM a month in advance. In fact, in 2020, 20% of shoppers had already started shopping in August.
Therefore, now is not too early for you to start preparing for your BFCM campaign. In this article, we will list out 7 apps you must have to win the upcoming BFCM.
1. Inventory Planner - Keep items in stock and stay organized
Price: $99.99/month. 14-day free trial. Additional charges may apply.
In normal times, mishandled inventory results in revenue loss and dissatisfied consumers. However, if your inventory isn't correctly maintained during BFCM, the results might be considerably more devastating.
During that period, you are going to find a surge in demand for specific items. Without well-planning, you'll probably end up stocked out of these popular products and losing out on many customers. To avoid this, you need to take a closer look at your product analytics and overstock your bestsellers.
Inventory Planner Forecasting is an inventory management pain killer. After installing this app and connecting your sales channels, Inventory Planner will sync your sales history. With additional information provided like vendor lead time, Inventory Planner automatically produces your forecast.
With Inventory Planner, you can:
Compare product lines, brands, and suppliers to see financial trends in your business.
Set alert levels for your entire store or each product so that you know when to order.
See what is ordered and what is received across multiple sales channels and warehouses.
Plan for upcoming promotions to optimize levels of inventory available during BFCM and Q4 sales.
Create a purchasing budget and plan cash flow using Open-to-Buy (OTB) planning.
2. Easyship - Take the headache out of shipping, delivery, and returns
Price: Free to install. Additional charges may apply.
During BFCM, due to high discounts, many consumers hurry to make their purchase, your BFCM can catch fire and be really successful. But after that, remember that you have products to ship out. It's also a lot of pressure.
Easyship is the world's leading cloud-based shipping platform empowering Shopify merchants to drive down shipping costs, save time, and scale globally. This app gives you access to 250+ shipping options with reduced rates and gets transparent quotes for all-in shipping costs, including taxes, duties, and courier fees.
When your customer goes to the checkout page, they will be given a choice between the cheapest, fastest and most affordable rates.
Here are some other features that you should know about Easyship:
Easily sync orders and print all your labels for fast, efficient processing.
Even with volumetric weights, store your product dimensions, category, and weight for faster processing and accurate shipping costs.
Choose preferred solutions based on the destination, product type, or weight and expedite shipping with preset rules.
Send emails with your branding to give customers a fully branded journey from purchase to delivery.
Also, keep in mind that your consumers want to be informed. They want to know when their order will be delivered.
In fact, 9 out of 10 customers believe that on-time delivery is critical. Using Easyship, you can send your customers a link and let them track orders in real-time.
Another tip to increase conversion is making the shipping free. According to Salesforce, 85% of Black Friday sales Salesforce tackled in 2019 had free shipping.
3. Opinew - Build trust with a great social proof management tool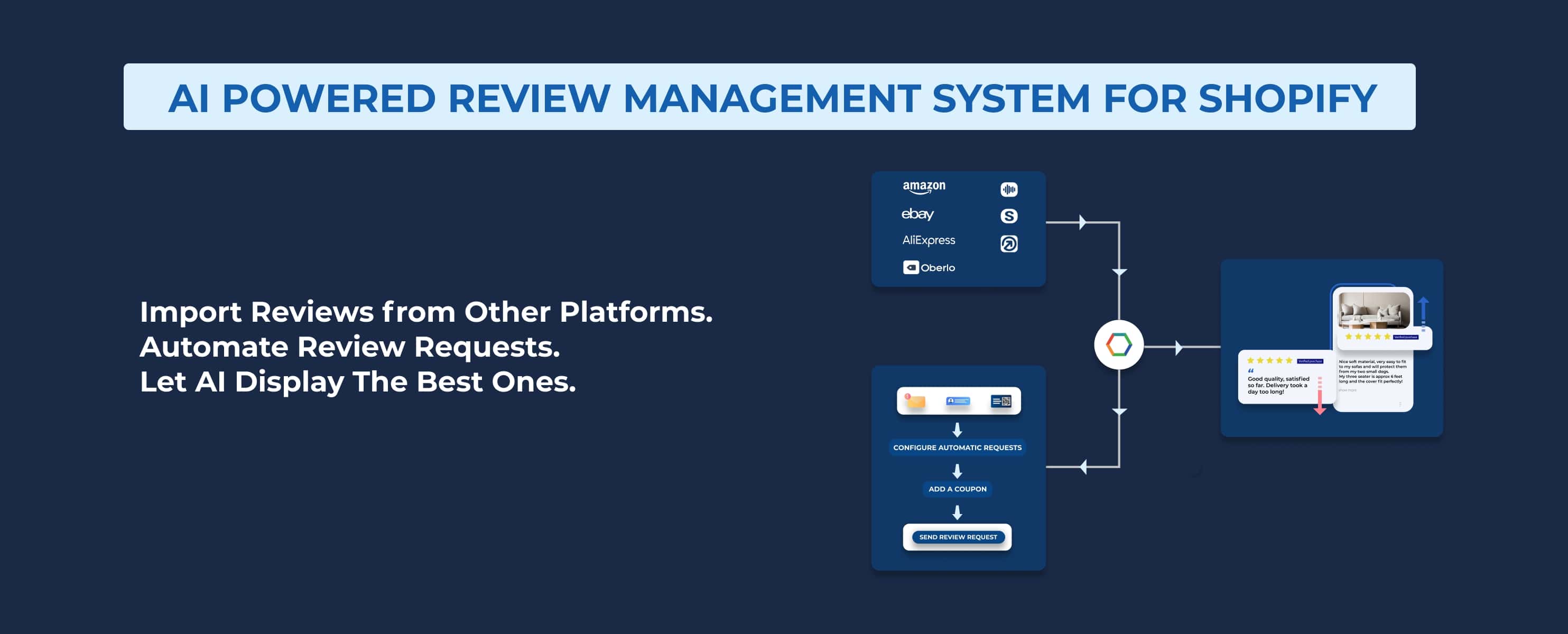 Price: 14-day free trial is available. The paid plan starts at $90/year.
During the holidays, shoppers will have more options than ever. So how do you cut through the noise and pick your Shopify store? Social proof is a great way for you to build trust and increase conversion in the BFCM campaign.
Opinew is an excellent Shopify app that will take your Shopify store to a new level in review management, review requests, and presenting this information in a seamless design and feature-rich way.
Opinew app also includes AI technology to help you feature top quality, highest converting reviews first at scale, automatically. Therefore, you can ensure your reviews give the best possible first impression.
To be more specific, with Opinew, you can:
Import product reviews: Import customer feedback from Amazon, AliExpress, and eBay.
Customize your social proof sections: Customize how your reviews are displayed on your site.
Migrate reviews: Migrate reviews from platforms like Loox, Judge.me, or Yotpo.
Improve your SEO: Opinew creates rich snippets for your store.
Request Reviews: Send review request emails to customers.
Even after the BFCM sale, you can still use Opinew to make the most out of the happy discount shopping season. You can send an email to your customers and ask them to rate and review their purchased products. You can also request them to share pictures of the products to get more UGC.
Black Friday will be here before you know it. Install Opinew today and take full advantage of it.
4. UpPromote: Affiliate and Referral - Generate more sales with affiliates and build your network with affiliate programs

Price: Free plan available. 14-day free trial. Price starts at $29.99/month.
When it comes to gaining your customer's trust during Black Friday Cyber Monday sales, there is nothing quite like the power of influencer & affiliate marketing. If you're looking for a recommended affiliate/referral Shopify app, UpPromote: Affiliate and Referral is your go-to solution.
UpPromote: Affiliate and Referral is a robust application designed to streamline the management and creation of affiliate networks on Shopify. The app allows you to build a strong referral and rewards program to incentivize customers, harnessing the power of affiliate marketing to drive more sales and grow your customer base.
Key Features:
Post-purchase/Customer referral feature to convert your customer into affiliates
Reliable real-time tracking system for referral orders and affiliates' performance
Grow your team with UpPromote Marketplace
Auto-generated referral links and coupons
Seamless integration, Free Plan available, 24/7 Customer Support
With UpPromote: Affiliate and Referral's reliable real-time tracking system, you can effortlessly track referral orders and monitors your affiliates' performance.
Looking to expand your team and reach even more potential affiliates? UpPromote's Marketplace is here to help you tap into a wider network of affiliates who can boost sales during this BFCM season.
This app automatically generates unique referral links and coupons, making it easy and seamless for affiliates to promote your products and track their performance. Plus, with a Free Plan available, you can get started with UpPromote: Affiliate and Referral without any upfront costs. Their dedicated 24/7 customer support team is always available to ensure you offer a smooth and hassle-free shopping experience.
5. Ultimate Special Offers - Create your special BFCM promotion
Price: $9/month. 14-day free trial. Additional charges may apply
Part of the appeal of BFCM is the promise of deals you don't get any other time of year. If you plan on putting a lot of your products on sale at once, you may need an app for managing these discounts storewide.
Ultimate Special Offers is an all-in-one sales solution for Shopify, allowing you to run eight different sale types. This app helps you replace the clutter of discount codes and multiple sales apps as a go-to sales solution that is great for BFCM.
Ultimate Special Offers has 9 promotions types, which are:
Bundle - offers a discount when certain products are purchased together as a bundle.
Volume - create multiple pricing tiers for products or collections, with increasing discounts based on higher purchase volume.
BOGO - "Buy X, Get Y" discounts customized for your store. Offer a single product at a discount, or allow customers to choose their own reward.
Bulk - reward customers for making bulk orders with a percentage or fixed price discount for selected products or collections.
Discount - choose which products or collections to discount and by how much.
Goal - spend a goal amount of money on chosen products or collections and get a percentage or fixed price discount.
Upsell/Cross-Sell - show customers similar products of a higher value or items that complement the one they're looking at.
Gift - motivate customers to spend more by offering free gifts on orders above given order thresholds. You can choose to offer one or multiple gifts.
Post-Purchase Upsell - increase average order size with a one-click add-to-order upsell option embedded into your checkout.
Using this app, you can execute many creative promotions ideas to maximize your revenue. For example, when a customer purchases a specific product or makes an order above a certain threshold, they get a free gift card for a future purchase.
Because gift cards can only be redeemed when they are used, this strategy produces a win-win situation in which you either receive a return customer or a new customer when the gift card is given to a friend or family member.
6. Tidio Live Chat - Make a real conversation with your potential buyer
Price: Free plan available. Additional charges may apply.
During the BFCM peak, the number of support requests submitted by customers will increase rapidly. Tidio allows retailers to engage their customers, talk with them, and let them know that there is a real person there to assist them in selecting the best product.
Research has shown that customers who chat with a brand convert three times more often and have a 10%-15% higher average cart value. You can also set up automated messaging to reach out to customers at key times in their buying journeys.
For example, using Tidio, you can add a live chat to your checkout page. If your customer hasn't taken action after their 30s on the checkout page, you can set up an automated pop-up chat message that offers to help your customer. This automated message can help break the ice and allow your support team to convert hesitant customers.
7. Countdown Sales Timers - Create urgency to convert more
Price: Free plan available
It's easy to envisage a scenario in which a consumer comes into your store, looks around, and even gets to the checkout page, only to say "maybe later" and leave. Because Black Friday and Cyber Monday are such busy shopping days, grabbing the opportunity to generate a sense of urgency can help you prevent last-minute regrets from your clients.
Countdown Sales Timer allows you to quickly and easily add a real-time countdown bar to create urgency and increase sales. Using this app, you can also make sure your potential customers know about your promotions and get them to the checkout faster.
Moreover, this app can be used for all your sales and promotions, such as flash sales, holiday sales, product launches, shipping deadlines, upcoming promotions, and other timed offers.
There are also various countdown timer themes that you can choose from Pixel Union. Besides, you can also customize the fonts, colors, buttons of that theme to match your Shopify page.
8. Klaviyo - Boost sales by email and SMS Marketing Automation
Price: Free to install. Get started with up to 250 email contacts for free forever. Paid plans start at $20/month.
During BFCM season, every Shopify store owner should have a few email marketing campaigns planned to bring customers back to your website so they can act on your holiday sale offers.
Klaviyo is the leading eCommerce marketing platform in the Shopify ecosystem.
Over 50,000 stores worldwide use Klaviyo to send personalized emails, SMS messages, signup forms, and more.
At its core, Klaviyo has a drag and drop email composer along with various pre-built email templates for standard email campaigns. There are also powerful automation tools that enable you to create complex automated email flows.
Here are some suggested ways for you to take advantage of Klaviyo:
Send "warm-up" emails with hints and teasers in the weeks leading up to BFCM. Start teasing your BFCM offer early to your subscribers, so they're on the lookout for the announcement, whether it's a discount, an exclusive product, or a free shipping campaign. Sending exclusive offers to distinct consumer segments, such as your VIP customers, is one example.
Send emails to customers who have abandoned their carts. Make sure you're emailing visitors who abandon their carts before you start BFCM. On BFCM, this will happen in greater volume, and an automatically prompted email will assist in capturing some of those abandoned conversions.When your sale is over, send an email to thank your customers. It's always excellent to send a follow-up email to keep your subscribers warm and thank them for shopping. Aim to send an automatic thank you email within 5-7 days after the end of BFCM.
If you'd like to combine the power of email marketing with product reviews, follow our guides on how to use Klaviyo & Opinew and personalize your email automations!
Get started today!
Black Friday and Cyber Monday sales are bringing more and more profit to merchants every year. The keys to a successful BFCM are preparation, planning, and getting started earlier rather than later. Prepare your store now with our top Shopify apps to ensure you don't miss out on a potentially large spike in sales over this BFCM!
Install Opinew and boost conversions with reviews & UGC:
Opinew Blog Newsletter
Join the newsletter to receive the latest updates in your inbox.
---