How To Display Photo Reviews on Shopify
Displaying photo reviews on your Shopify store is actually very easy to do, if you have the right app. So in this post, we're going to talk about finding the right app for you and then we're gonna show you how to set things up using the Opinew app.
If you're wondering why bother, then perhaps you should checkout aeolidia's Why Getting Product Reviews On Shopify Is Important but we're assuming you already know that it is important and that it is something that you want to do.
Let's look at the table of contents first.
1. Looking for a Review App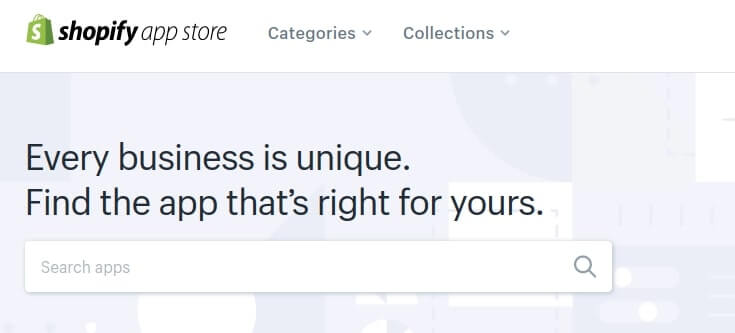 Sure, we're hoping you'll choose Opinew, but we want you to choose Opinew because you've made an informed decision and honestly believe that that's what's right for you.
We're gonna walk you through the process of searching for an app and considering your options.
a) Searching for an App
To find out which options are available to you, go to the Shopify App Store and search for "reviews", "photo reviews Shopify" or "product reviews".
You'll find many options, some better than others. So how are you going to know which one to choose?
Here's a quick read on how you can easily import 100 product reviews to your Shopify store by our friends at ChinaBrands.
b) Top Things to Consider
When being faced with the challenge of making a choice among a considerable number of options, you need to have a way of evaluating these options. We're going to show you how you can compare Shopify review apps to find the best one for your store.
And of course, the first thing to look at is their reviews.
i. Overall Rating
A good way of evaluating whether an app delivers what it promises is by looking at its rating and the number of times it has been rated.
The number of times an app has been rated is right next to their overall rating, it's the number in parenthesis that you see here.
For example, an app may have a 5.0 overall rating, that's great, but if they've got only 70 reviews? That's not so great. For you to trust a rating, or rather, for a rating to mean something, it needs volume.
However, a good overall rating coming from a considerable number of ratings only means that the app does what it's supposed to. Now it's time to compare what the apps are supposed to do - their features.
ii. Importing Reviews & Sync
Importing reviews is a process by which you transfer your review from AliExpress to Shopify. Well, it's more like copying and pasting than a transfer, but you get the idea.
A good free reviews app should easily allow you to import reviews, at least from AliExpress which is the main site Shopify stores dropship from.
Opinew, for example, easily lets you import reviews from Amazon, AliExpress and, Ebay.
And if you were wondering which app can help you import photo reviews automatically on Shopify, that's Opinew, because we give you the option to "sync". This feature means that new reviews for products you've previously imported will be imported automatically.
So consider whether the apps you're looking at will let you import reviews from the site that you want to import from.
Importing reviews is important because without this feature you'll have to wait without reviews until you get your own, and depending on a lot of things, that can take some time.
iii. Customizable Widget & Overall Look of the App
The app you use for reviews on Shopify should let you customize how it looks to match the way the rest of your store looks.
A good rule of thumb is to look at all the images they have on the Shopify App Store, maybe check out their website. If their site looks good and the images look good, then there's a good chance that the app will look good as well.
If the app looks like it was poorly made, maybe it works fine, but we think it's likely that it won't look good on your store.
You can't let an app ruin all your hard work (we're assuming you've spent some time customizing your Shopify theme, right? Well, that's what's at stake). Choose an app that looks great with your store. Choose an app with a good-looking product review widget that you can customize.
Our friends at Out Of the Sandbox prepared some quick tips & tutorials to easily add customer reviews on your theme without breaking it.
iv. Automated Review Requests
Review request emails are emails through which you ask your customers to write a review. Any competent review app should offer this. Not only because it's a good way to get reviews but also because that's how you get verified product reviews.
And that's the type of reviews that you want: reviews that your audience can trust.
Opinew not only offers this, but also offers the option to integrate your review requests with Aftership - this way you can be sure that your review requests will always be sent after your customers have received their order. That's really important.
v. Creating Coupons
Offering a coupon to your customers for writing a review through your review request email is what you need to be doing if you want to get verified product reviews.
Coupons more than double the likelihood of someone writing a review upon receiving a review request email.
A good review app should include this feature, as it is essential to your efforts of creating social proof for your Shopify store by getting reviews. That's the way we see it.
vi. Chrome Extension
Offering a chrome extension saves time because you don't have to copy and paste the URL of the product for which you're trying to import reviews. You simply open the chrome extension without ever leaving the tab you're on and you import the reviews you want seamlessly.
Now, if you only have a few products then maybe you don't need this feature but if you have a big catalog then it's a must. It makes things faster, easier, efficient. It's just better.
Opinew's chrome extension can help you import reviews from Oberlo & AliExpress fast. So that's another reason to choose Opinew.
vii. Commenting On Reviews
The ability to comment on reviews is absolutely necessary, so beware of any apps that don't include this feature. It's really helpful to be able to reply to a bad review because that's how you show your other customers that you care, that this was an isolated incident and not the norm, and that if anything happens your customer service will respond quickly and professionally to any issues concerning your products or services.
Any app that doesn't offer the ability to comment on reviews is negligent and shouldn't be considered as an option.
Now, having considered all these features, let's assume you've chosen Opinew. Now what?
2. Installing Opinew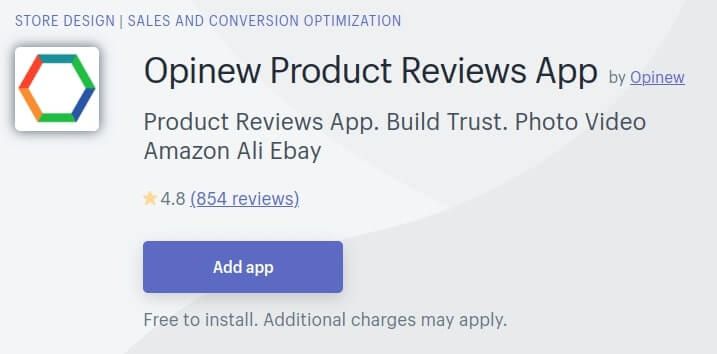 We've put in a lot of work into making this process as easy as it can possibly be. No coding, no HTML required, nothing. How?
a) Easy One Click Install
Our one-click setup literally means that just by clicking "add app" the Opinew app will do all the work for you.
Of course, that doesn't mean that you're done. The review app is already ready for customers to write reviews but there are a few things you should do to make sure this decision has a positive impact on your conversion rate fast.
b) Add and Activate Your Opinew Chrome Extension
Importing reviews is a great way to get reviews fast and with Opinew it's incredibly easy to do.
Add the chrome extension and activate it so that you can easily import reviews from AliExpress, Amazon, and Ebay.
Activating your chrome extension is easy. Simply open the Opinew app, click on "Account" and then on "Activate Chrome Extension"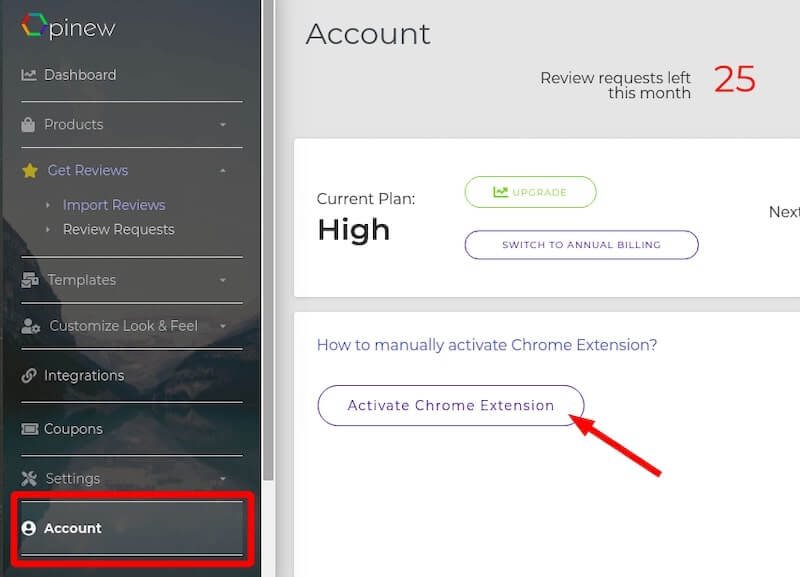 Now find the product you want to import reviews from and click "import".
i. Sync Option
The option to sync imported reviews (automatically import new reviews) is available for the $29.00 / month and up.
To do this, all you have to do is click on a checkbox next to where it says "sync".
c) Customizing Your Review Widget
Customizing your review widget is important. This way, the review widget can be made to look seamlessly integrated with your Shopify store, and that's what you want. To do this, open the Opinew app, click on "Widgets" and then click on " Settings" under the Product Review Widget image.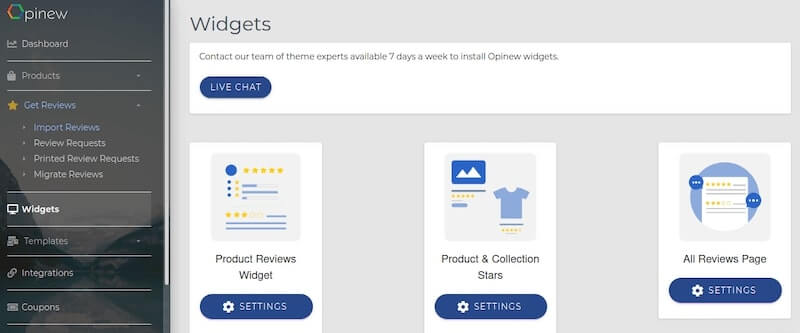 Now choose colors from the same color palette that you used on your Shopify theme. That's usually enough.
Have a look at our top 5 best examples of customer reviews on Shopify websites to get some inspiration!
d) Customizing Your Review Request Emails
In order to get reviews, you need to send out review request emails, and while you could send the generic templates provided to you it is highly recommended that you customize them to reflect the style and tone of your store. Also, creating a coupon is encouraged as it makes it more likely that customers will decide to write a review.
To customize your review request emails open the Opinew app and click on "Templates", then on "Review Request Email" and edit away.
When you're editing text on your review request email template, be mindful of merge tags. Merge tags are text that you find within [brackets] - those represent information that will be fetched and added to the email, replacing the text in brackets.
There's more stuff that you could do, but what we've described here should be enough so that you have basic functioning and good-looking reviews on your Shopify store.
We hope we answered most of your questions and if you've got any remaining questions be sure to contact us, we'd love to hear from you.
Download Opinew today and see how your customers can help develop your conversion opportunities through Shopify.