With Opinew, you can integrate your product reviews into Google Shopping and display your product ratings together with your Google Shopping ads.
You can find more information about Google Shopping product ratings here.
Requirements
Google has strict guidelines that need to be followed in order to show your reviews in Google Shopping ads. These include:
You need to have a minimum of 50 product reviews.
Product reviews should be of high quality.
Product reviews cannot violate copyright, be offensive or include personal information.
Full list of Google's program policies can be found here.
If your product reviews comply with these policies, you can apply for Google Shopping product ratings.
Log in to your Google Merchant account.
Fill in the Product Ratings Interest Form here.
Under "If you use a third-party service, which service do you use?", select "Other" and specify "Opinew" in the provided text box.
You will receive an email from Google Merchant Center saying that your aggregator does not have an approved partnership for the Product Ratings program yet.
Reply to this email saying that you will submit a direct product ratings feed to your Merchant Center.
Integrate your product reviews into Google Shopping
Get your product reviews feed link
Go to the integration menu and open the Google Shopping card.
Copy your Google Shopping feed link.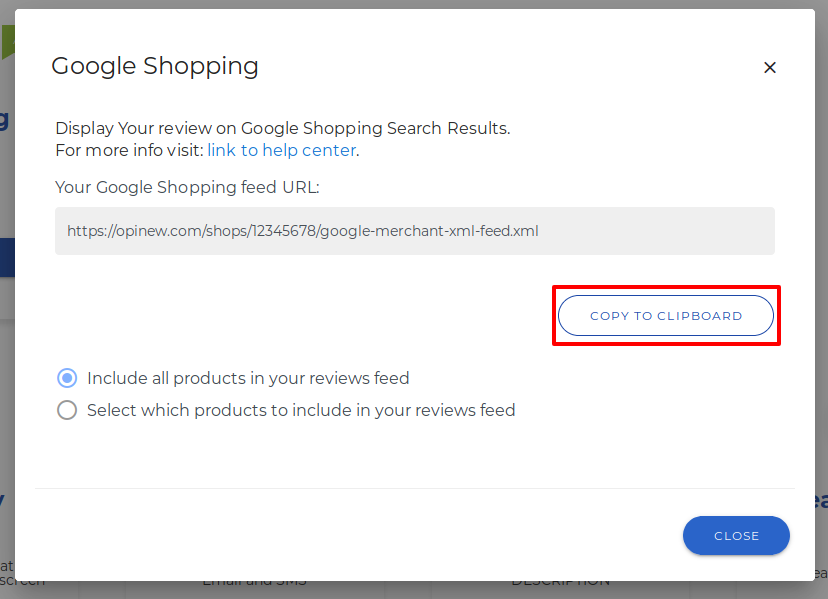 Submit your product reviews feed to Google Shopping
Once your application is approved by Google, you will see a "Product Reviews" link in your Google Merchant Center menu.
Go to the "Product Reviews" menu in your Google Merchant Center dashboard.
Select the following options for your product reviews feed:

Feed type – Product Reviews
Upload method – Scheduled Fetches
File name – enter any file name you like

Use your product reviews feed link as the location of your file.