How to Respond to Reviews (Positive and Negative) + Examples
With 97% of consumers relying on reviews before making a purchase, customer reviews have become remarkably powerful selling drivers. As a merchant, ignoring online reviews will impact your customers' path to purchase.
Didn't respond to negative reviews?
There could be an unresolved issue that needs your attention.
Snubbing positive reviews?
Your potential customers could switch to your competitor.
Responding to online reviews is crucial for your online store.
Today, we'll explore the best tips on how to respond to reviews effectively.
We'll also provide some proven review responses examples that will boost your engagement and increase your brand presence.
Benefits of Responding to Positive and Negative Reviews
Responding to online reviews could benefit you in more ways than you think. Before jumping to the review responses examples, let's explore first the importance of responding to customer reviews.
Helpful Customer Service
Your responses act as a form of customer service. This is especially true for negative reviews. When you reply to a complaint and try to offer a solution, this helps your customers to solve their problems. Customer service is all about delivering helpful assistance to meet the needs of customers.
And more importantly, delivering customer service where your customers need it. This can be on social media platforms, email, or via the live chat widget on your website. An omnichannel customer service tool like DelightChat can help you offer support on all these channels from a single screen.
Free Advertising
You get free advertising when you respond to online reviews. Google reviews, Yelp reviews, Facebook reviews, and other review sites are visible to everyone — make your responses always count. Ensure to market your business or other products whenever necessary. Just a word of caution, avoid sounding too sale-pitchy. The key is to make subtle suggestions only when possible.
Brand Reputation Management
Nowadays, any brand is at the mercy of digitally empowered customers. A couple of negative reviews could potentially plummet your brand reputation, trust, and credibility. This could lead to losing customers and potential sales. When you respond to reviews, you're taking back control to improve your reputation.
Increase Customer Loyalty
Happy customers who leave good reviews take the extra mile. This means you shouldn't let them go unnoticed. By responding to their reviews, you're not only engaging but also creating a positive customer experience. Satisfied customers are more likely to keep patronizing your brand ⁠⁠— increasing the chances of customer loyalty.
Improve Customer Retention
By simply responding to their complaints or negative feedback, you could potentially win back unhappy customers. The main reason why they're complaining is that they want something to be resolved. If you respond and take action, the chances of them leaving you will be reduced.
Best Tips & Examples for Responding to Positive Reviews
Thank Them for the Positive Review
Your customers took the time to write positive reviews means that they're genuinely happy about your products. It's just the best gesture to do the same in return.
When thanking them, match the level of their enthusiasm. Are they ecstatic, humorous, or bubbly? Take some hints on the words they are using. Positive review responses should be personal and authentic.
Example:

Cite Your Strengths for Delivering a Positive Customer Experience
Make sure to reference specific details of their positive feedback and tell exactly why you're able to provide that positive experience. This is the time to highlight your strengths as a company or the reasons why your brand is better than the rest.
If new customers praise your packaging, tell them that your team has a dedicated QA staff that ensures proper packaging. You can tell them that you have stellar employees working in the background.
Example: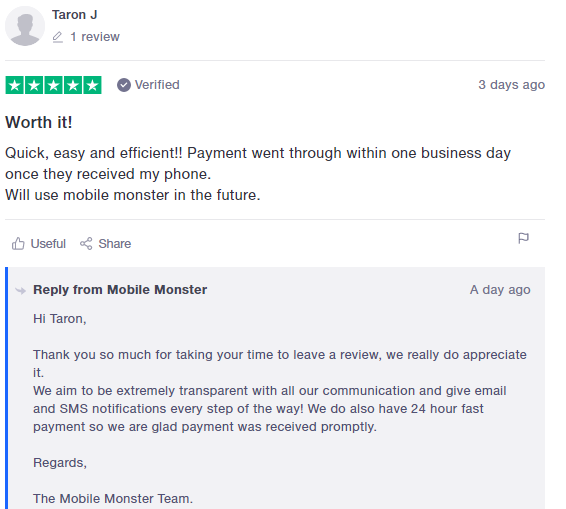 Try to Market Your Other Products or Promotions, If Necessary
It won't hurt to inject a little marketing when responding to positive reviews. You already have a satisfied customer praising you. Take advantage of that enthusiasm by promoting your other products or maybe a new feature or a discount promo.
Add an extra effort by recommending relevant products that they might want to purchase too. For example, if they're raving about your skincare products, why not suggest your bundled skincare items? The key is to provide appropriate and helpful recommendations.
Example:

Close With a Call to Action
Your last sentence should always try to build and extend the relationship. Don't let the conversation end. Let them know that you're looking forward to their next purchase. After that, drive them to do something.
Maybe invite them to join your subscription list? You can also ask them to share your brand or products with their friends and family. It's the best time to make hay while the sun shines.
Example:

Best Tips & Examples for Responding to Negative Reviews
Address Your Customer by Name
If you address your customers by their name, it humanizes and grounds them. This helps to ease the tension brought about by their negative review. It also establishes an instant personal connection.
People respond better when hearing their name. This way you'll get their full attention easier. Thus, they're more likely to listen to what you have to say.
Example: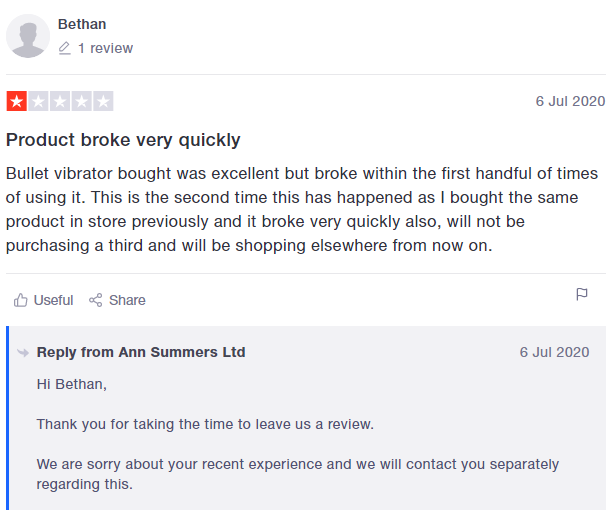 Acknowledge the Problem Using the Mirroring Technique
Negative reviews are often shared because people want to be heard about their issues. You want them to feel that you're actively listening by mirroring the details they share. Try to recap their negative feedback when responding.
Example: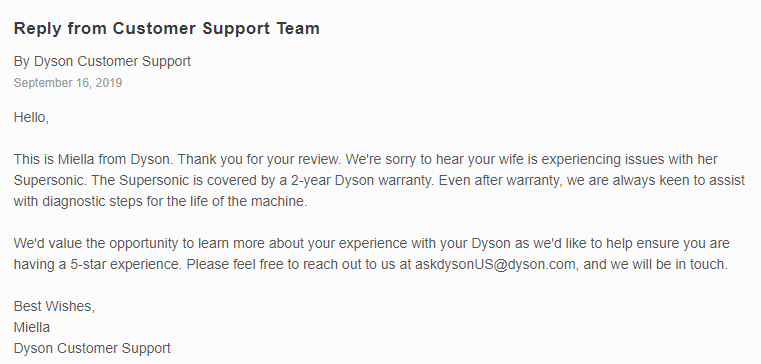 Apologize Right Away
Just simply saying "sorry" won't cut it. An effective apology should be both empathetic and specific. Let them know that you understand their experience. Your response should answer what you are apologizing about.
If you committed an error, be transparent about it. Transparency is lauded by customers. A study revealed that 85% of consumers are willing to give a business a second chance after a negative experience.
Example: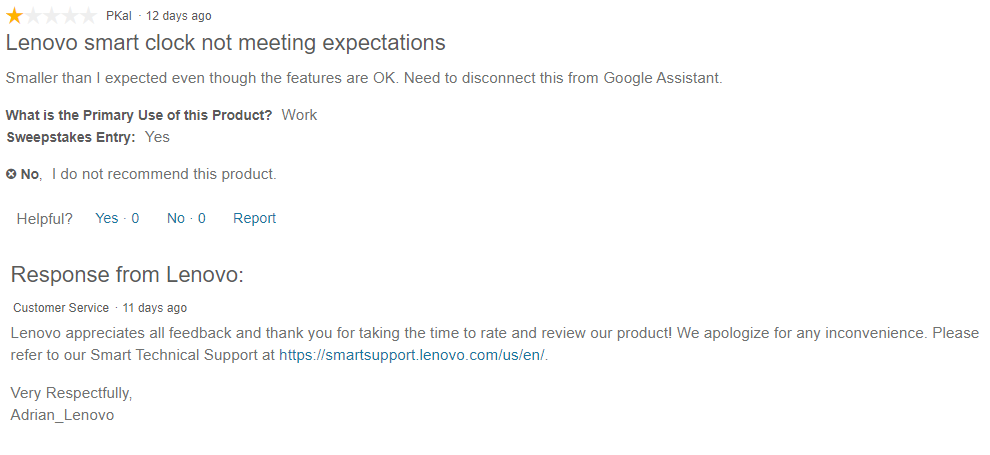 Ask Questions to Understand the Situation Better
When some details of the negative reviews are not clear enough, ask the right questions to get to the bottom of the issue. There are times when bad reviews are incoherent, as a business owner, it's your job to dig deeper and identify exactly why the customer is complaining.
Don't offer any solution if you're still unclear about their issue. This could even lead to more confusion than resolution. Knowing the root cause of the problem will help you provide the best solution to address the gap.
Example:

Fix the Problem
The most important tip on how to respond to negative feedback is to offer solutions. Your review response is nothing if you don't have a concrete action to help out the customer. Make sure to communicate how you're going to solve the issue.
It's better if you make a step-by-step guide in plain bullet points so that they can follow you easily. Just a reminder, when offering solutions, don't promise anything that you can't carry through. You don't want to upset them twice.
Provide a Private Avenue to Discuss the Issue
Depending on the severity of the issue, consider handling things on a private avenue. It's best to direct them to your other customer support channels like email or phone. This way, you won't be divulging too much information for everyone to see.
Bad reviews sometimes contain critical details that need to be resolved privately. However, ensure to address issues that can be resolved immediately in your response. Then, tell them to contact you privately for the more serious problems.
Example:

Request for an Update
Don't stop by just issuing an initial response. Another critical aspect of how to respond to negative feedback is to circle back to your customers. Check what happened after you provide the necessary solutions.
Are you able to resolve their issues or not? If it seems that they're already satisfied with your solutions, then request politely if they're willing to provide an updated review. This will help you manage your brand reputation online.
Some customers don't even need to be asked for a follow-up review. By simply answering negative customer feedback, customers will gladly respond. Take this example below: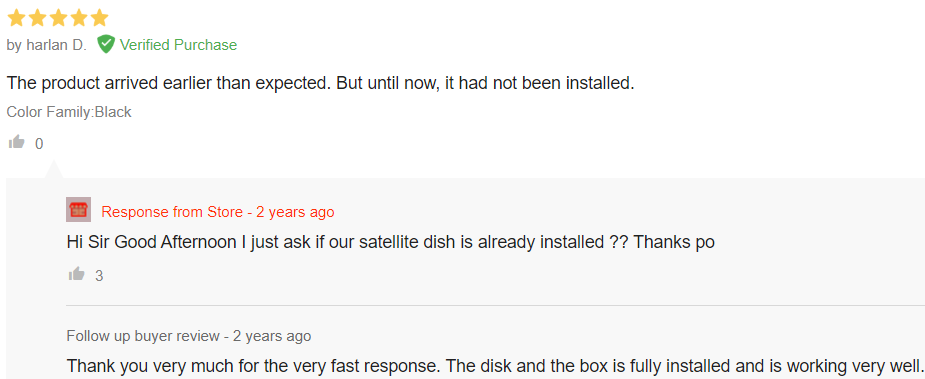 Negative reviews are really difficult to handle sometimes. But we don't want to ignore those if we want to build more trust in customers' eyes.
In fact, if we reply the right way, there's a potential for turning them to be our intimate customers. So the best brands know what it takes to handle those objections.
Review Responses Examples for Positive Reviews
Response Template for Brand Evangelists/Loyal Fans
Brand loyalists are gems. You want them to receive the VIP treatment when responding. Here's how do you respond to a positive review example:
Wow, [Reviewer's Name]!
We're beyond thrilled for your great 5-star review! Your loyalty means so much to us. Our dedicated team here at [business name] works tirelessly to make sure you get the best experience. We're here for you anytime.
Response Template for Humorous Positive Reviewers
There are also times when you'll stumble upon funny positive reviews. And, you shouldn't shy away from them. You can match their level of enthusiasm and humor when responding to them. Here's one of good reviews examples:
Customers like you [Name] puts a smile on our faces. It also makes our work so much lighter. Continue being the life of the party. Looking forward to your next review again.
Response Template to Positive Reviews Commending an Employee
Employee commendations are also common positive reviews. When you receive this kind of review, let the reviewer know that you're going to share it with your employee. Below is how do you respond to a positive review example:
Thank you, [Reviewer's name]!
We'd be glad to relay your good feedback to [Employee's name]. I'm sure he/she will appreciate this dearly. He/she is truly an asset to [Company name]. His/Her [enumerate positive traits of the employee or reference the commendation] is/are just the countless reasons why he/she is being looked up to.
Review Responses Examples for Negative Reviews
We also have more ways to handle negative reviews. If you want to learn more about how to handle those objections, don't forget to check out our negative review examples.
Response Template for Negative Fake Reviews
Negative reviews are not complete without fake ones. You'll often determine this when the review is not sound and logical. For instance, the reviewer could be referring to a product that doesn't even exist or an employee that you've never heard of. Here's how to respond to a fake review example:
Dear [Name],
Unfortunately, we can't obtain your records in our system. With this, your review is not in compliance with [Site] policies. We have reported your review for deletion. If you wish to clarify this or have any concerns, please don't hesitate to call us at [phone number] or email us at [email address].
Response Template for Comparative Shoppers
Some negative reviews are also left by customers because they feel that there are better products elsewhere. You'll often receive negative comparisons from dissatisfied customers by comparing your price, delivery, or customer support. Use the response example below to best way to deal with this situation:
Hi [Name],
We apologize if your experience didn't match your expectations. We're striving to improve our [cite the reason for dissatisfaction] and will do better the next time. We are doing [cite the actions for improvement] to address this. We're hoping to give us a second try.
Response Template for Complaints
Receiving complaints is part of any business. Again, nobody's perfect. As a business, you want to show that you're taking complaints seriously. When you receive a complaint, the best response to handle this is to take things privately as much as possible. Here's an example when responding to complaints:
Sorry to hear about this, [Customer name].
Please help us improve your [cite complaint] by reaching out to us directly at [phone number] or [email address]. This will help us directly address and assess the situation. Thank you for understanding.
Conclusion
Nowadays, online shoppers have thousands of products and stores at their fingertips. Not paying attention to customer reviews could do damage to your online reputation. If you want to build trust and engage your audience, you should master how to respond to reviews.
Our review response examples will guide you in crafting favorable review responses. The key is being personable, authentic, and offering concrete actions for both negative reviews and positive reviews.
Take our best practices on how to respond to reviews and put them to action today.
Featured photo by Markus Winkler on Unsplash.
Download Opinew today and see how your customers can help develop your conversion opportunities through Shopify.