Consumer Decision Making Process: Best Strategies & Tips for Shopify stores
Consumers are complicated, that's a fact!
During their decision-making process, they go through many factors that can influence their ultimate decision. Your Shopify store design, your call-to-action, your product descriptions, your product reviews, etc, anything can affect their buying process.
Therefore, understanding the customer decision-making process is very important for your Shopify store. It's key for you to identify marketing challenges and opportunities, then align marketing efforts with the steps your customers undertake to decide what to buy.
In this article, we will give you everything you need to know about the consumer decision-making process and how to optimize it.
What is the consumer decision-making process?
The consumer decision-making process is the process by which consumers become aware of and identify their needs, gather information, compare alternatives, make their buying decision, and then evaluate their purchase. In other words, the consumer decision-making process is a complex journey that involves everything starting from problem recognition to post-purchase activities. It's also important for you to note that the consumer decision-making process has many different names, such as the buyer journey, the purchase decision process, buying cycle, buying funnel, etc.
In this journey, there are many different factors that can influence the outcome of purchasing decisions. We can group these influencing factors into four categories, which are:
Situational Factors: The number of available choices, the urgency of making a buying decision, the convenience when taking buying action, etc;
Personal Factors: Individual characteristics and traits such as age, personality, economic situation, etc;
Psychological Factors: Consumer's motivation, attitudes, and beliefs
Social Factors: Culture, social class, family, reference groups...
Understanding the different stages in the customer decision-making process and these influencing factors are important to any business. But for your Shopify store, it's even more important because online shoppers always generate much more data than those in traditional stories, therefore, you can take advantage of that data to optimize your conversion strategies for every stage of the process.
What Are The 5 Stages of the Consumer Decision Making Process?
In 1910, John Dewey - an American psychologist, outlined the customer purchase decision into five steps. And surprisingly, more than one hundred years later, even when the evolution of digital shopping and technology made lots of changes, the five-step explanation to the consumer decision-making process is still the most persuasive marketing model around.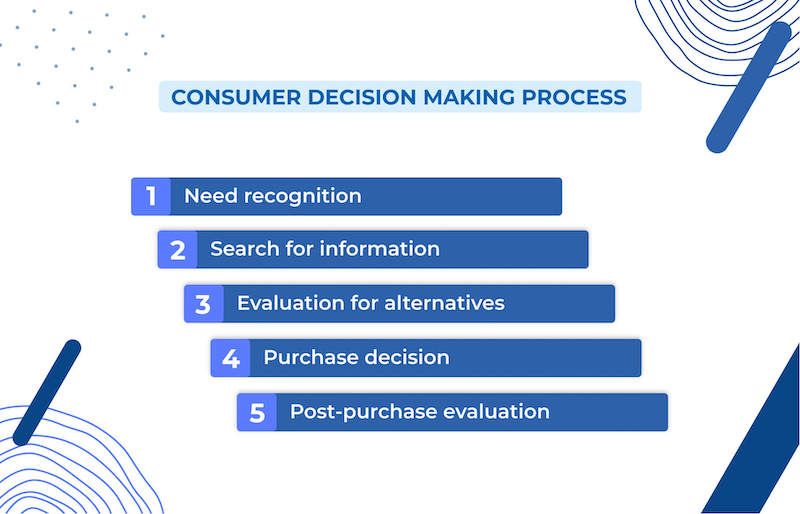 In detail, the five stages of the consumer decision-making process are:
Stage 1 - Problem/ Need recognition: Because every sale begins when a consumer realizes they have a need for a product or service, this is the first and most significant step of the buying process.
Eg: I need new trainers
Stage 2 - Information search: During this stage, consumers search for products or services that can help them fix the problem. At the end of this stage, ideally, they will find you some options.
Eg: I ask myself "What is the best trainer out there?", then googled trainer reviews and found out some best options, which are: Nike, Filas, Adidas.
Stage 3 - Evaluation of alternatives: Having identified several potential options, this is the stage when a customer is comparing options to make the best choice.
Eg: I compare the price, quality, customer feedback,...of the 3 above options to see which one is the best one for me.
Stage 4 - Purchasing decision: It's time for the consumer to take buying action. The consumer completes the purchase of this item.
Eg: After lots of research, finally, I bought a pair of Filas trainers.
Stage 5 - Post-purchase evaluation: After making a purchase, consumers consider whether it was worth spending money on, whether they will recommend the product to others, what feedback they want to give and whether they would buy again.
Eg: After trying it on for a few days, I found the shoes to be very comfortable and suit my foot shape. I decided to leave positive feedback on their online store.
Best Strategies & Tips to optimize each stage
Now, let's dive into each step and see how you can optimize them and bring a better conversion rate for your Shopify store
Stage 1 - Problem/ Need recognition
Problem/Need Recognition refers to the instance where a consumer recognizes that a need or problem exists that needs to be satisfied. It is the precursor of all consumer-initiated action, such as pre-purchase information search, evaluation, and choice processes, preceding any transaction. Though it's a critical phase of the consumer decision-making process, it has been relatively under-invested.
Influencing Factor
People need to understand they have a problem before they begin searching for an answer. There are two groups of influencer factors that trigger the problem/ need recognition phase:
Internal stimuli: Refers to the buyer's personal, normal need. For example, when you're hungry, you want to buy food; when you're jealous of the richness of your friend, you want to buy a new car, etc.
External stimuli: Relates to external influencers that cause a need to arise, like an advertisement, the discussion with a friend, the smell of yummy food, etc.
Example:
Let's think of a man who is training for a marathon race. When he was out running one morning, he noticed that his feet got hurt when wearing the old trainers. He thinks that he might need to buy a pair of new ones. The hurt feeling is the internal stimuli that trigger his need to have new trainers.
When he's back home from his morning run, he surfed his Instagram and saw a photo of his close friend wearing a new pair of trainers. They seem good and his friend said in the caption that his new running shoes are lightweight, cushioning, and comfortable. The photo of his friend is the external stimuli that make the need even stronger.
Strategies And Tips to optimize
In general, marketers get involved in the problem/need recognition stage at three points:
Knowing what problems consumers are facing, so they can develop a marketing mix to address these problems
Activating problem recognition, in order to trigger the start of the purchasing process
Shaping how consumers define the need or problem, in order to influence their wants as they look for a solution
Here are some specific actions that we suggest you do to trigger the problem/ need recognition to happen:
Encourage user-generated content (UGC): UGC is content that is provided by your consumers. Photos, videos, hashtags, and comments created by your users and submitted to platforms like Facebook, Instagram, Twitter, YouTube, and Pinterest are all excellent examples of UGC. They're very powerful to make the potential customers recognize their needs. Imagine that you're a Shopify store that sells running shoes. If your previous customers share reviews and photos about your products on their social media network (like Facebook, Instagram, etc), many of their friends will see the feedback, and some of them might want to have new trainers.
Use customer feedback to run Google and Facebook/ Instagram Ads: Internet users are used to ignoring promotional messaging in their feeds. But because UGC isn't purely promotional content, customers find your ads more authentic. Moreover, UGC can actually boost the effectiveness of your ads. According to CrowdRiff - a visual content marketing software, using user-generated photos in their ads gets them three times the click-through rate.
Partnership with suitable influencers: Influencer marketing is also a great way for you to trigger the problem/ need recognition. When you see your favorite influencer using a product/ service, you will feel curious and want to have the same one. Influencers can be used as powerful external stimuli.
Stage 2 - Information search
Every consumer wants to make an informed purchase decision and spend their money wisely. Therefore, they don't stop researching and gathering all related information until they find the best solution for their problem.
Sources of information
The amount of information a customer needs to gather depends on how much he/she already knows about the solutions available, and the complexity of potential choices.
According to Thinkwithgoogle, 78% of consumers have spent more time researching a brand or product online than they have researched in a store. 51% of shoppers surveyed say that they use Google to research a purchase they plan to make online. More than half of shoppers use Google to discover or find a new brand.
Social media platforms are also a great source of information for consumers. In 2020, 42% of people used social media channels for product research. With younger generations getting more and more connected to social media, the amount of product research done on these platforms is likely to grow. In fact, 16 to 24-year-olds already conduct more product research on social media than on search engines. Here's the popularity of different social media channels when they come to product research: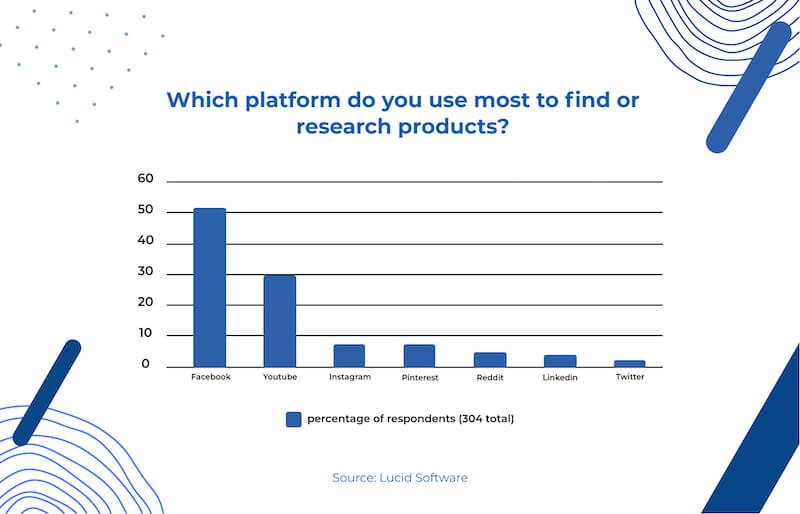 Besides search engines like Google or social media like Facebook or Youtube, consumers can also ask for recommendations from their friends or family, search for advice from experts or influencers in that area.
Example:
Comeback with our example consumer, with the strong desire to have a new pair of trainers, he began to search for suitable options.
Here are some questions he has been searching for:
What are the best trainers for runners?
Which trainers are top-rated?
The best running shoes 2021
How to pick the best running shoes?
While price is an important factor, he considers more about the quality of the product. He searched around Google, went into the Facebook pages of some brands that Google suggested, and asked for some recommendations from his friend.
Strategies and Tips to optimize
To optimize the Information search stage, here are some suggestions for you:
Getting your SEO right is crucial for the success of your Shopify store. SEO offers you an unlimited opportunity to reach millions of potential buyers at a low cost, enabling them to find your store easily on search results. Make sure that, when someone searches "What are the best trainers for runners", your website is on the top list.
Build a strong review page:
Consumers will definitely read customer reviews in this stage. If they consider you as one of the potential purchase options, they will likely type "your brand + review" into Google. Therefore, a dedicated reviews page is a must if you want to win customers' hearts and optimize your conversion rate. In fact, 31% of customers are likely to spend on a business with excellent reviews
Moreover, reviews can also help your store get seen in search results because "customer's feedback = more keywords". Every time a customer leaves you a review, Google is provided with fresh content to crawl. Be it good or bad, it's likely to contain keywords relevant to your business, product, services, or even location. This helps Google gain a clearer picture of what your business does, enabling it to better position you in the SERPS.
Therefore, having a clear strategy and tool to optimize your SEO and create a strong social proof page is very important. Our app - Opinew, can help you with both. We can help you to create rich snippets for your store, which will push your Shopify store to a higher rank on Google search results. At the same time, Opinew makes it very easy to manage all the customer feedback from different sources like email, SMS, social media, etc. You can also build a separated social proof page to show all of your customer feedback, like this one: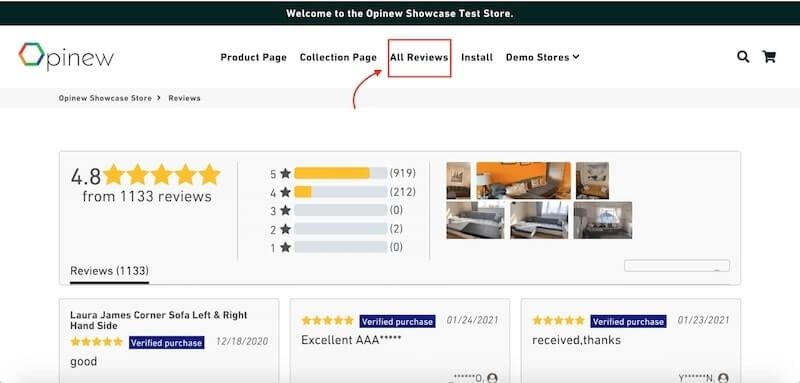 Stage 3 - Evaluation of alternatives
As consumers conduct research, they discover many stores offering potential solutions. This leads them to the evaluation stage of the customer journey. They will evaluate alternatives to determine which best solves their problem or meet their need. This involves comparing and contrasting features, benefits, prices, and many other factors.
Their evaluation is influenced by two major characteristics:
Objective: Features, functionality, price, etc.
Subjective: Feelings about a brand/ store (based on previous experience or input from past customers)
Example:
After several hours doing product research and talking to some friends, our example consumer has been narrowed down into 4 potential running shoe stores. Now, he compared these 4 options with some important factors: price, types of foam, size charts,... He also read customer feedback to know the satisfaction of the previous customers; he got many authentic points of view here.
Strategies and Tips to optimize
When your potential customers come to this stage, they're really considering your product. Your job here is to remove all barriers to purchase from your customers' minds.
Build an informative product page:
Do you want to buy a product with very little information or with low-quality product photos? The quality of your product page can make your store reliable.
The product page should include all related information about the product like product title, product features, product image or video, pricing, shipping, variants, etc. Consumers should be able to access all the necessary information in one place. However, its goal should not only be to give information but also aim to convince visitors to buy. You can also add the social proof element to your product page. Using Opinew to manage all the social proof, let's see how GrillMan presents its reviews on their product page: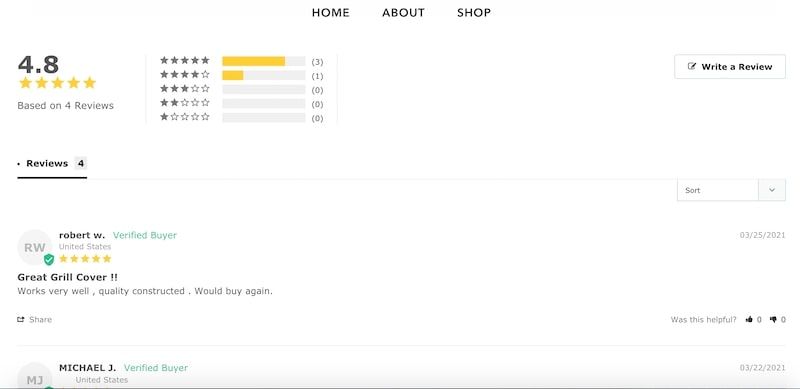 Focus on the customer review section on your Shopify website:
90% of the consumers read online reviews before making a purchase and 72% of the consumers will be prompted to take action after reading positive reviews. At this stage of the consumer buying decision-making process, your potential customer will definitely read a lot of reviews to make an informed buying decision.
Here are some tips for you to build a better social proof section:
Include some testimonials on your Shopify store homepage, like our client - CableClear did. Therefore, whenever somebody goes into its website, they can easily read the feedback of many previous customers from all over the world.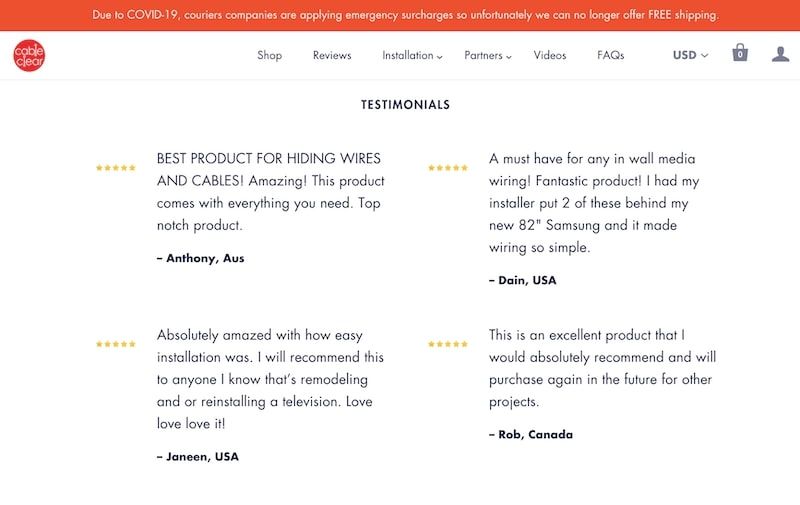 Use image or video feedback: A picture says a thousand words. These photos and videos help potential buyers visualize themselves using the product and see how the product looks in real life. Many pieces of research have shown that, if you have a bunch of customer photos of your product in use, you're more likely to sell more. Here is another example for you: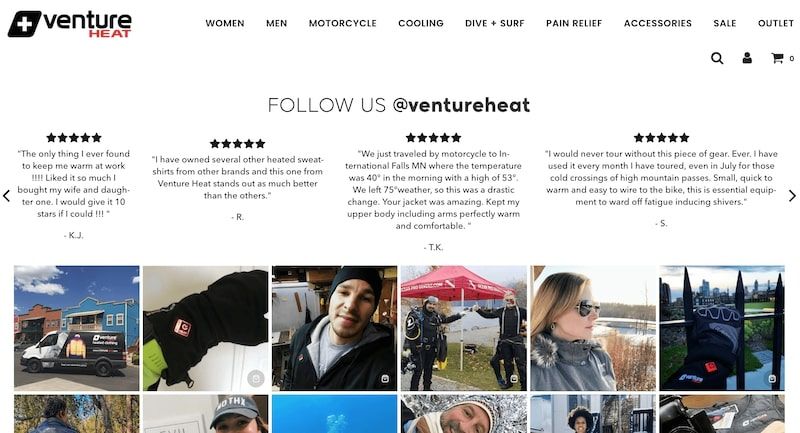 (Source: Venture Heat)
You can install Opinew for your Shopify store here to have the same customer product review section like Venture Heat and CableClear.
Stage 4 - Purchasing decision
The purchase decision is the fourth stage in the consumer decision process and when the purchase actually takes place. During this period, the consumer may decide to purchase the most desired brand after weighing all of the options and determining the value it would provide.
But remember that, you can still lose a customer at this stage. Studies have shown that the average rate for cart abandonment was at 77.13% in 2019. This means that out of everyone that adds something to their cart on a Shopify store, ¾ of these shoppers will leave the site without completing a purchase. Therefore, your goal at this stage is to get the consumer to complete the purchase now, so you don't lose him forever.
Here are some common reasons for cart abandonment that you should avoid:
High additional costs (taxes, shipping, and other fees)
Complicated, time-consuming checkout
Security concerns
Slow delivery and limited shipping options
Lack of payment methods
Better pricing from other Shopify stores.
Example:
After considering all the alternatives, the mentioned example customer was ready to make a decision. He still hesitated a bit between store A and store B, because both have a lot of positive feedback, the price is about the same.
He went to store A, added a new pair of trainers into the buying cart, and went to the check-out page. Here, he saw that his selected item would be delivered to him in 14 days. He didn't want to wait that long, he needed his new running shoes soon so that he could practice. He moved to store B, made a purchase here because the delivery time is only 3 days.
Strategies and Tips to optimize
As mentioned above, there is a high chance that your consumer will get away from your store. So, the important question here is how to recover abandoned carts. There're some ways you should try for your Shopify store:
Push Notifications: You can improve your abandoned cart recovery rate by sending personalized push notifications to customers who've abandoned their carts. You can even offer special discounts to those customers to encourage them to make buying decisions.
Retargeting Ads: Retargeting ads can help boost your abandoned cart recovery by presenting customers with the exact product(s) that they've abandoned. You can take advantage of customer feedback here to have authentic ads.
Use customer reviews in the right way: If you want to add the social proof section on the check-out page, you need to focus on building trust but don't distract the customer from completing the purchase. Make sure the customer reviews aren't clickable so that your potential customer would not get out of the checkout page. You can also use Opinew to include some testimonials in abandoned cart emails.
Stage 5 - Post-purchase evaluation
Most of the eCommerce stores focus on improving their sales and revenue. But we have to be aware that the buying cycle doesn't end when a customer finishes making a purchase. A successful Shopify store always nurtures existing customers and provides a satisfactory post-purchase experience.
After purchasing something, there're a number of emotions that your customer may experience:
Excitement at having something new
Hope that they've made the right decision
Anticipation of receiving your product
Concern that they've over or underspent
Understanding the psychology behind customer behavior is not only interesting but it reveals important opportunities within the customer journey. If you have the right post-purchase strategy, you can encourage your customer to take some desired action like: leave a review, re-purchase, recommend your brand/product to their friends, etc.
Example:
After exactly 3 days, he received a box of his new running shoes. He was very excited and satisfied with the product, took some photos, and shared them on his Instagram stories. The next day, he received a Thank-you email from the store, in that email, he found a 15% discount code for the next purchase. He navigated to the store again, thinking about using the discount code to buy a pair of shoes for his wife.
Strategies and Tips to optimize
As a Shopify store owner, you always want to increase your revenue. Instead of spending lots of money on advertising to acquire new customers, you can find ways to maximize the AOV (average order value) of your existing ones and strengthen the relationship with them.
Asking customers for review: Let the customer know that you value their opinion and that it will help improve your product line. Asking for feedback not only gives you valuable UGC but also gives you some valuable insight from your customers. You can do it via email or SMS. You might think that it can be a lot of work if you have to send an email to every customer, but with Opinew, our system will take care of the whole process for you, you just need to prepare the content.
Reward loyalty: Go beyond the thank you and demonstrate that you value their custom by inviting customers to be part of your loyalty program. Email them with an invitation to join and lay out the benefits, be they an exclusive offer, VIP access to sales, or bonus points on purchases.
Offer How-to use guides: Sometimes when customers purchase a product, it doesn't necessarily mean that they are able to use it efficiently. A little assistance can go a long way in improving their customer experience. This is where instructional guides and demos come in.
Now it's your turn
Understanding your consumer decision-making process is a big step for you in optimizing your conversion rate. In each stage, we suggested many specific actions. It can be overwhelming at first but remember that there're many apps and tools that can help you automate the process and bring your customer the best experience. Opinew is one of them. What can we do for you? Building a great customer reviews page, improving your SEO, automatedly requesting reviews from your previous customer, and much more than that.
Install Opinew on your Shopify store today and build strong social proof to increase your conversions.