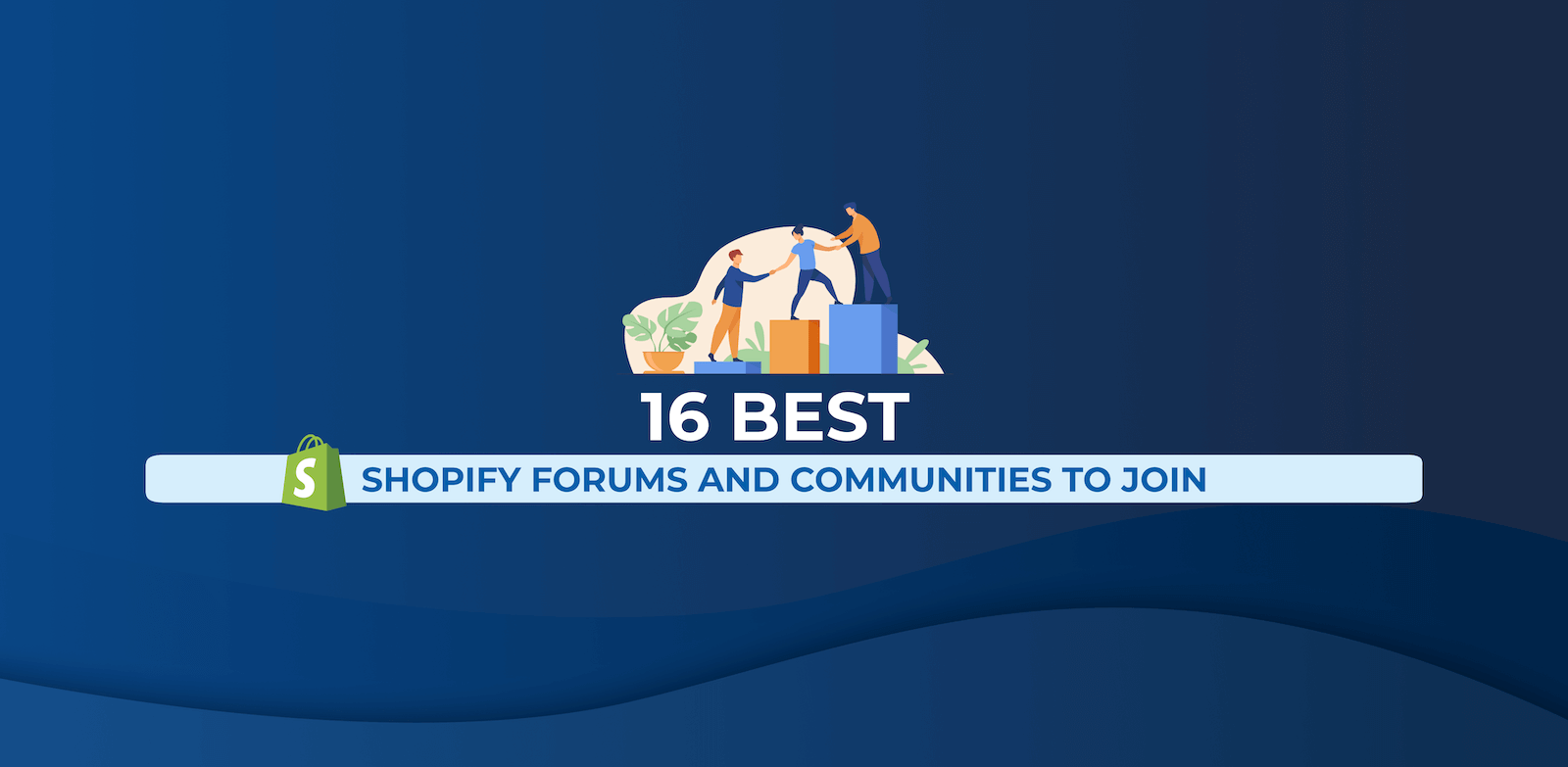 16 Best Active Shopify Forums and Communities to Join
Table of Contents
Growing your first e-commerce business, setting up your first Shopify store, creating a business plan,… everything can be new and challenging for you at the beginning. But luckily, you don't have to do it alone.
Here in this article, we've collected the most active Shopify forums and communities out there for you to check out. You can find these communities ranging from Facebook Groups, LinkedIn Groups to subreddits and Slack workspaces.
By joining these groups, you can:
Ask the questions you have when building your Shopify store
Share your own experience with other Shopify store owner
Get inspiration from many successful e-commerce business examples
Get the most updated information and insight from the e-commerce industry
And many other things to support you in your journey of running a Shopify store.
Now, let's get started.
On Facebook:
1. Shopify Entrepreneurs
Members: 115k
Shopify Entrepreneurs is one of the largest Shopify communities on Facebook, where Shopify store owners can connect and support one another. It's a private and free Facebook group, was set up by Shopify experts from HeyCarson.com.
Because it's a big group, the rule to access the community is quite strict. First, you have to go to www.themereviews.co to rate and review the Shopify theme you use. Only clearly written reviews from real store owners, store employees, or Shopify experts get approved. If you don't use a Shopify theme as you use a custom theme or headless technology, you have to leave your email address and Shopify store link.
2. Shopify Expert
Member: 71k
This community – which has over 71k members – is specifically for eCommerce online store owners that run their business on Shopify. This group has been made for those who want to share knowledge with other members so that they can grow in the dropshipping business.
It's a great place to build a network, acquire eCommerce tips, and get inspiration. Shopify Expert is a fantastic community resource for resolving all of your eCommerce issues and getting honest feedback from others in the same boat as you. You can come here if you have any unsolved Shopify issues or if you're looking for information, tools, and more.
If you want to promote your service, app, software, you need to contact the admin or Moderator.
3. Shopify Beginner Community
Member: 30k
If you're new in this Shopify world, you will see that there are tons of things you have to learn: how to set up a store, how to find a potential niche, how to work with suppliers… That can be super overwhelming at first. But if you join the Shopify Beginner Community, you will get lots of advice and inspiration to keep moving in this journey.
This group is for true entrepreneurs that are working hard now to have a better future. Exchange advice, tips, and help your fellow Entrepreneurs on their journey to success. ​​It's actually a very active group with around 300 new posts each month.
4. eCom Dropshipping For Entrepreneurs
Member: 132k
eCom Dropshipping For Entrepreneurs is a community for those who want to succeed in the dropshipping market. You'll be able to discover eCommerce tactics, connect with other eCom Dropshipping Professionals, and cooperate with them. The group is founded by Earnest Epps, creator of High Ticket eCom Secrets and Earnest Associates.
The moderators of this group highly recommend members bring valuable content to the community. Therefore, you definitely should share your success videos, eCom tips, or anything that you think can help benefit the group.
5. Ecom Empires
Member: 99k
With a mission to help eCommerce sellers succeed, Ecom Empires is a place for everything to do with eCommerce, building an online business, and assisting new entrepreneurs in fulfilling their dreams. Ecom Empires membership training is also free for the 99k members, making it an excellent forum for up-and-comers.
If you're looking for something more than the free training, and you want to be coached to success by our team that has already produced millions in sales, you can also find the coaching program in this group.
On LinkedIn
6. Ecommerce Experts
Members: 147k
Joining LinkedIn groups are also an excellent way for you to expand your business or brand, as well as obtain useful information and inspirational stuff.
Set up by ecom expert Harry Joiner, Ecommerce Experts is one of the larger, more active LinkedIn groups surrounding e-commerce, with nearly 147k members. If you spend a lot of time on LinkedIn attempting to grow your e-commerce business, make sure you join this group to get relevant e-commerce content in your feed.
7. Shopify Store Owners, Experts, and Developers
Member: 7k
One of the most helpful e-commerce communities on LinkedIn is Shopify Store Owners, Experts, and Developers. It connects Shopify store owners with developers and specialists.
Because this is a closed community with strict regulations, you can get technical and business advice from high-level professionals in this group. This is a terrific place where you can join a community of like-minded people, learn new concepts, and produce ideas.
8. Opinew Community - Shopify tips & tricks
Opinew Community - Shopify tips & tricks is a very new but quality group for online Shopify sellers and Opinew users looking to improve their Shopify Store and connect with fellow merchants. Opinew is one of the most excellent Shopify apps that will take your Shopify store to a new level in review management, review requests, and presenting this information in a seamless design and feature-rich way.
Joining this group, you will:
Get the latest tips & news about Opinew and other Shopify apps
Get the latest news of what's happening in the E-commerce industry
Connect with Shopify Experts & Merchants
On Slack
9. Partner League
Partner League is a "collaboration-focused Slack community for high-caliber Shopify and Shopify Plus partners," according to its website. This is without a doubt one of the most high-end online Shopify communities you'll come across, especially if you value quality over quantity.
As a result, joining this group isn't free. However, if you're trying to expand your Shopify business quickly, the $150 quarterly fee is well worth it. Partner League is a very close-knit community, and a platform like Slack really helps lift conversations to the next level.
Once you become a member, you will receive lots of benefits, like listed below:
10. eCommTalk
eCommTalk is another fantastic Shopify-related Slack community. Even though it isn't the most active group we've seen, there's no reason not to include it in your Slack workspace stack. By joining this group, you will be able to connect with more than 4000 Shopify enthusiasts, partners, and merchants, get answers to your questions, and network with others.
On Clubhouse
11. Shopify Beast
Follower: 21k
A new social media platform, Clubhouse, can be useful for Shopify sellers and entrepreneurs as well. Brought to life by the people from Jag & Wolf, tune into Shopify Beast for audio-only discussions on topics like:
Shopify for beginners
Shopify for advanced users
Shopify for dropshipping
Facebook ads for Shopify
Google ads & website development
12. Women on Shopify
Follower: 4k
Women on Shopify is a rapidly expanding network for female entrepreneurs who are just getting started or are continuing their e-commerce experience. This group's goal is to share experience and expertise, and support female entrepreneurs in a welcoming environment.
13. The Shopify Club
Follower: 2,3k
With approximately 2300 members, The Shopify Club is another unique group in the Clubhouse network. For panel discussions, the organization gathers Shopify professionals as well as experts from different media channels such as Facebook, Instagram, and other social media. This club will give you advice on how to establish, operate, and expand an e-commerce firm using practical advice.
On Reddit
14. Shopify (Subreddit)
Member: 142k
If you're looking for rapid professional answers related to Shopify, the Shopify Subreddit is one of the greatest digital spaces to check out. There, you may talk about everything relevant to Shopify, such as marketing, integrations, applications, and shop development. The Shopify forum's policy and regulations are enforced by admins in this robust and mature community. Redditors are not permitted to advertise or promote businesses or services.
15. Shopify Ecommerce
Member: 6k
ShopifyEcommerce is another active subreddit that Shopify entrepreneurs should check out. Participants may use this online e-commerce community to ask whatever they want about their online business, get suggestions, find mentors and advisers, figure out the best ways to promote, and get solutions to any technical problems.
16. Review My Shopify (Subreddit)
Member: 12k
Review My Shopify Store is a fascinating subreddit community that every online store owner should be a part of. The objective of this community is to assist Shopify store owners in determining the quality of their stores. Participants will gain useful insights and tips on how to make their Shopify store better, more appealing, and user-friendly by receiving feedback on their store. Redditors may seek assistance in a variety of areas, including how to increase traffic, find the perfect developer, create a community around your business, and much more.
Opinew Blog Newsletter
Join the newsletter to receive the latest updates in your inbox.
---