How to Setup a Shopify Store
Are you thinking of starting an online store for an existing business? Or perhaps you have a great product idea or drop-shipping niche in mind and you're finally ready to launch your online store. This short article will walk you through the steps on how to set up a Shopify store so you can start selling to customers.
1.Register an account with Shopify.
Head over to Shopify and create an account using their 14-day free trial. Don't worry, if you decided Shopify isn't for you during this period you wont be charged! You'll need to pick a name for your store whilst you're here, but don't dwell on this too much as it can be changed later. You'll then be asked to fill in some information.
2.Choose your theme.
Before we start adding products to your Shopify store lets pick a theme that suits your business. I recommend starting with a free theme until you get the hang of things. Navigate to the themes tab as shown below. Here you can customize your existing theme or pick a new one. Just like your store name, don't dwell on this too much to begin with! The most important thing is to get your online store up and running.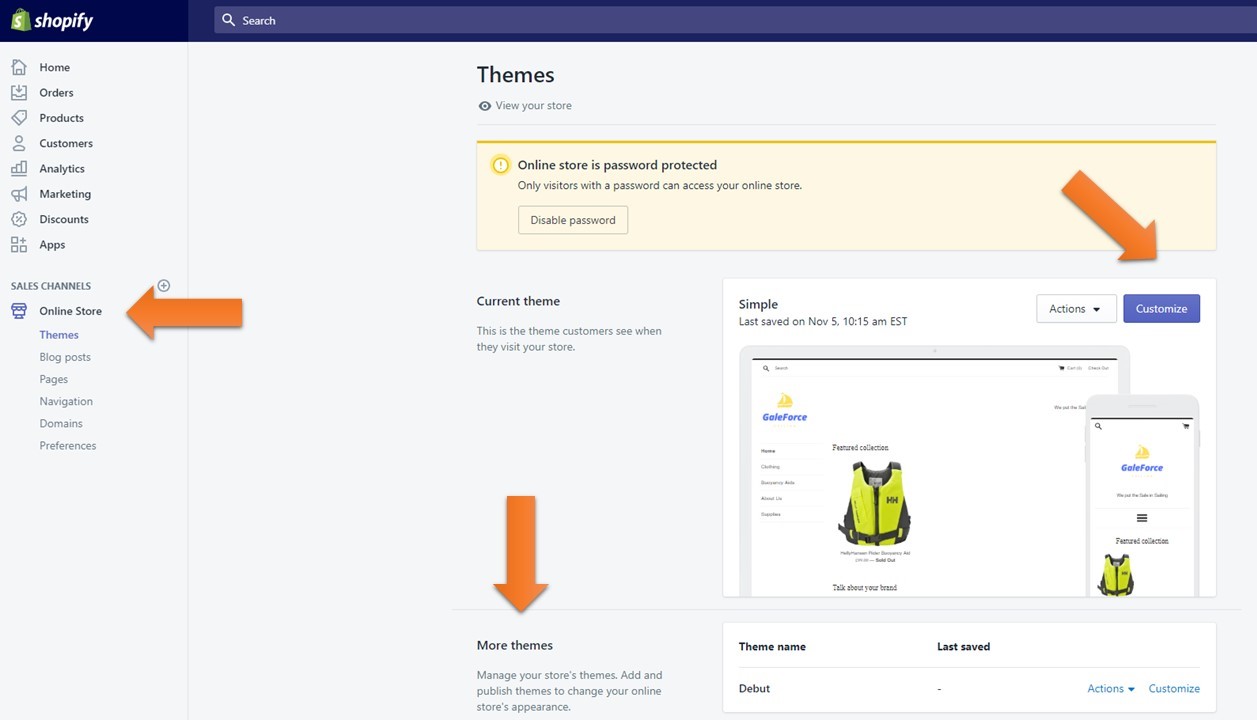 3.Make the site your own (optional)
If you've already got a logo or colour pallet in mind for your site then now's the time to add them to your Shopify store. You can do all this through theme customization. If you haven't decided on a logo yet Shopify has its own logo maker available here where you can easily make a sophisticate logo to use to begin with. At this point you could also choose to add a different domain name to your store.
4.Add some key pages
We're almost done with the asthetics of your Shopify store, now it's time to add some key pages. We recommend adding "About us", "Shipping and Delivery Info", and "Contact us" pages, as customers will look for these things to ensure that your online store is trustworthy. You can see how to add pages in the image below.


5.Set up your payments processor
You're going to need a method of handling all the transactions your stores sure to pull in! You may eventually want to use something like Stripe, but for getting your Shopify Store setup quickly I recommend following Shopify's advice on setting up Shopify payments with Shopify Payments.
6.Add your products
If you're going to be a drop shipping store you'll probably want to install Oberlo. Its an easy to use app that allows you to easily import AliExpress products into your online store. If you're adding your own products then you can do everything through the "Products Tab" within your Shopify dashboard. Just add the images and fill out the product information. It's that simple!
7.Add some apps to improve your store
You might want to add some apps to improve the look and functionality of your store. We recommend apps like "Messenger" - which allows you to integrate Facebook live chat with your store - and our own "Opinew Product Reviews". We've put together this list of our 10 favourite apps to improve your shopify store.
8.Celebrate!
Easy as that! You've set up your Shopify store and you're ready to rake in the sales. Now its time to get your name out there. We recommend using Facebook or Google ads, as well as Instagram influencers relevant to your niche to help promote your business. Having a great and engaging social media presence will also help drive organic traffic to your store. Good luck!