How To Increase Your Shop's Average Order Value
Average order value might be often overlooked but it can make a critical difference for your business.
By following some simple tips and tricks it's possible to significantly increase your AOV – and to not only convert more customers but also to receive a higher level of repeat business from them.
In this guide we will explain:
How to calculate your AOV
Why traffic sources and devices matter
And how you can use Bundling, Cross-selling, Upselling and Coupons to increase your AOV
To get started, let's explain just why AOV is so important.
How To Calculate Your AOV
Calculating your AOV is a surprisingly simple formula:
Average Order Value = Total Revenue / Number of Orders Taken
So why does this matter? The simple fact is that it comes down to the margins. If you have one customer who spends $1,000, it's a lot better than having 100 who spend $10 each (though you get the same overall revenue). That's because it'll be far easier to service the single big buyer; and they're much more likely to come back to spend more. So how can you go about turning small fry into whales?
Average Order Value By Traffic Source
As the owner of an online store, you'll find that different customers engage with your offering in wildly different ways. However, you'll likely find that there are factors that closely correlate with purchases and conversions – such as the source of the traffic.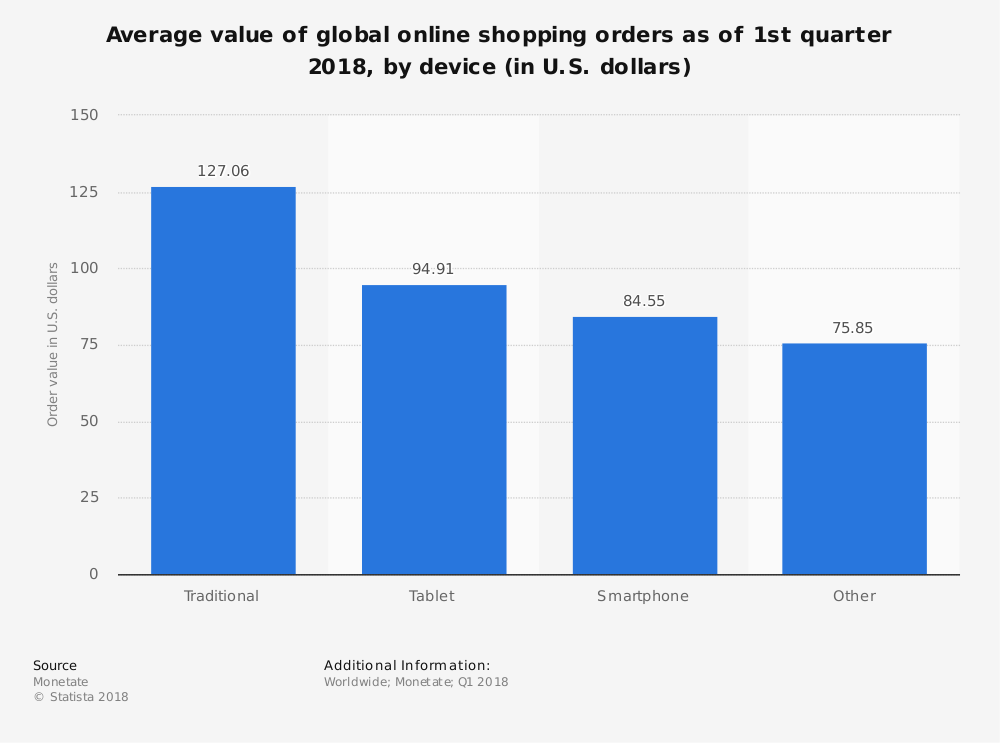 Above we see how AOV differs depending on the device. You are also likely to have social media as part of your sales and marketing strategy, but you should be aware of precisely how different platforms perform. Rather than looking at metrics like likes and clicks, consider how much revenue, and the AOV, that each channel is actually driving. You may see some surprising results – and it will highlight which channels are underperforming as well as cases where nurturing the respective audience could open up new business in a big way.
Do People Only Buy Diamonds On Desktop?
While mobile accounts for a growing share of traffic globally, people still make significantly larger orders from desktop than from mobile.
Statista reports that the AOV of global online shopping orders in Q3 2018 was $179.98 on desktop and just $79.33 on smartphone (a difference of more than 50%).
This may be due to security concerns; based on a desire to do additional research before making a major purchase; or simply because of the convenience of using a larger screen.
Given this, it may well be more profitable for you to pursue desktop users rather than mobile browsers in your marketing campaigns.
Smart Tips To Boost Your AOV
Fortunately, there are a number of tricks that you can use to boost your AOV, beyond targeting your ad budgets where you see success. Here are some of the most effective.
Add Social Proof With Ratings, Reviews and Testimonials
Leveraging social proof is a great way of building trust with your users. The psychological phenomenon essentially describes the tendency of individuals to replicate the behavior of others. In marketing this can mean providing ratings, reviews and Q&As that can inform customers and set their mind at ease about the user experience.
You might be afraid of receiving negative feedback, but once you've got it, you can act on it; and in the meantime your customers will have far more confidence in your platform.
Testimonials can also be highly effective, communicating that real people are willing to endorse the product or service.
If customers have limited trust in a brand or platform, they're unlikely to spend much if anything at all. Social proof can help them clear that hurdle and hence significantly increase AOV and, ultimately, customer lifetime value.
Bundling
Offering customers a discount for buying additional items (think "3 for 2") is a great way of increasing order value.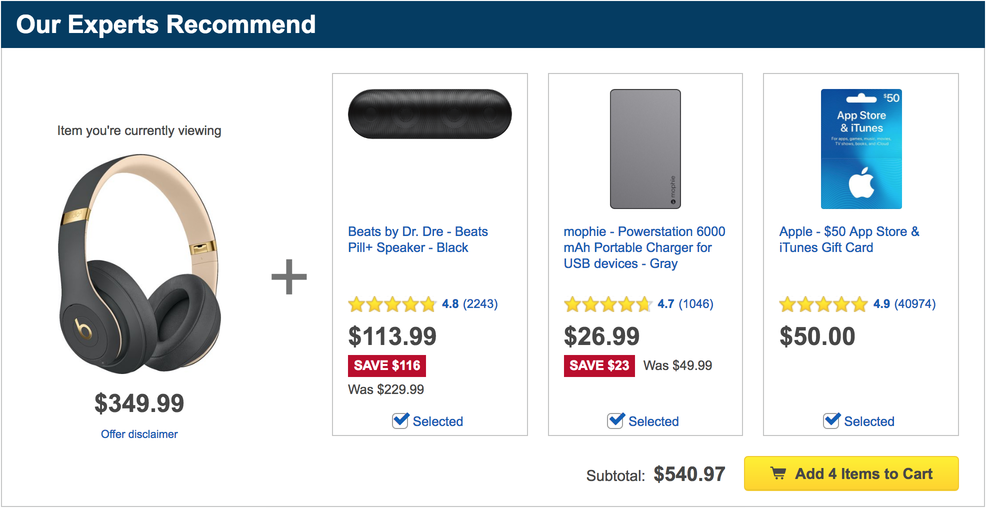 People love to get a bargain and a small discount can be just what's needed to convince them to spend more.
Sampler packs, giving the customer an introduction to a range of products, can also be particularly effective, eliciting interest in multiple lines and encouraging customers to then come back for more.
Cross-Selling Via Apps and Email
Finding new customers is hard, while engaging with existing buyers is relatively easy. That means that there's potentially a great deal of value in recommending additional items that the customer might be interested in.
That might be an essential accessory to go with a purchase (like a helmet with a bike) or similar items that might be pertinent (such as books by the same author). By better serving the customer you can make them happier and boost your AOV at the same time.
There are a wide variety of apps and widgets available that you can use to recommend similar products in your ecommerce store to make sure that you're getting the most value possible.
You can also contact customers by email to remind them of other items that they may be interested in.
Upselling At Checkout
Before the customer completes their purchase, offering additional options, extras and extensions (and other items) that may be relevant for their purchase can be a great way of boosting AOV.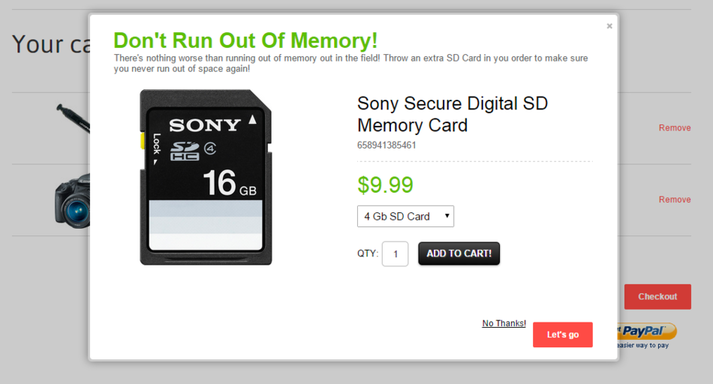 When buying plane tickets today, for example, customers are given a wide range of optional extras that they can pay for (relating to baggage and legroom among other factors). Many airlines will also offer services like insurance and connect you to hotels and hire cars, providing you with additional purchase options (more strictly cross-selling than upselling).
Adding items to the shopping basket at the point of purchase is fundamental to boosting your AOV and if you're able to succeed then you'll see increasing value from a high percentage of the customers you service.
Defining strong
for your Shopify store will drastically help increase your sales, making sure your current customers stay happy with awesome extras and additional options they are more likely to buy!
Coupons To Bring Shoppers Back
When carefully deployed, coupons can be a great way to get customers back to your site. Coupon schemes can attract customers' attention, convincing them to return and to make purchases that they might not have made otherwise; by cutting prices, they can convince shoppers to come back for a bargain; and they can be used to drive consumers to specific items related to their purchase.
The only (limited) negative outcome is if shoppers show up, use their coupon and cut and run – a factor which can be limited by targeting coupons to specific customers and to specific products.
Conclusion
If you're able to steadily increase your AOV and to effectively target your ad spend towards your biggest buyers then you'll see your profits stacking up over time.
It will take hard work but you'll soon observe the results coming through in your numbers.
Are there other strategies that have worked for you to increase AOV? If so, get in touch with us in the comments section!