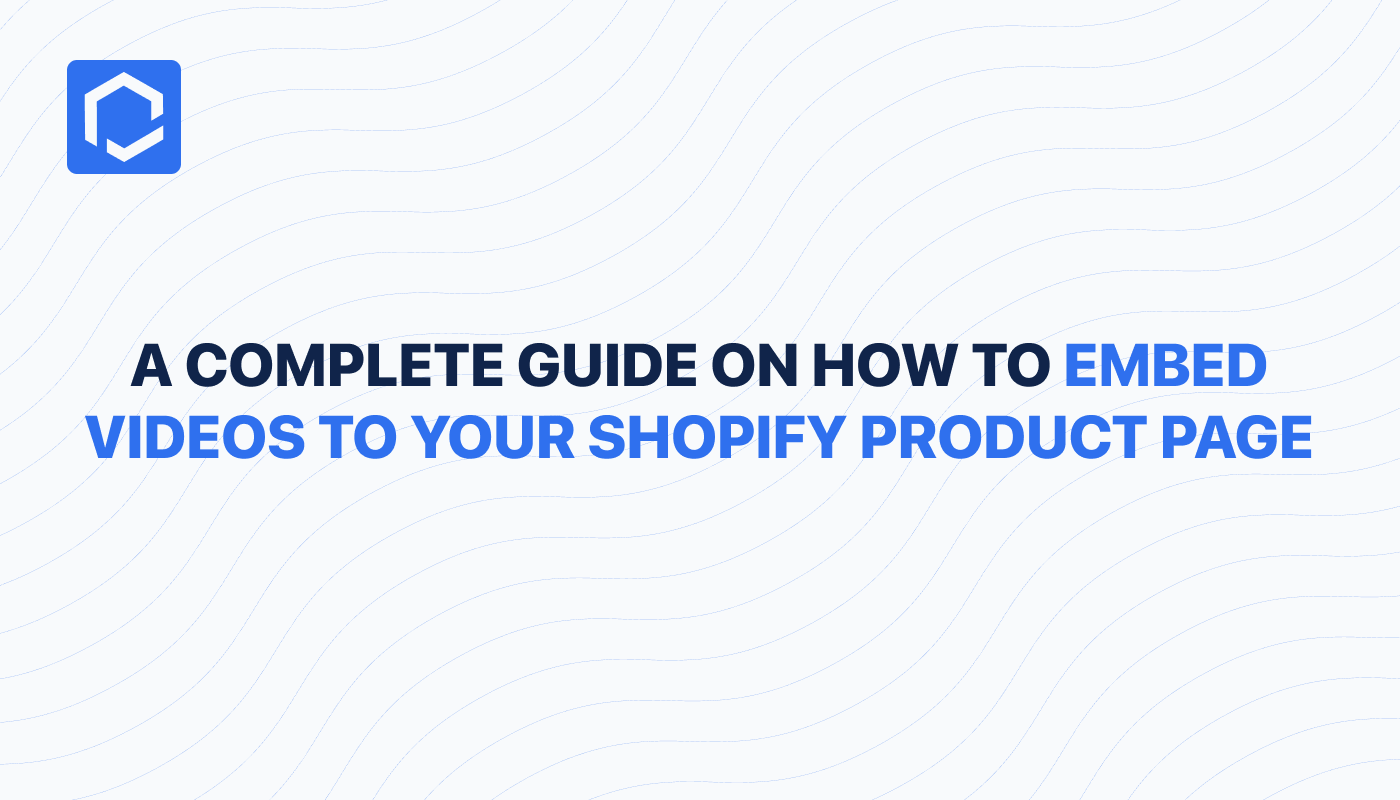 A Complete Guide on How To Embed Videos To Your Shopify Product Page
Table of Contents
3 advantages to adding videos to your Shopify page
Due to a video's ability to convey information more accurately and effectively through engaging content, it has gained popularity in the ecommerce industry. Adding videos to your ecommerce stores has become a powerful tool for increasing brand awareness and customer engagement. Providing your customers with an immersive and interactive experience increases the chances of first-time purchases or repeat purchases.
Shopify is an ecommerce platform saturated with many brands that use its services to set up and manage their online stores. For this reason alone, you want to make sure your brand generates content that stays ahead in the competitive online market. The upcoming points highlight the advantages of adding videos to your Shopify store.
Boost conversions
Videos are a highly effective way to increase your brand's visibility by engaging customers with informative content about your products and services. Adding this type of visual format diversifies your store's content, ultimately making it more visually appealing and resulting in the conversion of your traffic into customers. What's more, videos play a crucial role in building trust and confidence in your brand's ability to meet customer expectations. In fact, around 87% of marketers claim to experience a positive return on investment (ROI) after dedicating efforts to video marketing strategies. And almost 80% of marketers believe having videos improves sales. This ultimately fosters stronger connections with your audience by displaying authenticity and transparency, which in turn increases the chances of them making a purchase.
Improve SEO
There are many ways that the use of videos on your Shopify product page can improve your site's search engine optimization (SEO). Adding keywords to your videos' titles, descriptions, tags, subtitles, and so on, ensures more visits to your website due to it appearing in more search results. Furthermore, videos are easily consumable content, especially on mobile devices, therefore, mobile-friendliness should be prioritized by ecommerce shops. On top of that, videos will attract more backlinks to your site, giving your store more credibility and authority, leading to better SEO performance. A strong SEO strategy and increased sales can be achieved through videos, due to their ability to engage users and encourage them to spend more time on your site.
Differentiating your store from competitors
Videos are essential to ecommerce businesses that want to stand out today. Video content creates an immersive shopping journey for your website visitors. As a result, having this unique and interactive approach eventually sets your store apart from others that might rely solely on images and text. Videos are a perfect way to engage your users with informative content and earn their trust, in fact, "94% of marketers say video has helped increase understanding of their product". Consequently, making yourself stand out via a creative shopping experience, increases brand loyalty and conversions.
Steps to adding videos to your Shopify Product Gallery
Embed from YouTube or Vimeo URLs
To embed a video from YouTube or Vimeo to your product gallery, you first need to go to your Shopify Admin and select the products section
Next, look for the product you want to add a video too
Once you see the "Product's details" page, you can proceed by going down to the "Media" section, where you can upload a video just by dragging and dropping it in the empty box under Media or by clicking "Add".
Another way to go about this is by clicking on the "Add from URL: button and pasting a URL you can copy from a video on YouTube or Vimeo.
Lastly, click "save".
Please keep in mind that the video you add should be mp4 and below the maximum suggested file size of 1 GB. However, depending on your plan time, there is a limit on the number of videos you can add to Shopify.
How to add videos to your Product Description?
In order to upload your videos to your product description, you must use another video hosting website such as YouTube or Vimeo.
In this case, you will begin by recording professional videos for your website
Now you have recorded and edited your videos, you will upload them on a video-sharing social media platform such as YouTube or Vimeo.
To upload a video on YouTube, you will make an account, go to your "Dashboard"  and click the button "Upload video".
Soon as the upload is complete, and the video is up, you will copy the URL of the video and go to the website Embed Responsively.
"This site will make your video responsive so that it adjusts to the width of different devices and maintains its original aspect ratio."
Select the media site your video is from, paste the URL, and then click "Embed".
Below, you will receive an embed code. Select and copy this embed code.
Return to your Shopify store backend and select "Products". On the right side, you will see the editing options for your product(s)
Click on the video player icon, also known as the "insert video" option, on the product description panel. Paste the embed code in the empty text box that appears and click "insert video".
The benefits of adding videos to your Shopify page are endless. Implementing an interactive element such as this on your ecommerce site is a surefire way to boost your conversions. However, if you'd like to find a less complicated and quicker method to embed videos in your Shopify store, third-party platforms are the ideal solution for you. Keep reading and find out how you can do this!
Embed videos using a 3rd party website
Using a third-party app to embed your videos on your Shopify store eliminates the necessity to have coding knowledge, therefore, making it an accessible tool for all users. For example, adding product videos to your site is a fantastic way to display your goods and engage your consumers. To take it a step further, this product content can be turned into shoppable video content by making it possible for customers to interact with the products on the video. This essentially creates a convenient course of action for embedding and creating an immersive shopping experience for your users.
When it comes to utilizing a third-party website for video embedding, the process of creating your video campaign will be on the platform you use. However, once you receive your embed code after you're done creating your video, you can proceed to your Shopify account and take the next few steps;
After you log into your Shopify admin account, navigate to the sidebar and pick the "Online store" tab.
Select "products" and choose the "product sections" where you want to embed your video.
On the right you will be able to see the product editor, this time around to embed the code you will need to click on the "<>" icon to view the HTML code for your page. If there is a code here, you will remove it and replace it with the embed code from the third-party website.
Save your product page and your video will successfully be displayed on your page!
6 great tips for adding videos to your Shopify store's product page
Optimize videos for mobile use
Ensuring that the videos you embed are mobile-friendly is crucial in today's ecommerce market, seeing as many customers now shop on their smartphones. You want to test whether the dimensions and resolution of the video are compatible with different mobile devices. Moreover, by 2024 there will be 187 million active mobile shoppers in the US alone. This shows the significance of optimizing videos for mobile phones, as it makes your Shopify business more operational by providing an enjoyable and seamless shopping experience.
Apply subtitles and captions
Adding subtitles and captions to your video content broadens your reach by making your content more inclusive. As a result, your videos will become comprehensive not only to people with hearing impairments but also, to people that do not speak the language used in the audio. Having translation subtitles makes your content inclusive to a wider audience. As it just so happens, 92% of consumers tend to watch videos without the sound on. Last but not least, the keywords used in your video will now also be shown in your subtitles, hence improving the SEO by making your content more discoverable. Applying this feature on Shopify will increase the effectiveness of your video marketing efforts and enhance your user experience by boosting engagement.
Short video length
Short-length videos capture a user's attention due to being quick and concise. On account of their short length, they supply content that's fast-paced and easy to consume. For a quicker loading time, uploading short videos is essential. These short videos can contribute to your Shopify store by boosting sales and achieving customer satisfaction.
Implement CTAs
Adding a call-to-action button or link to a video takes user engagement to the next level. The purpose of including CTAs is to prompt an immediate response from viewers based on the specific goal you want to achieve. Having a CTA that's well crafted will encourage customers to take action by clicking on a "buy now" button or clicking on a link that takes them to related products. There are countless varieties of CTA's that you could find useful for your video content. It is important to make sure that whichever you apply, aligns with your video marketing goal.

Attach more than one video per product
Having multiple videos to watch enhances your consumer engagement by catering to their diverse preferences, hence increasing the success of your Shopify store. It is a great method for displaying the versatility of your products. Perhaps viewers want to see your product in different situations, colours, locations, and angles. Adding multiple videos will give you the opportunity to be even more transparent about the features and benefits of your products or services.
Add high-quality footage and audio
Having a video with high resolution and clear audio is crucial for professional video sharing. If you want to build consumer trust and confidence in your brand, then small details like a well-produced video come a long way. These videos leave a good impression on your customers as they offer an alternative and more entertaining means of obtaining knowledge about your products.
How your store appears to your visitors greatly impacts its brand visibility and image. Considering how rapidly the ecommerce industry is growing, you want to make sure to stand out, and one way to do so is by providing content that's of exceptional quality. Shopify offers the flexibility to upload various video formats with clear visuals. However, there are limits to file sizes since the larger the file, the longer the loading time of your website.
I hope this article has helped you better understand the advantages of adding videos to your Shopify store and how to upload them!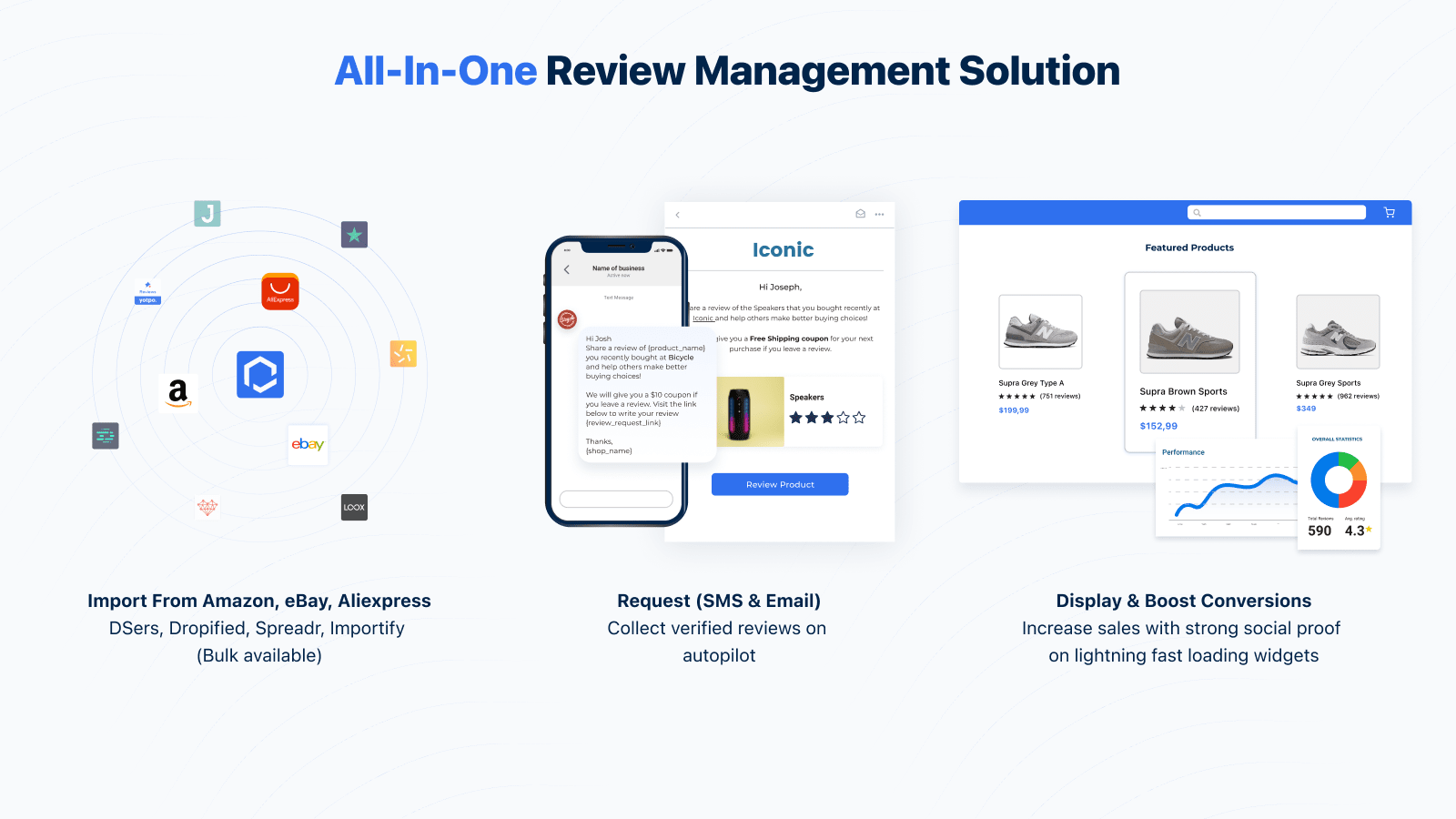 Get started for free
All-in-one review management solution for Shopify stores looking to build trust and increase conversions. 
Install Opinew
Opinew Blog Newsletter
Join the newsletter to receive the latest updates in your inbox.
---