5 Reasons Why Genuine Reviews Are Vital to Your Shopify Stores Success
Reviews generate trust, they generate sales, they have a huge impact on your SEO, your Shopify store and they can be used to spark up meaningful conversations with your customers. Why then, are so many people either completely ignoring reviews, or turning to obviously synthetic, fake review generators. This short article briefly discusses the advantages that come with genuine reviews, and how easy it is for customers to add fake reviews - which a lot of merchants don't seem to realise - leading to a loss of trust in your business.
Reason 1 - Reviews Generate Trust
Customers are always looking to validate their purchases. They want to know they're buying from a trustworthy site, and that the product is going to be as advertised and of a high quality. The most accessible way for potential customers to get this information is through reviews from your previous customers. In fact, 88% of customers say that they trust online reviews just as much as word of mouth recommendations, and 72% have said that having positive reviews makes them trust a business much more.
Reason 2 - Trust Generates Sales!
Having a trustworthy company reaps massive benefits in many areas of business. It helps to generate loyal customers, and it can also help to develop a positive brand reputation for your business. Trust, of course, is also a huge factor in generating sales. Current research has shown that around 90% of consumers consider online reviews as a key decisions making factor on whether or not to purchase from your business.
Reason 3 - Adding Customer Reviews Can Have a Huge Impact on Your SEO and Shopify Store
With experts predicting that online reviews account for 9.8% of search engine ranking factors, having a large amount of high quality and genuine reviews could do wonders for your SEO and your Shopify store. When customers leave high-quality reviews on your website it helps to generate long-tail keyword traffic as it is likely that the potential customers searching for your products on Google will be using the same words that your existing customers have used in their reviews.
Reason 4 - Reviews Can Be Used to Build Rapport with Customers
Reviews are an often overlooked method of conversing directly with your customers to build a positive rapport and build brand loyalty, and this doesn't just go for positive reviews! Interacting with customers who post reviews on your site is a great way to build a personal relationship with them and make them know that you are thankful for their business. This can be done through thoughtful replying to positive reviews, and simply thanking them for their business and time. With negative reviews, it can be used to show that you care about solving your customers problems, and you will be doing so in the public eye. It is also a great way to understand what customers are expecting from you and how you could improve your services in the future.
Reason 5 - Customers Value Genuine Reviews and Distrust Business With Fake Reviews
Sadly, more and more people desperate to break into the Shopify scene are resorting to generating fake reviews with hopes of driving up sales and appearing more trustworthy. In fact, these fake reviews often appear extremely artificial and fraudulent to consumers, leading to distrust in the business, with a negative impact on sales. Through Shopify, most fake reviews will come with a stock photo for a profile picture and will be praising something generic which could apply to any product - for example, "fast shipping!" or "great packaging". Using fake reviews could even lead to legal consequences for your business. Just recently Alibaba successfully sued Shatui.com for the sum of $310,000 for generating fake reviews. Using genuine reviews builds trusts with your existing customers and potential customers.
An example of a genuine review from Opinew: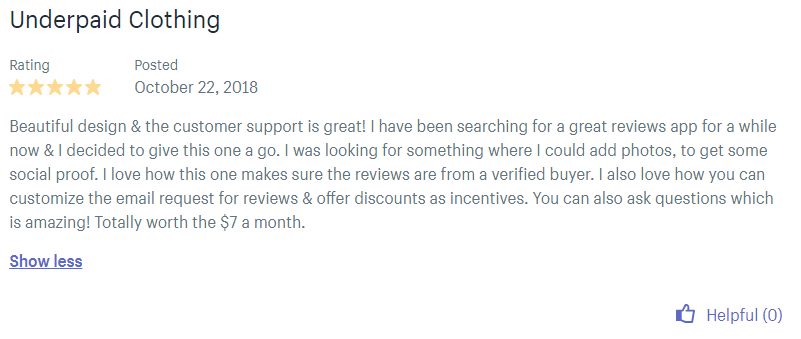 Closing Words
Adding fake reviews may seem like a simple solution to a common problem that will quickly be able to drive up your sales. In fact, fake reviews can be incredibly damaging, not only to your business, but to your entire company brand (your website, your Shopify), as use of this shady practice is incredibly easy to spot. Having good looking and genuine reviews however, can massively increase your business sales and traffic by improving trust with your customers and through bringing more people to your business through increased SEO.
References:
https://smallbiztrends.com/2017/04/importance-of-online-reviews.html
https://searchenginewatch.com/2016/09/06/how-a-strategy-for-customer-reviews-can-impact-seo-brightonseo/