After installing Opinew and activating the Smart Reviews feature, online merchant Dragon Glassware saw a 90% increase in revenue compared to when reviews were sorted by recency, a 35.06% increase in the number of orders, and 60% fewer returns.

90%
Value of sales through Opinew during two weeks after installation.
35.06%
Decrease in returns since installing Opinew.
48%
Reduction in returns after installing the basic integration.
90%
Value of sales through Opinew during two weeks after installation.
35.06%
Decrease in returns since installing Opinew.
48%
Reduction in returns after installing the basic integration.
The Client
Dragon Glassware, or "Dragon" for short, is an online drinkware and home decor retailer located in Sacramento, California. It was founded in 2017 and experienced rapid growth in the following years.

Despite being a boutique company made up of ten people, including the founder Matt Rollens, Dragon Glassware generated annual revenues of $3.8 million in 2021.

Dragon Glassware has developed a reputation for high-quality, original items. Its commitment to creating luxurious, designer glassware that complements its customers' lifestyle, and provides a one-of-a-kind drinking experience, has led to enduring popularity and sales.

Dragon products have been featured in a host of television shows, including Westworld, Star Trek: Picard, The Orville, and Late Night With Seth Meyers—a resume some Hollywood actors would be jealous of!

The futuristic drinkware can also be found in the Star Wars-themed Sublight Lounge in the Galactic Starcruiser resort in Disney World, Orlando.

Finally, the olive in the martini is a collaboration with Barbie, which resulted in the BARBIE™ X DRAGON GLASSWARE® collection. The launch in late 2021 was a resounding success, and a second "Barbiecore" collection, celebrating the Barbie Dreamhouse 60th anniversary, was released this year.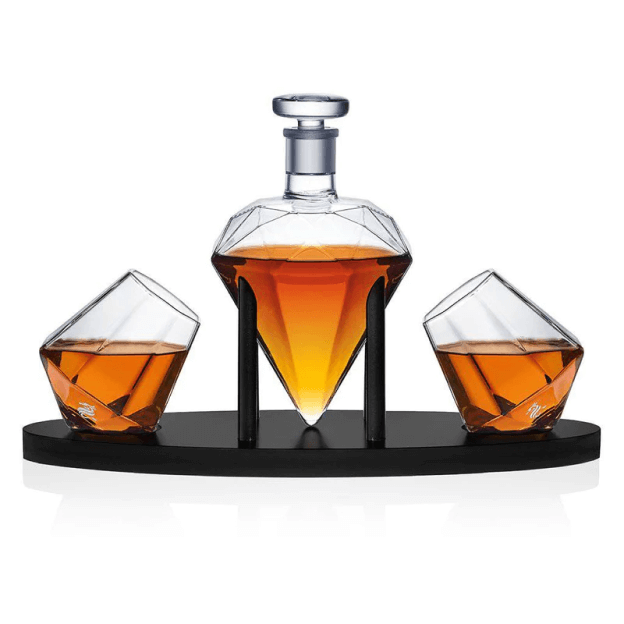 The Challenge
Dragon Glassware faced the following challenges before installing Opinew:
Small number of reviews on the main website:
Thousands of reviews on Amazon, Dragon's primary sales channel, were not available to customers on the Shopify website.

It's a no-brainer to use Opinew if your business is on Amazon.com or other ecommerce channels and need a way to centralize your reviews.
Matt Rollens
CEO of Dragon Glassware
Lack of automated import functionality:
Manually transferring reviews from Amazon and elsewhere on the web would have been prohibitively time-consuming. Dragon Glassware needed a hands-off solution that could collect and organize reviews on autopilot.
Absence of conversion-focused reviews on product pages:
Dragon Glassware was eager to showcase its best reviews to build customer trust and demonstrate social proof on its product pages. Most reviews were sorted by recency, which often meant that low-quality submissions appeared most prominently.
The Solution
After researching several competitors, Dragon Glassware opted for Opinew because of its powerful Amazon functionality, automated review sorting, and ease of integration with Shopify.

Dragon leveraged Opinew on its product pages and made extensive use of the automated Smart Reviews feature, which identifies and showcases the highest converting reviews.
From the get-go, NAIPO saw an increase in product-specific conversion rates and sales volume.
Opinew provided the following out-of-the-box solutions:
Bulk import of reviews from Amazon:
Dragon had thousands of reviews on Amazon—nearly five thousand for its most popular product. Opinew's bulk import feature made it possible to transfer these reviews to Dragon's Shopify site in minutes.

Featured reviews with Smart Reviews:
Opinew's Smart Reviews function automatically identifies the highest-converting reviews and features them on Dragon's product pages. With little more than the click of a button, Dragon Glassware was able to leverage its highest quality, most persuasive reviews to allay customer concerns, build social proof and encourage purchases. This was a substantial improvement over automatic sorting by recency and was achieved without any manual input from Dragon.

Ongoing automated import of reviews from around the web:
After the initial import, Opinew began working in the background to gather new reviews and add them to product pages.

Integrations with existing apps:
Dragon uses Klaviyo to send review requests. Opinew's integration added a layer of additional functionality to the Klaviyo app, including customer rewards in response to reviews left by email.

Prompt customer support:
Despite being a UK-based company, Opinew was able to provide rapid customer service to Dragon in California using their 24/7 in-house support team.

Slash Returns, Build Trust and Drive Sales With Opinew
Dragon Glassware leveraged Opinew's out-of-the-box solution to cut returns, increase conversions, and import & gather reviews on autopilot.

Implementation was straightforward. Opinew's comprehensive functionality, including the powerful AI-driven Smart Reviews feature, meant that Dragon was able to import its existing reviews and showcase the best ones with practically no manual input. CEO Matt Rollens was able to sleep easy, knowing that his site visitors were seeing glowing testimonials.

If you would like to replicate the success of Dragon Glassware, get in touch or request a demo today.