How to add product reviews to Shopify Dawn Theme with Opinew
Shopify Unite 2021 has passed, people finally got to see plenty of updates they have been eagerly waiting for, especially the introduction to Shopify Online Store 2.0 with more flexible theme customization.
To accompany the launch of Online Store 2.0, Dawn was also introduced as the first reference theme covering all the upgrade features and the "section everywhere" that has been a controversial topic in the Shopify community over the last two months.
You might be thinking, what is so special about Shopify's Dawn Theme?
Before we dive in, let's have a quick Shopify Dawn Theme review and what it means for you in order to create a better shopping experience for your customers.
What is Shopify Dawn Theme?
Dawn is an open source theme designed by the Shopify team, first announced at Shopify Unite 2021. According to Shopify, the theme was built with Online Store 2.0 features to maximize flexibility for merchants, while keeping it simple with minimal JavaScript and making the theme easy to use.
With the introduction of the Online Store 2.0, Dawn will be used as a default theme instead of Debut, for newly created Shopify stores in the near future.
Shopify Dawn Theme Demo
Shopify Dawn theme comes with two pre-defined styles you can choose from: Default and Craft. Both offer different layout options and optimized features to boost sales. Click here to preview the Defaut style and here to preview the Craft one.
Better store performance
Dawn helps merchants build a fast storefront that converts. Interestingly, Dawn can improve your page loading time by 35% faster than Debut, by automatically removing all the unnecessary codes from the theme templates. It is also built with semantic markup with HTML and CSS so the theme can work well on all browsers. You can check out the code from Dawn repository on GitHub here.
Display content in tree view
You can quickly spot the biggest change in the theme editor is the new tree menu on the left sidebar. In older themes, you can only select the premade section and do some basic customization. Now with OS2.0, you have more freedom in showing your brand style, starting from selecting each section or block to customize its style and content.
You can also grab and move sections and blocks easily to rearrange their order on pages. The tree menu gives you the ability to add and remove content and it opens many possibilities to customize any pages on your store.
Sections everywhere
This is the feature we all have been waiting for. Before OS 2.0, only the Home Page was customizable, and merchants also had limited options to personalize their store without editing codes or using custom apps. That all changes with the support of app blocks and dynamic sections on all pages, offering more flexibility to your design and content.
You can now easily personalize every aspect of your store, or create a custom template in the theme editor by simply adding a new section and block, move them across the page, or delete them - without editing code.
Meta fields
The latest update of the theme editor also allows you to add dynamic content with meta fields, without using Shopify APIs or code.
In other words, metafields help you to add extra pieces of content to your website, for example: size chart on a product page, a summary on a blog post, etc, and you can edit this extra information right in the Shopify Admin -> Metafields. Metafields make it possible to store data for products, customers, orders, blogs, all the Shopify core objects.
Let say if you would like to create a captivating product description by using metafields, place it on the theme editor and make it accessible to everyone.
More flexibility
Template creation
In case you need a custom layout that fits your business, you can use sections and blocks to create a template and choose the "Create template" option in the theme editor to assign it to products or collections of your choice.
App blocks
Needless to say, before the OS 2.0, there was no way to connect an app into the theme without adding code. But it's no longer the story. With the updated theme architecture, now you can install an app and manage it via app blocks right in your theme editor. It's cool, isn't it?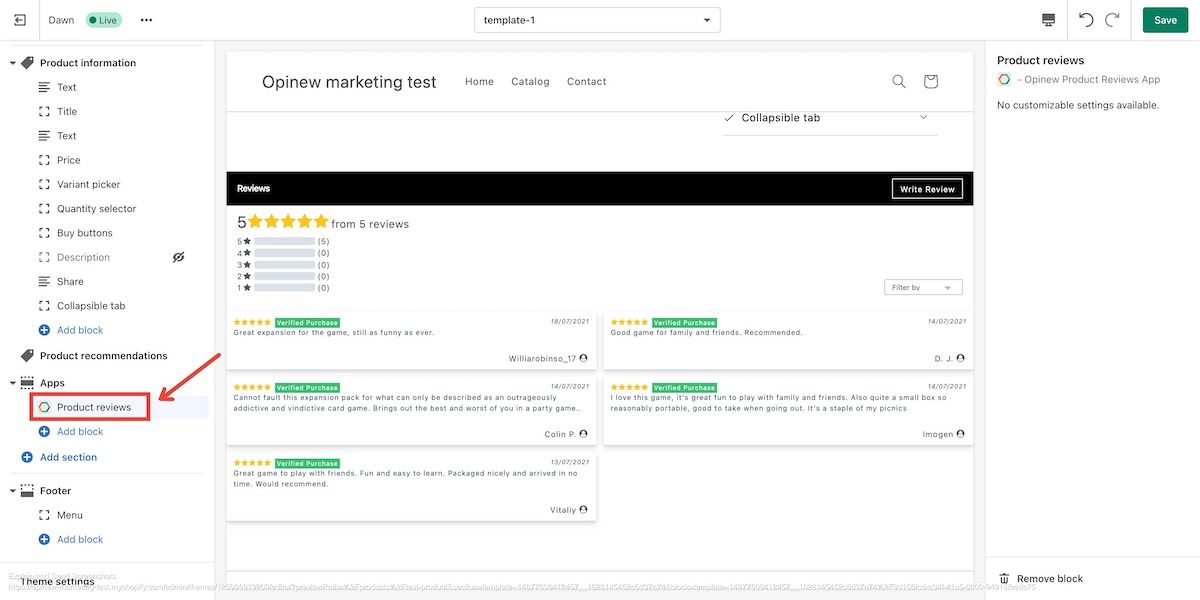 The app blocks allow you to move the "app" anywhere on the page without accessing the theme code. This also means you can uninstall the app and remove the ghost code with no hassle.
As a Shopify enthusiast with limited coding skill, it gives me courage to test new apps on my current theme, and the unnecessary code will be automatically removed from my store after uninstallation.
If you still don't know how it works, take a look at our example below:
How to add product reviews to Shopify Dawn Theme
With built-in Shopify Product Review app
Let's see the example below, now we can add the Shopify review app to the Product Details section on your Product page via a "Star Rating Badge" app block.
Credit: Shopify
This feature allows you to extend your store's functionality with pre-built elements, and you can reposition the section by simply drag and drop it to captivate your customers' attention. The block can be added, removed, or modified, making your life easier inside the theme editor.
With Opinew Product Review app
Opinew is now fully compatible with the Dawn theme. Now you can showcase your best customer reviews and ratings on Product page, or display a Review Carousel on Home page to help visitors learn more about the product. The app will appear as an app block and you can adjust the position on every page for better conversions.
In order to activate the feature, make sure you install the Opinew app via this link. Open your Dawn's theme editor by choosing Online Store -> Themes -> Customize. Click on "Add block" or "Add section" on the left sidebar and select the review widgets you would like to add.
For new themes that will be coming more in the future, you can check with the theme developers and make sure they support theme app extensions to activate the app blocks feature. If you have any issue when connecting the app, kindly contact our 24/7 support via the Live Chat button inside the app dashboard.
For tutorial and demo of how Opinew's app widgets integrate in Dawn theme, watch our video tutorial or visit our Help Center for details.
Conclusion
To sum up, Dawn is a great theme to start your online journey on Shopify, because it was built with a strong mindset that will help you to create a beautiful, fast loading page for better conversions.
For Shopify developers, in order to get the most of the huge Online Store 2.0 enhancement, it is recommended to update and migrate themes and apps to better adapt the new infrastructure, so they can quickly set up fast and flexible stores for merchants.